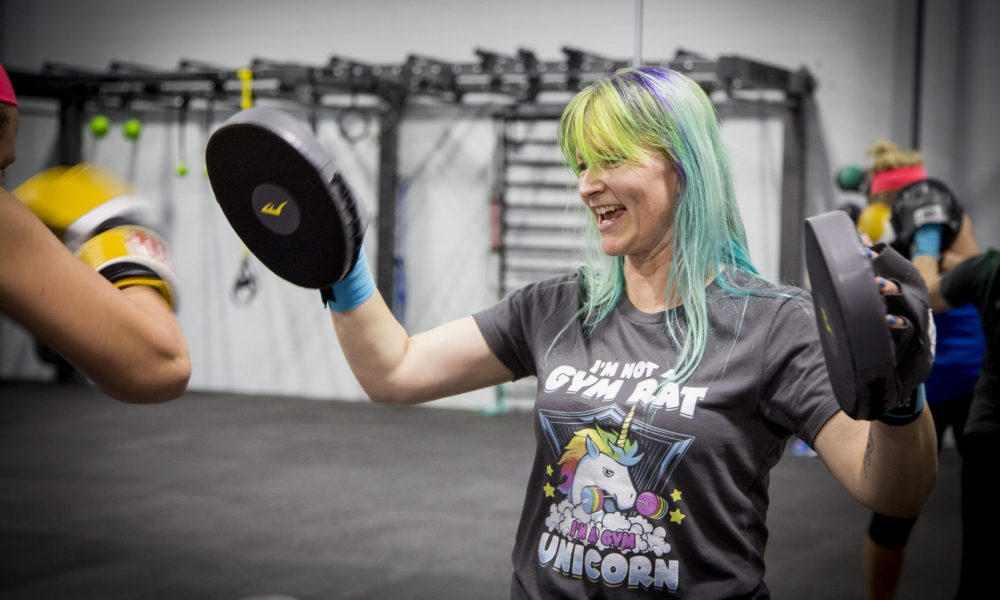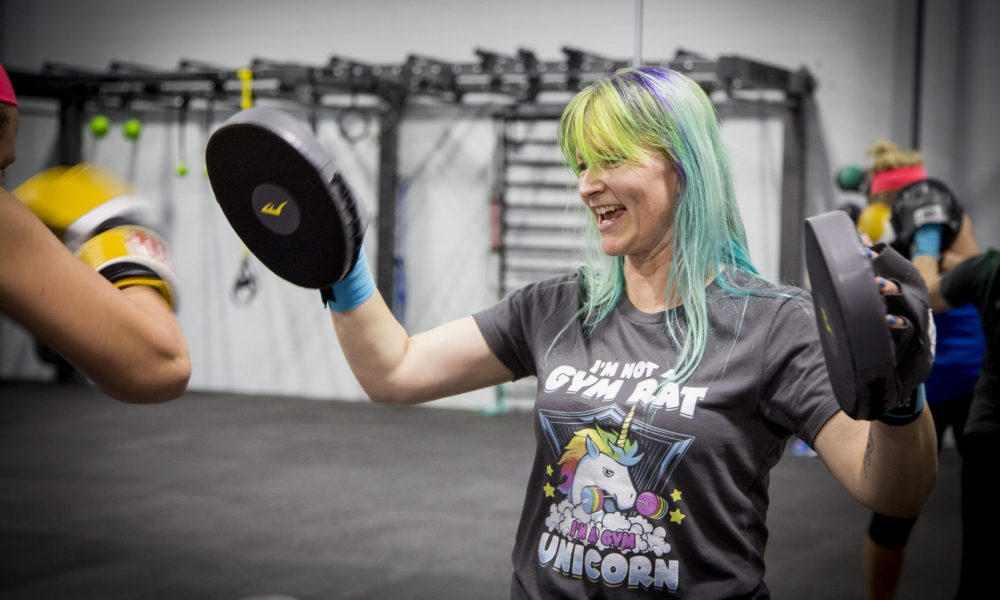 Today we'd like to introduce you to Decker Walters.
Decker, let's start with your story. We'd love to hear how you got started and how the journey has been so far.
When I was 18, I was working out at my neighborhood gym (I am old y'all, this was 1990!) and they had lost several group exercise instructors recently. Well, my favorite one didn't show up on this day, I asked what was going on, and I didn't like the manager's response. I was… well let's say "rude" to her. In her frustration with me, she said, "why don't you get up there and teach"? Like the know-it-all rebellious 18-year-old I was, I stated in a LOUD voice "I will!", haha, and I did, and I FLIPPING LOVED IT! I mean I LOVED IT.
And I was good at it! For the first time in my life, I had people telling me how awesome I was. I was not raised with a mom and a dad who had this amazing marriage. I moved constantly, like 2+ times a year. I really didn't have great role models and if I am honest, there wasn't much praise for a job well done.
BUT in the gym, people loved me. They liked my music and fun personality. I had a great time leading classes, they loved my goofiness and my can-do attitude.
Over the next 20 years, I would get countless certifications, I learned that I am really good at this bio-mechanic stuff, (how the body works) and love working with others. I found a freedom in the gym that I had never had; I wanted to share it with everyone I met.
Most gyms have their fair share of gym rats, bodybuilding bros and flat out hot chicks everywhere… I ain't any of that if I am being honest. I look at the gym and being healthy as a lifestyle that's a fun way of life… not white fish and broccoli with some kale on the side.
When I decided to open a gym, I wanted to make sure that it was super fun, super awesome and full of people who feel like I do. At Rockhopper, we don't have "bro's" and a-holes. We have normal people getting healthy. Being an exclusive studio, we're able to sit down and get to know each member.
Most of our folks are 35+ and exceed 200 pounds when they start. We do have a legitimate bikini model, and younger fit SAHM's here. But there is no one here that is intimidating and over-bearing. No one is oogling you or trying to "hook up" This is a dream gym for me because we actually KNOW all 200 members by name, we know their stories, their lives, their struggles, and their success.
I mean one of our gals just TEXTED US the other night on her way to the hospital to have her baby! We are truly a family here! I love it!
We're always bombarded by how great it is to pursue your passion, etc. – but we've spoken with enough people to know that it's not always easy. Overall, would you say things have been easy for you?
The road worth traveling is never smooth.
When I was 30, I sustained an injury that would take multiple surgeries and three years to fully recover from. My injury wasn't that bad TBH, but my mental state failed when it happened.
I was on the path to becoming a very success presenter. I had done some local classes for fellow group instructors and had gotten noticed by a national company.
SO EXCITING!
As I was finishing up my filming for my audition, I took a kick that knocked me down and tore almost every tendon and ligament in my ankle. I ended up with nerve damage and had a portion of a nerve removed (I have a Mr. Deed's foot LOL) this sounds so dramatic, but it's not… the real reason for the three years off was the depression that I had because I thought I would never be able to teach again and I would NEVER be a presenter.
One day, I get a call from a friend who needs an instructor for seniors and I am NOT happy about it, but she is a good friend and she really kept after me to "help her out." So, I did it and I fell in love with this group of seniors. I alsogained a new appreciation for "healthy."
I was never really into bodybuilding and strict eating/workout life (very rare for my industry) I just LOVED moving, working out and having fun… oh yeah and getting paid for it. Working with my seniors taught me about life-balance and what healthy was. I had ladies and men who could not stand on one foot because "I have no balance" but what I discovered was that the lack of balance came from lack of muscle strength and imbalances and so forth. This fueled me to learn more and more.
For me, being young was about having fun and it wasn't until a challenge hit me that I said, "huh, what can I learn, and how can I apply this to others?" Once I discovered the JOY, I mean absolute JOY of helping others, my story was no longer I am the most wanted presenter, my story was how can I help people find joy in fitness? I quit caring boasting, "I've worked with this athlete, I am super aweseomsauce" My story became: What is your goal, what is your long term desire and in what way can I help you get there? I truly believe that is the reason I am as successful as I am now.
We'd love to hear more about Rockhopper Strong Fitness.
When asked what I do, I always say, "I count backwards from 8 REALLY well and with GREAT enthusiasm", haha!
I probably most know for my love of Burpees, my potty mouth and "I'm funny."
At Rockhopper Strong Fitness (RHSFit) we specialize in women (and guys)  who want to be "healthy" not "skinny" not "hot" not a bikini model (we let the hotness be a side effect!). Our members are typically over 200 or even 300 poundswhen they start. We work with them to incorporate healthier foods and movement into their lives. A 30, 40, 50% body fat is not just "unhealthy" it is life-threatening. At some point in your life, you will realize that it is completely unacceptable to  be so unhealthy. When putting yourself last is no longer acceptable and you decide to make a change, we are you place foraction! I honestly know that EVERY SINGLE WOMAN can do a squat, can do a push-up and can do a burpee, it's up to me to help you discover that you can!
In addition to honestly helping shape the lives of women to be healthier, we work with local charities to raise money/awareness. We look to our members to see where their hearts are and jump in. Last year we raised thousands for the American Cancer Society, National MS Society, Komen's 3Day and Pink Door here in Houston. These charities were chosen because a member is part of the organization, and in some cases, received services from it. I personally volunteer at Lifehouse Houston every week and the members have donated exercise equipment for this!
Gyms get a (IMO deserved) bad rap for being about locking members into long term contracts and constantly pushing sales, buying supplements, only calling when the credit card declines, but I work hard to make sure that Rockhopper does not. I want to better lives and the community that these lives live in. I want to be part of something bigger than my small self, I want RHSFit to be a catalyst for greatness in women!
We're interested to hear your thoughts on female leadership – in particular, what do you feel are the biggest barriers or obstacles?
Interestingly enough, fitness has more female professionals then male professionals, but very few are CEO's, or big-time bosses. Many gyms will have a female over group exercise, but less have a female over personal training or a general manager.
To be slightly sexist, men also seem to get a bigger pass on being overweight as a gym-boss then a gal, but my view might be a little skewed with what my experiences have been.
I don't really get my panties in a knot about it. I think you can either sit around and bitch about how unfair it, is or you can do something about it. Change happens because YOU change, not because you complain loudly and often.
I have both male and female employees, they all make the same and they all pitch in and are part of our movement.
Contact Info:
Image Credit:
Kelly Sweet, Brian Walters
Getting in touch: VoyageHouston is built on recommendations from the community; it's how we uncover hidden gems, so if you know someone who deserves recognition please let us know here.