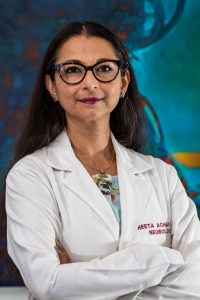 Today we'd like to introduce you to Dr. Reeta Achari.
Dr. Achari, can you briefly walk us through your story – how you started and how you got to where you are today.
I've practiced neurology for almost 25 years. I've also been a cook most of my life. Those elements of my life have come together in my practice of Nutritional Neurology(TM). About 12 years ago, people started coming to me for help with numbness, tingling, dizziness, brain fog, and other symptoms which were hard to pin down. By and large, they had been to lots of other doctors, including neurologists, had extensive testing done including, MRIs and spinal taps, and remained without a clear answer or diagnosis to explain their symptoms.
I was also puzzled and decided to take a step back in approaching the diagnosis. I didn't know how far a step back I was taking in terms of medical history. With some detective work into diet and lifestyle, I found that many of these patients had started restrictive diets (gluten-free and vegan diets were becoming popular). I decided to look at their vitamin and mineral levels and discovered multiple deficiencies that explained their symptoms. Wheat is a fundamental source of vitamins B1 and B2 and humans have evolved to get these vitamins and several minerals from wheat and other grains. A gluten-free diet requires careful adjustments to get an adequate amount from other sources. Vegan diets have to be supplemented for vitamins B12, D, and iron. With proper supplementation and adjustments to their diets, all of my patients recovered. This was a revelation for me and brought me back to the principle that our diets, what we eat to fuel our bodies, is the most basic fundamental process in maintaining health and fighting illness.
The story became even more interesting. In 2015, I diagnosed my first case of scurvy in a young lady who was eating mainly canned chicken-vegetable soup. She had no measurable vitamin C in her body and this was causing a rash, joint pain and periodic abdominal bloating. I thought scurvy was an ancient disease that affected pirates, but here it was in Houston in the 21st century. This started my journey to determine how to test all vitamins and minerals in a regular scientific fashion (I am not a functional medicine practitioner). I worked with the laboratories close to my office to validate results and have developed an understanding of where blood levels should range for people to be and feel well. It turns out the ranges of vitamins levels recommended on the lab reports are fairly random and not based on any good science. This is something I'm hoping to change.
In the last 12 years, I have also become an expert in food and nutrition. I have used my multicultural personal experience to inform my holistic attitude towards diet. We eat in so many different ways and for many different reasons. However, the fundamental goal of eating, regardless of where we come from, is to fuel each cell in our bodies. Over the globe, we come at this in so many wonderful ways and we can learn from each other.
My neurology practice changed. I was now writing recipes as well as prescriptions for my patients. A few years ago, Memorial Villages Farmers Market opened near my office. I would be there bright and early on Saturday mornings to get the freshest products from the farmers and ranchers. I discovered I was also giving out advice on how to cook them. So, I decided to do cooking demonstrations at the market once a month. This helped the farmers sell their products and it helped customers by showing them how to use the products. It helped me by making my community healthier and more nourished. This started Tasting Health, originally a Facebook page that cataloged simple recipes for what was in season at the market along with science-based health information. This is now being transitioned into a blog. And hopefully, in 2020, I will open the Nutritional Neurology Institute where I can evaluate people for nutritional deficiencies before they develop health problems.
Great, so let's dig a little deeper into the story – has it been an easy path overall and if not, what were the challenges you've had to overcome?
As a doctor and a scientist, stepping on a path where there is very little real good science has been difficult and a little scary. I'm a skeptic at heart, and I needed proof that this type of nutritional evaluation and treatment really worked. Since we get very little training in nutrition medical school, my physician colleagues look at me a little strangely and wonder if I've gone a little outside of traditional medicine. I haven't. I've just gone back to the beginning when all our illnesses were nutritional ones. My patients and their results have kept me moving forward. I've now gathered data on over 1000 patients in my practice alone. I'm analyzing it and just presented the first study at the American Headache Society meeting.
When you do something outside traditional practice, I think it's important to use good standardized processes to document what you're doing. Then, take time and gather your information. If I'd listened to all the dismissive comments, I would not be doing what I'm doing now. So many doctors asked me if I'd given up my practice to become a chef and thought it odd that I'd give up my Saturday mornings to cook at a market. They didn't understand it was my mission to make my community healthier and educate about healthy cooking and good nutritional practices. I found taking off the white coat made it easier for some people to have a more personal conversation. That's where real change starts.
Please tell us about what you do – what should we know?
I'm a neurologist in private practice. I see patients every day. They come with a wide variety of symptoms such as headaches, dizziness, passing out spells, seizures, Parkinson's disease, tremors, memory disorders, back and neck pain, weakness, strokes and many others. My days are very exciting because I see a wide variety of people and they all have unique issues. I have become known for including science-based nutritional evaluations in my practice. I enjoy seeing patients where the diagnosis remains a challenge.

Which women have inspired you in your life?
I am continuously inspired by so many women in my life who work tirelessly, in and outside the home, making the world a better, more compassionate place. Women doctors manage incredibly complicated lives balancing family, teaching, and patients; I am always impressed by them. If I have to highlight one woman, it would be my maternal grandmother, who raised me for the first six years of my life, taught me how to listen and follow directions, and sat me in the kitchen when all the meals were being cooked. My grandfather was the town doctor, but she was his eyes and ears in the community. She knew when people couldn't afford their medicine or needed to be seen but wouldn't come to the office. She got things done.
Contact Info:
Address: 8915 Gaylord Drive
Houston, TX 77024
Website: www.tasting-health.com
Phone: 713-780-8144
Instagram: Tasting Health
Facebook: Tasting Health
Image Credit:
William B. Dixon II
Suggest a story: VoyageHouston is built on recommendations from the community; it's how we uncover hidden gems, so if you or someone you know deserves recognition please let us know here.