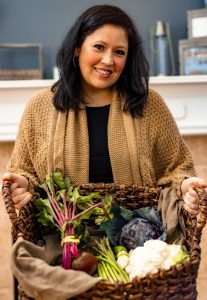 Today we'd like to introduce you to Kristi Davis.
Kristi, can you briefly walk us through your story – how you started and how you got to where you are today.
One stormy Houston afternoon while navigating my way out of a downtown traffic jam, I found myself enveloped in a podcast featuring Ina Garten (which for foodies, you'll understand this is practically the Oprah of the food world). The Barefoot Contessa was speaking straight to me! Okay, maybe not just to me, but the words she spoke rang true to my heart. She compared life to a pond. She said it's easy to stand on the edge of the pond and wonder about it, but you've gotta just jump in the pond and figure it out when you're there, swim around and check things out, explore.
I was standing on the edge of the pond too long, wondering what would happen if I jumped in; wondering what I would find or where it might take me. Let me give you some background on who I am, my pond and how I jumped in.
I am a full-time working mom. For the last 18 years I've worked in the legal field – high stress, a constant fast pace, late nights and keeping up with incredibly genius minds. I am a food blogger. I am an entrepreneur, currently working on building a blind wine tasting game and getting it ready for market. I am a certified nutritionist. I am a wife of 10 years. I was born a Californian and now am a proud Texan. I am a woman who works her tail off. I am here to show you that YOU CAN do and have it all. You can be a businesswoman and a mom. It's not one or the other. You can find a work/life balance.
In Spring 2015, I launched my blog, Relish – More Than a Condiment, as a little way to document my new venture into catering. While working in legal by day, I decided to take a dip into the world of catering in my spare time to try something new, get my creative juices flowing, and fill a void in my life where I felt like I wasn't taking enough "me" time. I've always loved to write, cook and entertain. What I found after my first gig was: 1) it was a ton of time and work, that I frankly didn't have while holding down a full-time job and being a wife and mom of two; and 2) I was better at and enjoyed the cooking and writing part of it more than the planning, set-up, tear down and laboring over catering. I found my passion for writing and sharing with others filled a creative void I had been suppressing for so long. It gave me a chance to branch out into a hobby that fulfilled me yet didn't take time away from my family, and even better, it allowed me to speak my love language. I found through blogging and cooking I can love on others, and that is one of the best feelings in the world.
For the last few years, I've worked hard on creating an online presence with my blog, throwing tons of dinner parties to recipe test (which my friends and family seem to gladly take part in) and really filling my own creative need. It was unknown at first, scary even, but if I hadn't dipped my toe in I would have never gotten my feet wet.
Maybe there's another area of the pond I haven't even explored yet…? In early 2019, I started a business with a friend/business partner based on something we were already doing in our own lives — we've created a blind wine tasting game! Pour Decisions Wine Society started as a fun way to get our group of friends (who love wine) together once a month and try new wines. We all have kids around the same age, we live in the same neighborhood, and we carved out this once a month time to get together and catch up, which is sometimes tough with the hustle and bustle of daily activities. Our monthly meet-ups grew and drew more and more attention as we told others about our weekend plans. We quickly realized we had a real business here that appealed to more than just our crew.
After months of going back and forth on design and concept, product development, beta test groups, building a faithful online presence and following, we are now moving toward launching our game on the open market and crowdsourcing by year-end. Our little dream is coming to fruition!
Since moving from San Diego in 2016, I have been with a very well-known, top-tier Houston law firm. I love it and it is a fantastic career, but I'd also love to be able one day to have the flexibility to be my own boss while working at something that fills my creative tank. Our hope for Pour Decisions Wine Society is it will do just that.
If you're doing something you really love, you're going to be great at it. While on the outside, it seems that taking on another venture is only spreading me thinner, I see it as a way to build a future that one day may grow into something that will allow me more time with my family. I'm no longer standing on the edge of the pond. I've cannonballed into the middle and I'm continuing to explore.
Great, so let's dig a little deeper into the story – has it been an easy path overall and if not, what were the challenges you've had to overcome?
Beautifully curated photos and fun Instagram videos don't always tell the real story. I try to be as real as possible online, but things aren't always easy. There are only so many hours in the day and so much of ourselves we can give. There are many days I am zonked on the couch by 7 p.m. because I go, go, go until I drop. Self-doubt can easily creep in and it's tough to keep motivated. The reasons we can't or shouldn't do something sometimes scream louder than the encouraging voice saying "YOU CAN." Who am I? What do I know about business? Why would anyone listen to me or give me a chance?
It's tough oftentimes to justify the reasoning behind why I have my hand in so many things. My best answer is this: because it makes me better. I just continue to remind myself of that – because it makes me better. I'm a better mom and wife because I can feed my family nutritious meals that I feel good about serving. I am a better friend because I love to share and add a smile to your day. I am a better neighbor because I will be there in a time of need and my door will always be open. I am a better businesswoman because I will always encourage others and remind them that they CAN. That is why I work so hard.
Blogging has opened my eyes to a new world of interests and avenues – though it definitely hasn't been easy. I have taken the time and patience to learn. I have taught myself more about photography, social media, SEO, content creating, and graphic design in the last 4.5 years than I ever expected. It's unknown and scary and not the side of business I ever thought I'd enter. I have learned more about myself and what I am capable of, I've learned to push myself to work harder and make sacrifices to accomplish goals. In late 2018, I wondered how I could make my "brand" better and how I could make myself more credible to my followers. I pushed myself again outside the comfort zone, and I completed a certified nutrition course to be able to help in creating better recipes with a more nutritional focus, and thus better content to share with others. It was a personal goal and challenge that I wanted to prove I could take on and complete. And you know what? I did!
As a woman and mother, it's easy to get lost in the mindset that we come second, our needs don't matter as much as those of our children or spouses, or we can't get out there and pursue our dreams. YOU CAN. Your dreams are just as valid as the next. Carving out time for yourself and pursuing your interests is worth every moment you spend – it makes us better women, mothers, sisters, friends, wives. If I can do it, so can you!
Please tell us more about your blog, what you are currently focused on and most proud of.
Both my blog, Relish, and the game I am developing, Pour Decisions, are special because they contain a lot of heart. That's what sets them apart. I move first with my heart, and while at times that has lead me down a path of heartache, I know that's what makes me me, and I wouldn't have it any other way. Relish is a great representation of how I love my family. I share my family outings, new recipes, and adventures I'm taking in life. Pour Decisions is how I love my friends. I can't turn down the opportunity to throw a good party, and because of that, it lead us to launch Pour Decisions Wine Society.
I am so proud of all the hard work that has gone into Pour Decisions. What started as an informal get together among friends has manifested into a new business. I love seeing others play our game and enjoying the things we enjoy with our group. The thing I love most about Pour Decisions is that it's not stuffy, it's not foo foo – it's just FUN! The logic behind Pour Decisions is to learn more about wine in an informal setting. It's a game for all levels of wine drinkers, from those who know very little to those who know quite a bit. Our game provides guidance on wine tastings, fun facts and info on a variety of wines, so you learn a little something as you go. It's a wine tasting party in a box – you just add the wine.
I'm truly proud of the way both Relish and Pour Decisions operate. They were born out of a passion and I think if it's something you love, it can't be anything but great. I am excited to see where we are with Pour Decisions a year from now!
Finding a mentor and building a network are often cited in studies as a major factor impacting one's success. Do you have any advice or lessons to share regarding finding a mentor or networking in general?
I can't pinpoint one role model that I've looked toward to model my own life or goals to achieve. I think I've taken bits and pieces from all over the place. I've taken quotes that inspired me and scribbled them on to sticky notes and scraps of paper so I don't forget. I've watched those in life that have struggled and I've noted what to do differently. I've been encouraged to go for it – to strive for the best – and I've known if I tried my best, my best is always good enough.
Part of my motive to work so hard is to provide an example for my daughter that she can seek out her own dreams in the world and accomplish anything she puts her mind toward. I didn't jump in the pond until I was well into adulthood, but it's never too late. I want my kids to know their dreams are worthy, they are capable of incredible feats, and no matter what, I'll always be here reminding them "YOU CAN."
Estee Lauder: "I never dreamed about success, I worked for it."
Contact Info:
Email: pourdecisionswinesociety@gmail.com
Instagram: @pourdecisions_winesociety @relish_morethanacondiment
Facebook: @Pour Decisions Wine Society
Image Credit:
Live Stills Photography
Suggest a story: VoyageHouston is built on recommendations from the community; it's how we uncover hidden gems, so if you or someone you know deserves recognition please let us know here.