Today we'd like to introduce you to Vicki Khuzami.
Every artist has a unique story. Can you briefly walk us through yours?
Since the first time around age 7, I was told that when you grow up you have to work 8 hours a day,
"I thought, wow that's one third of my life…I better love what I do!"
Since I loved art, I knew that's the kind of work I wanted to do. After college and traveling, I moved to NYC to begin my life as an artist. But I soon found out that starting a career in fine arts would take a long time. And that waitressing in the meantime, those 8 hours days I mentioned earlier, was not very fulfilling. So, I met a woman painting romance novel book covers for a living and thought, "Well it's not fine art but it beats waitressing and I will be able to improve my skills!". That was the start of a, so far, 35-year long career of illustration and mural painting and the ability to keep the promise to myself I made at age 7, to work by holding a paint brush. I began to look at art as not a means to an end, but a vehicle to explore the life.
I was fortunate to freelance with Evergreene Architectural Arts and travel to distant places painting murals. Some of the first murals I worked on were for casinos in Atlantic City. I was fascinated by the fantasy world of these gambling palaces and very grateful that their wealthy builders loved to commission some of the wildest murals I was fortunate to design and paint. No one else was designing 'King Tut' and 'Alexander the Great' themed high rollers suites except casinos. Later, I was able to research and design new murals for The Capitol Building in Washington, D.C. Evergreene landed this highly prestigious project and I spent 8 months designing and 5 months painting in the Capitol Building itself. I felt I was working in the Emerald City and Bill Clinton was the Wizard of Oz. The D.C. Capitol was a vortex of history and the future mixing and the energy in the building intense. I saw myself as Dorothy, and was fascinated by every moment spent there. Soon after I started my own mural painting company, Khuzami Studio, and was fortunate to receive an endless stream of murals commissions for corporate, public, and private residences. Some projects included the Botanical Gardens, Disney, and in 2008, Bloomingdale's asked me design and produce their famous Lexington Avenue Holiday Windows, creating hand painted vintage 1950's Christmas scenes. Every project opened up a new world I could research and new painting techniques I could explore.
Perhaps the most amazing relationship I was lucky to have was with Mutsumi Saito of Moo Mural Studios, Japan.   Mutsumi Saito-san often brought me to Japan to work with him on murals projects throughout Japan from 1991 to 2011. I developed a close relationship with his family and artist crew members. I grew to love Japan more and more. As you can imagine there is way too much to write about on this experience so I will leave it at that. But this does return me to my thought that art should be a vehicle to explore life. And it certainly has been.
Throughout my mural painting years, I have from time to time, focused on my personal work. Unfortunately, there was little time to do this so my pieces were few and far between. In 2017, I was lucky to have been asked to participate in an art show at Carter Burden  Gallery in Chelsea, NY. I knew the way to do this right, was to stop working for 7 months and focus on painting for the show. Having spent most of my life creating painting for others, it was now my time to focus on something I would love to explore. After about one month of soul searching, the Telenovelas Suburbia series was born. I bought up vintage dollhouses and vintage suburban dolls on eBay, with my love for filmmaking taking precedence, I set about creating scenes within the dollhouse rooms, lighting then dramatically, photographing them and setting about painting them. The last thing I thought about was 'would they sell? ' because I will be the first to admit they are strange, the color is weird, and the themes are over the top. But it didn't matter since I was creating this work for myself and no one else. The surprising result was people do love them and Telenovelas Suburbia episodes will continue on from this day forth.
The focus now is to find a balance between painting murals, which recently have been liturgical murals (another fascinating theme to explore) and my personal fine art. The bottom line is, I am painting everyday which was the goal I set for myself at age 7.
Please tell us about your art.
In my recent series, Telenovelas Suburbia, shown in CBG gallery in Chelsea NYC this past September, I have created painted scenes of imaginary suburban homes by the use of 1950's and 1960's vintage dollhouses. What excites me is exploring socio-psychological taboos, societal foibles, and machinations from a voyeuristic perspective by use of the dollhouses. As lifelong collector of pop culture commodities, my work is inspired by vintage kitsch, which includes anime dolls, action figures, dollhouses, bodybuilding and vintage nudist magazines. I arrange pulp fiction inspired scenes within the tin walls of vintage dollhouses. Inspired by film noir, and the works of David Lynch, Wes Anderson and Todd Solondz, I enjoy staging, lighting, and photographing me cast of characters within the dollhouse sets. Next, I distort the colors by computer and manipulate them one final time on canvas. In the end, I'm a painter and storyteller. I create painted stills from movies never made but influenced from the purgatory nature of suburbia, eccentric lovers, and my past marriage to natural bodybuilder.
Choosing a creative or artistic path comes with many financial challenges. Any advice for those struggling to focus on their artwork due to financial concerns?
There are many paths to finding a creative career. My suggestion is to keep open to all possibilities. From reading my back-ground history, I think something I was always aware of was that famous quote of, "It's not the end goal, but the path getting there, were life is found." Maybe I made that specific one up, but you get what I mean. I have often heard artists say; " Oh, I would never do this or that." What I would say is keep open, if you are a freelancer, try to create many options for work. Cultivate around 4-5 different types of clients, so you don't depend on getting work from just one. Also, be your own agent and try to go directly to potential clients. I once saw a fancy store being built and I walked right in and said, "Hey, anyone here need a mural?" and someone shouted back, " Actually yes we do!" That mural became one of my most beloved murals and a Greenwich Village favorite.   Here Is a link to the mural: http://www.khuzamistudio.com/bohemorama-mural-in-greenwich-village.
Bottom line is, I would say, try to be as independent as possible and don't get too precious at 'drawing the line between what you will do and what you won't '. There are new people to meet in any new project you take on. Often leads happen where you least expect them. …then the second bottom line is, "Don't stay too long working somewhere that is draining you, be brave and move on."
How or where can people see your work? How can people support your work?
My work can always be seen on my website: www.khuzamistudio.com and on my Instagram:
https://www.instagram.com/vicki_khuzami_art/. There I have both my fine art and mural/art commissions. I also have an Instagram account, though it's not only my fine art but a photography  journal as well.  I will also make announcements of upcoming shows. I am extremely happy to be asked to participate in a group show Aug. 1st- 29th at the Jonathan LeVine Projects, I highly recommend others to go to their website to see the other artists' work in the show called 'Delusional'.
Website: http://jonathanlevineprojects.com/
Currently I am creating a mural for an investment bank, which is based on the WPA themes from the 1930's and 40's. I will be posting updates of the work on my website and Instagram. A prior mural for this client can be viewed here: http://www.khuzamistudio.com/wpa-mural–christopherson-and-robb.
On my website, I will soon be also offering fine art prints of some my paintings. If you have any comments or interested in discussing ideas, I am always open to having a dialogue.
Contact Info: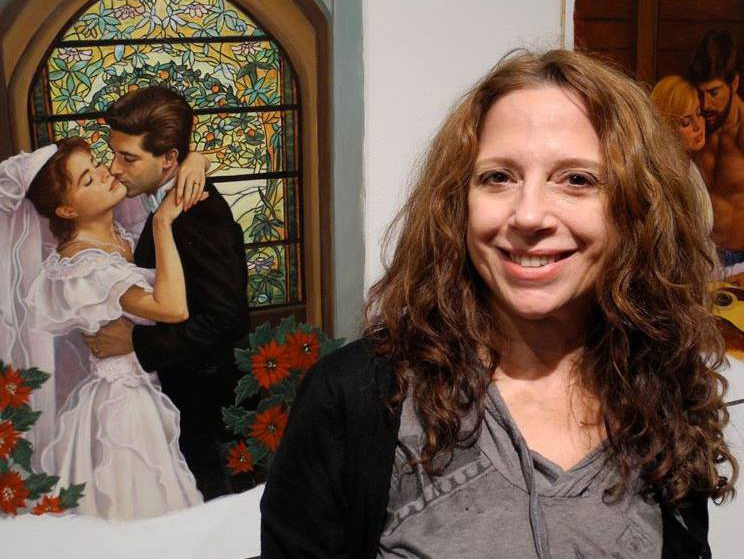 Image Credit:
Igor Molochevski
Maureen Keating
Getting in touch: VoyageHouston is built on recommendations from the community; it's how we uncover hidden gems, so if you know someone who deserves recognition please let us know here.