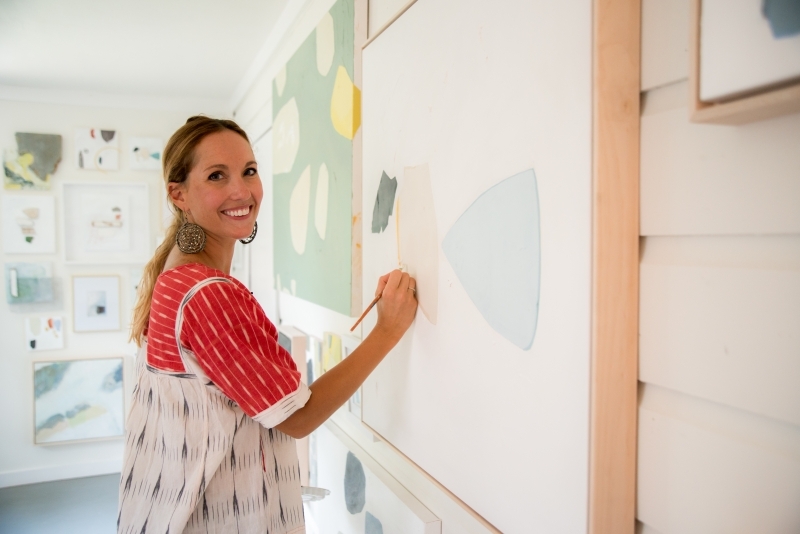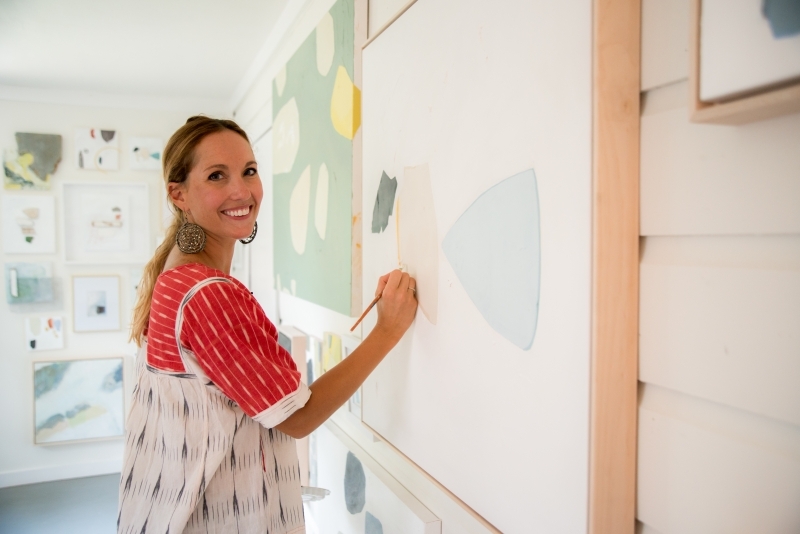 Today we'd like to introduce you to Kit Porter.
Kit, please kick things off for us by telling us about yourself and your journey so far.
I have always been a collector + creator. Perhaps that stemmed from the "go outside and play" nature of my childhood. Roaming freely up and down the alley behind my house, finding things people were getting rid of and making new things. I remember a doing a self-imposed art project with a friend where we quite literally collected unusual items from trash piles around my neighborhood and glued them to Styrofoam heads to create assemblage sculptures.
Additionally, my arts teachers from elementary through high school were instrumental in my decision to pursue art seriously. Heading into university, there was no area other than fine art even on my radar. I received a Bachelor of Fine Arts in painting from the University of the South in 2005. I went on to work in a variety of sectors of the arts world locally and abroad, and somehow painting became something I did on the side. Working in the intricately webbed world of artists, galleries, museums, curators and collectors, I lacked the confidence that my work had a place there too. I don't remember a lightbulb specifically going off, but I do remember deciding to put my art first. Since then I have not looked back and it is part of my every day.
What has stuck with me consistently since my childhood is that art has always been a completely immersive experience for me. From my childhood art projects to my work as a professional artist today, I am aware that from concept, through creation, to completion, I am all consumed. And that is most certainly the reason I have consistently come back to art over and over. Some of us are born with a need to create.
Can you give our readers some background on your art?
I create paintings exploring the beauty and destruction of the coastal environment. I have lived by the coast for most of my life. It brings me peace, tranquility and inspiration. I have been interpreting the coastal landscape for quite some time, but about a year ago my work took a significant shift to my current body of work.
I was working on a series of aerial landscape paintings of the Gulf coast, after relocating to Houston. I have always enjoyed working with mixed media, so I went to the beach to collect materials for my work. My intention was to use a bit of sand, maybe some scraps of rope, wood, etc… textures I associated with the coastal environment. However, upon arriving to the beach I found a beach simply littered. As I poked my way through the debris, searching for the perfect texture to add into my paintings, I could not help but turn my artistic search into a full-blown beach cleanup. Filling buckets with plastic bottles, grocery bags, straws, cigarettes, and innumerable fragments of plastic, I left feeling frustrated, discouraged, and quite frankly disgusted. The majority of what I collected went into the recycling bin, much of it had to be thrown in the trash, but there were some fragments that held the textural quality I was looking for. I cleaned them and brought them into my studio, where I incorporated them into my landscape paintings.
As the weeks passed, I made some lovely landscapes utilizing some of the debris. They evoked both the beauty and destruction of the coastal landscape, however upon each return to the studio, I began to question why I was incorporating these pieces of debris back INTO the landscape from which they had just been removed? I did not want to paint littered landscapes, and I did not want to simply paint landscapes. The process of removing marine debris had become so instrumental to my work, but I wasn't sure how to translate it artistically.
Then the shift occurred.
One day, during a cleanup, I found what looked like a piece of a broken record. There was something about this single item that intrigued me and caused an immediate shift in my mindset. I had been focused on thinking about the future of these items, whether they could be reused in my art, or recycled. However, the questions this record brought to mind were about its past. Where did it come from? Who did it belong to? Was it intentionally thrown out? Did someone lose it? And perhaps most curious of all: What was it when it was complete? As these questions ran through my head, I realized how much conceptual weight was in each of the items I was collecting. Each had a story; each had a past I would never fully know.
It is estimated that between 5.3 million and 14 million tons of unrecycled plastic waste ends up in the ocean…EACH YEAR. And estimates for how long plastic endures range from 450 years to forever. A recent article in National Geographic quotes Ted Siegler, a Vermont resource economist, "We know how-to pick-up garbage. Anyone can do it. We know how to dispose of it. We know how to recycle." I am a visual artist, and so my work serves as my voice offering significance to the broken, lost, discarded and forgotten fragments I have found…physical and conceptual.
And so, the process of collecting debris has become instrumental in my work.
My process begins with removing environmentally destructive debris from the coast by conducting regular beach cleanups…sometimes with large groups of volunteers, sometimes with family, and sometimes on my own. During each cleanup I put fragments aside to take back to the studio. As I sort and thoughtfully compose the fragments into unique arrangements, I focus on the simplified shapes, colors and arrangements, devoid of landscape.
I render each fragment composition in paint on a simple white background, devoid of landscape. By shifting the focus from the debris in the context of the coastal environment, to the simplified shape, color and arrangement; each fragment becomes further removed from its origin, and able to take on new meaning.
The fragments in my paintings represent our possessions, our memories, what is significant one moment and forgotten the next. They represent what we wanted, what we received, what we possessed, what we loved, what we used, what we discarded, what we broke, what we lost, and what we forgot. They are what is left over, all that remains.
In addition to offering a statement about how we choose to treat the environment, I hope my paintings will serve as a reminder to be grateful of what we have, mindful of how we treat it, and aware of what we will leave behind in ALL areas of our lives.
What would you recommend to an artist new to the city, or to art, in terms of meeting and connecting with other artists and creatives?
I strongly believe in community over competition, and find that most artists I meet agree. I feel strongly supported in my artistic career, and I attribute that to the amazing artists I have met through my galleries, my artist collective and even through social media, (Instagram in particular.)
My best advice for connecting with other artists is to attend as many gallery openings, artist lectures and art events as you can. It is great to see what is being made, in the real. Social media can be hugely beneficial to you as an artist, but there is nothing like seeing the work up close in person. You are also likely to meet other artists and art lovers.
But perhaps my biggest recommendation of all, is this: Don't be shy about reaching out to someone if you love the work they are doing. Everyone loves to receive positive feedback, so tell the artist who inspires you, or the gallery director whose curation you admire. You never know, you may end up with a new friend, or possibly a mentor.
What's the best way for someone to check out your work and provide support?
I currently live and work in Houston, Texas, USA and my studio is open by appointment. I am also represented by Anne Irwin Fine Art in Atlanta, Georgia and Bee Street Gallery in Dallas + Fort Worth, Texas. In addition, my work can also be found online at Well + Wonder Artist Collective and Serena + Lily.
Links:
www.anneirwinfineart.com
www.beestreetstudio.com
www.wellandwonder.com
www.serenaandlily.com
Contact Info:
Image Credit:
Lightning Whelk Photography
Getting in touch: VoyageHouston is built on recommendations from the community; it's how we uncover hidden gems, so if you know someone who deserves recognition please let us know here.