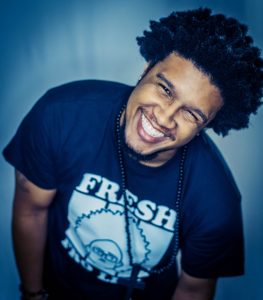 Today we'd like to introduce you to LeTony Hadnot.
LeTony, please kick things off for us by telling us about yourself and your journey so far.
I consider myself an artist first above anything as photography is actually the area where I'm least experienced. In addition to photography, I'm also an illustrator, graphic designer and I make graphic T-shirts. My first experience with photography happened back in 2002 when I was a senior in high school (yes, I'm old lol). It was for a communication graphics class that I took as an elective just to get credit to graduate. This was before DSLR cameras. We shot with film, and we had to use the darkroom to develop the images. Mind you, I had absolutely NO interest in photography whatsoever. But it was indirectly a stepping stone towards my then unknown passion for it.
(Fast forward to recent years) I picked the camera back up in 2015 because I wanted to take photos of models wearing my graphic tees, but somehow I went in a totally different direction and caught the "shutterbug". Once I realized that I wanted to do photography on a serious level, I signed up for a cheap little photography course I found on Groupon for about $5 (lol) to refresh myself with the basics of photography. Then, I challenged myself first to learn how to shoot in one of the most difficult conditions that most photographers struggle with….and that's shooting at night. I started with landscapes in the Downtown Houston area and eventually moved on to doing fashion and portraits. For that reason, most people recognize my work as a night photographer (nicknamed the Nocturnist recently by the ladies of Houston Radio show "Mimosas and Lattes") than anything, so that's basically where I am today, and I love every bit of it.
Can you give our readers some background on your art?
I am a photographer that loves shooting at night. I shoot anything from landscapes to portraits, but I definitely enjoy the portraits more. I prefer shooting at night simply because it's challenging and forces you to be creative with the limited light sources that are around you. Night photography is nothing more than release therapy for me; it's my breath of fresh air after a long crazy day. I feel like the portraits I shoot at night represents several different things, boldness, confidence, sexiness, romance, vibrancy, and fun just to name a few. Those are things I feel are more present at night than you would see during the day. My goal is to evoke some sort of emotional feeling when people are looking at my work. I also try to get a positive reaction from my subjects when they see themselves looking their absolute best. So there are a few things that are common in my work that people may not know. First, I always try to keep my models as simple as possible in appearance.
I'm not a huge fan of full-on glam, and it's too easy. I want them to be comfortable in their most natural state as possible. Another thing people may not know is that most of my photos are inspired by the aesthetics of 80's and 90's R&B music videos. I just loved the way those videos were always so vibrant but dark at the same time. It just makes me feel some kind of way lol. And lastly, I have my own filter in light-room that I use on all of my shots to give them vintage and colorful look. It's a unique cross-process technique I've come up with to make my work stand out.
In your view, what is the biggest issue artists have to deal with?
I think the biggest challenge facing artist is the fact that they are afraid to step outside of the box. Especially with photography. I'm guilty of it too. Sometimes when we're displaying our work, we can be discouraged by or afraid of another artist being judgemental about how we work. We have a tendency to follow the "rules" of the craft to pull off the "perfect" result when instead, we should be breaking those "rules" and finding a way to come up with something unique and exclusive to our individual techniques and processes. There's no such thing as creativity if we all follow the grain. Creativity is the result of disrupting the norm and standing out. I strongly believe in not following a trend, but being a trendsetter.
What's the best way for someone to check out your work and provide support?
So the majority of my work can be seen on my website or via social media (mainly Instagram). I have my own photography business so please support by booking a shoot or sharing my work and posts on social media to spread the word.
Contact Info:

Image Credit:
Kinnidi Alexiss, Liana Joseph, Adriana Oberto, Tia Madison, QueenAce De'Vonne ,Keylantra Taylor, Mariana C.
Getting in touch: VoyageHouston is built on recommendations from the community; it's how we uncover hidden gems, so if you know someone who deserves recognition please let us know here.