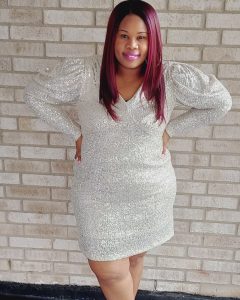 Today we'd like to introduce you to Manuela Obas.
Can you briefly walk us through your story – how you started and how you got to where you are today. You can include as little or as much detail as you'd like.
I am Manuela Obas, a servant of God and a licensed preacher. 
My story has been an interesting and very eventful life journey, it hasn't been perfect, but it has been full of very powerful experiences that has shaped me into all of who I am today and all that I am still becoming. One thing that has stood out for me in this journey so far, which is what has formed the bedrock of what I preach and say to people is the waiting process – learning to totally give it all up to follow God's pace and timing.
I was born in Haiti and raised in Brooklyn, New York. I came to America at the age of 8 years old, had a difficult time adjusting to the America culture and system because being a Caribbean girl, our culture was different. I was raised in a strict household; I wasn't allowed to date at a young age, and go to any parties until I was done with high school.
My journey of faith began at age 16 as that was when I accepted Christ as my personal Savior during my junior years in high school. It was a time when teenagers cared more about their looks, fitting in, and participating in extracurricular social activities; but not me, I was learning about serving God in our new found Baptist family. At that time, I struggled with low self-esteem and believed that I was ugly and because of the peer pressure, I felt the church was a hiding place for me where I could get away from all the troubles, negativities of high school. I remember being told a lot of times in High School that I would amount to nothing in life and this had a powerful effect on me. I tried to run away from the world to the church but unfortunately, the church had her drama too and this created a void that I didn't understand why. I just didn't understand why I could never fit in, and why I didn't belong, but now I look back and I understand that that was God trying to put me on a path where I totally leaned on him;  not even the "church" or anyone else.
At age 19, I fully surrendered to Christ during a service in Brooklyn where we went to sing. I heard God clearly say to me that He wants me to preach. I remember battling the voice that I heard and the call God wanted me to answer. But then I decided to answer the call; I pressed my way through the crowd and surrendered to God and accepted the call. After answering the call, it's been from one challenge to another in different areas of my life, trying to hide from God but still coming back to surrender to His call and purpose for my life. And I won't fail to mention that my family has been very supportive all the way from childhood to womanhood, they still remain my support system especially my parents Mr and Mrs Obas,  my aunt Marie, my siblings Juan,  Francisca, and Sanchez , and my friends – Big shout out to my family and friends!
On May 7, 2018, I became a licensed preacher,  published my first book "The Fight Within In 2019", started my radio program in January, 2020 and also started a movement called "Dear Women" in 2020. All of these unfolded after I eventually gave trying to my will done and surrendering totally to God's will.
Has it been a smooth road? If not, what were some of the struggles along the way?
The road definitely hasn't been smooth, it's been very rough. At some point in my journey I was laid-off my job, my finances were totally gone. I have had challenges with dealing with my self-worth and esteem. I have equally had my fair share of wrong relationships and still trusting God for the right partner who will help me fulfil God's mandate. I have had the challenge of letting go of my will in so many areas of my life to accept God's will.
But in all of these, I am comforted by the fact that God has never abandoned me. He has shown up for me in many ways and at very difficult times. This is why I strongly believe in Him and what He can do at all times. He is able to always help us get around the challenge or obstacle, all we need is to always invite him in and let him take the lead and we follow right behind.
We'd love to learn more about your work. What do you do, what do you specialize in, what you are known for, etc. What are you most proud of? What sets you apart from others?
I am a licensed preacher and all of what I do is God's work and spreading His message through sharing my story and experience via different platforms He opens up to me. Some of these include:
Writing/Authoring: I am a published author and my first book is titled "The Fight Within" which was published in 2019. My second book is in progress and by God's grace should be out before the end of the first quarter of 2021. I also have a blog where I write too – The Fights Within (https://www.thefightswithin.com/blog/). The platform seeks to inspire people not to quit in their journeys, but to instead keep moving forward and keep fighting regardless of the obstacles that may be in their way.
Radio Host: I am also the host of the live radio program "The Fights Within" which airs every Wednesday on Rhema Gospel Radio 101.5. FM at 7pm alongside Samuel McGee who is also a co-host of the program. Samuel is an assistant principal, a basketball coach, life coach, and a youth mentor. The program discusses real life challenges and how to handle them in order to fulfill your purpose. 
Dear Women Project: The Dear Women project is a community for transforming and empowering the lives of women. The vision is to restore and transform the woman totally, and position her to fulfil her God-given purpose and by God's grace, I am the founder and lead person for this project.
How do you define success?
Success for me is not about the many accomplishments or material possession one acquires in a lifetime. My definition of success is simply how much of your life's purpose one fulfils and how much of humanity one impacts positively on earth. Once you can fulfil your lives' purpose, you are sure to impart many lives on earth. That's my definition of success.
Pricing:
$100 per hour for Speaking engagements
Contact Info:

Image Credits
Book cover & Logos: Jennifer Eguagie Book editors: Samantha Obas & Prince Chibueze Abraham
Suggest a Story:
 VoyageHouston is built on recommendations from the community; it's how we uncover hidden gems, so if you or someone you know deserves recognition please let us know 
here.