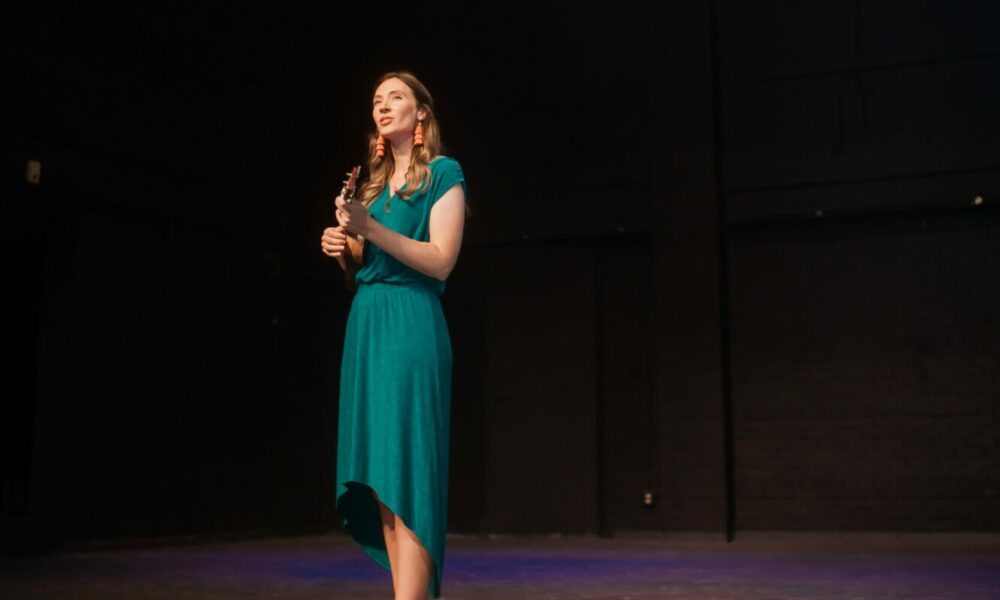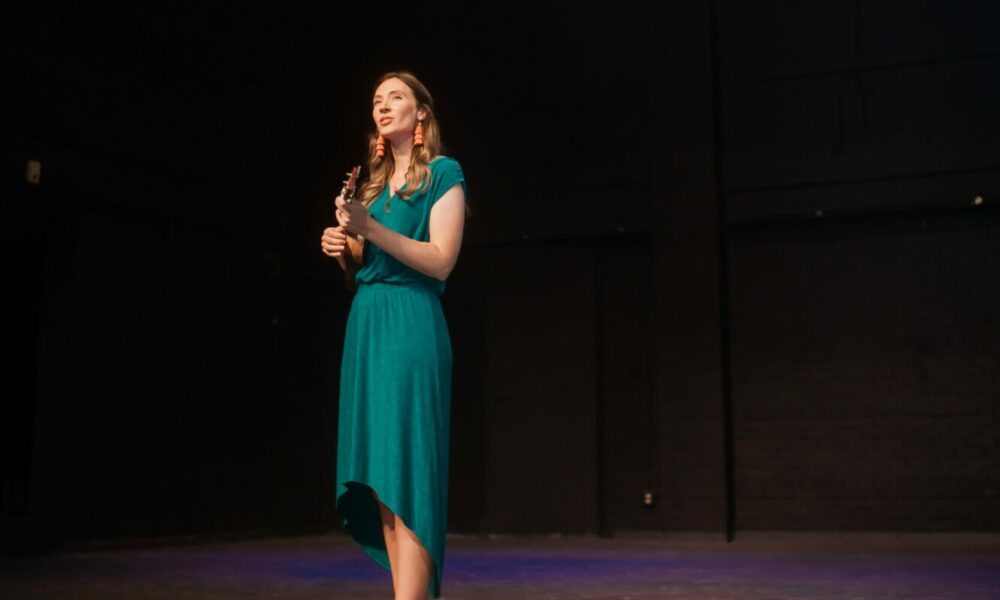 Today we'd like to introduce you to Ashley Orlando.
Hi Ashley, can you start by introducing yourself? We'd love to learn more about how you got to where you are today?
One of my first memories from childhood involves me wandering around the house with a book of Christmas carols in my hands. I couldn't read yet, but I had memorized all the songs and would "read" the books to my family by singing the carols over and over.
This early drive to use my voice musically was compounded by the fact that I grew up during the heyday of the Disney animated films. My first big dream was to be the voice of a Disney princess and get out of my small town in Louisiana to explore fascinating places like they did.
By high school, almost everything I did for fun was music-related, from classical voice lessons to All-State Choir. But in college I turned my focus to public relations, culture, and tourism, putting music on the back burner for about a decade. I lived, studied, and worked abroad in the UK and Europe, learned to speak French, and got a first-hand glimpse at all the history and beautiful architecture I had read about in books.
During my time in Paris, I connected with the French jazz scene, dancing swing and listening to live bands in the same underground "caveau" joints that musical greats like Sidney Bechet and Count Basie once played. I was having the time of my life, but every now and then as I twirled around the room, I'd catch a glimpse of the musicians on stage and feel a twinge of regret. I grew up an hour from New Orleans, the birthplace of jazz, but I had never been brave enough to give it a try. And even on the other side of the Atlantic, I still couldn't seem to find my voice or the courage to even ask to sing.
Several years later and back in the U.S., I picked up an ukulele on a whim while visiting my sister in Hawaii. Little did I know that this tiny instrument that many people consider to be a toy was exactly what I needed to move past my musical blocks and unlock my confidence/creative side once again. After a bit of practice, I could accompany myself to simple songs. But most importantly, there was zero pressure (from myself), and time flies when you're having fun. This led to connecting with ukulele community groups, meeting other musicians, and finally getting back to trying that elusive first musical love—jazz. I even learned to scat using another "toy" instrument—a kazoo. Now this "travel trumpet" is a staple instrument in many of my ukulele performances.
When my husband and I were transferred to Texas just after Hurricane Harvey, I found an even larger ukulele community here (Houkulele) and eventually led the organization to begin performing at community events throughout Houston. One of my proudest achievements with Houkulele was co-organizing a benefit concert at Anderson Fair Listening Room in partnership with local hospital music therapy programs. I later became an advisory board member for the international charity we supported that day, the Ukulele Kids Club—which harnesses the power of music by supporting music therapy and giving ukuleles to medically fragile kids. I also formed my first band—Vintage Point—which mixed jazz, blues, and Texas Swing with an international twist—and started attending jazz jams, meeting some of the best musicians in town and testing my growing vocal/uke skills. Those learn-by-watching moments and chances to talk with local legends were priceless.
Then in 2020 the pandemic hit, and all my in-person gigs were suddenly canceled. I used the next year as a chance to slow down and hone my ukulele skills, learn about audio recording, virtual performing, and start connecting with incredible musicians around the world who were suddenly all online. I had the privilege of performing (virtually) in Hawaii alongside an incredible line-up of female ukulele players/singers during the Moonlight Mele Concert Series and started teaching ukulele tutorials via RockClass101.com.
This added focus on finetuning my skills meant that when things opened back up, I was primed to jump head-first into opportunities like opening for Joe Burlison's Christmas Jazz Show at the Dosey Doe Big Barn. Lately, I have also enjoyed working around town in duo formats with talented pianists and my jazz ukulele partner.
Another gift from the global shift to virtual work is that I have finally discovered how to combine what I once thought were separate parts of myself—my extensive professional background in communication, intercultural relations and community-building with my music to inspire & coach high-achieving women who want to release self-doubt, find their voice and realize their full potential on their own terms. It feels incredible to be able to bring all my skills to the table to empower women to get past their own mental blocks and tackle big dreams, too.
Would you say it's been a smooth road, and if not what are some of the biggest challenges you've faced along the way?
As a singer, ukulele artist, and charisma coach, most people who meet me these days are surprised to learn that I was a very shy, quiet child. No one outside my immediate family could believe it when I first started getting up on a stage to sing in middle school. But again, that pull for musical self-expression was so strong that it helped me work through many fears, like performing before thousands of people or talking and connecting with others, especially in foreign environments. Now, connecting with and helping people step outside their comfort zone is one of my superpowers.
It took me a long time to learn this lesson, but the biggest obstacle between me and my goals has always been myself. When I shelved music years ago, it was in part because I believed I wasn't capable of doing things that I now do regularly. It's a common misconception that music is mostly about talent. That's certainly part of the equation, sure, but even the most naturally talented singers have to hone their craft to achieve true greatness. I didn't realize that I could unlock all these things for myself simply by finding the right people to guide me through and past my vocal/mental hurdles and putting in the work. Now I have proved my old beliefs wrong many times, and having failed at both piano and guitar when I was a teen, it feels incredible to be able to express myself musically today in ways I only dreamed of when I was younger.
Alright, so let's switch gears a bit and talk business. What should we know about your work?
People sometimes refer to me as a "joyologist" and a "breath of fresh air" because I have an innate ability to find and spread joy and bring energy/passion to all my projects. And I do that in a variety of ways—through music, through curiosity/exploring, and through connecting people to their own presence and confidence. I'm on a big mission to help 1 million women find their voice—whether that's their singing voice, speaking voice, or creative voice—so that should keep me busy for a little while!
One of my proudest musical moments this year has been getting to perform with a big band—The Kingwood Big Band—for the first time in April. What a dream come true to feel all that musical energy swirling around, sweeping me off my feet, and realizing that I am part of it. I can't wait to create more opportunities like that again.
I also love bringing an international feel to my performances and often sing songs in French, Spanish, Portuguese and even Italian on occasion. It pushes me to learn more about other cultures, brings people together and piques their curiosity for the world. Even though I no longer live abroad, my love for exploring has not diminished. It has found a new direction: people, storytelling, and connection.
What are your plans for the future?
Well, I can't help but dream BIG, I'd love to sing with more big bands, a symphony one day or one of my favorite jazz singers like Harry Connick Jr. or Michael Bublé.
In the meantime, one of my next projects is to record an EP. This will be my first foray into recording, so it's an exciting step. I'm also involved in a new gypsy-jazz/French group here in Houston that has a lot of promise—I can't wait to see where we take it.
One thing you can always expect from me is to keep learning, connecting and taking regular steps out of my comfort zone, because life experience has taught me that's when the most amazing things happen!
Contact Info: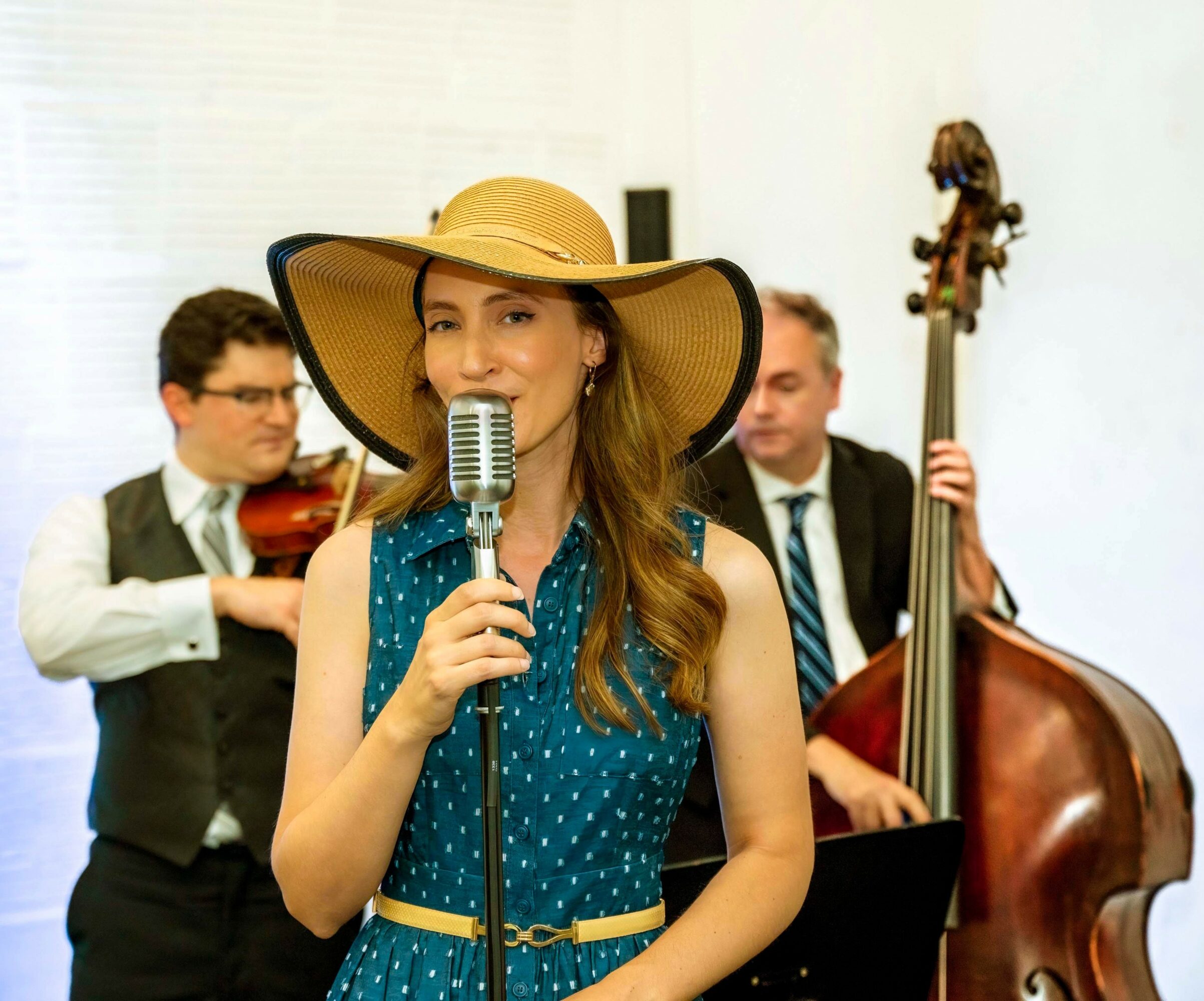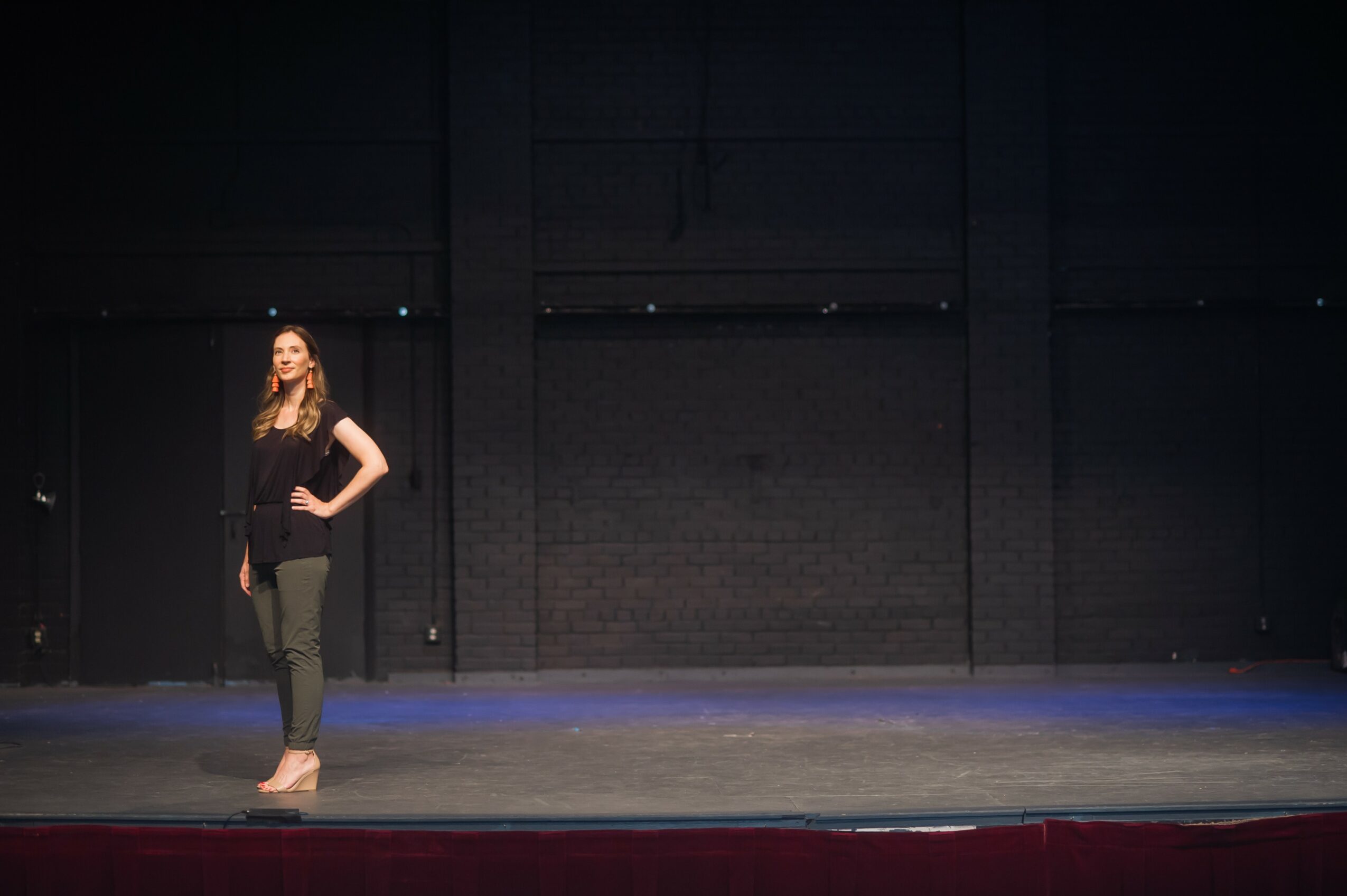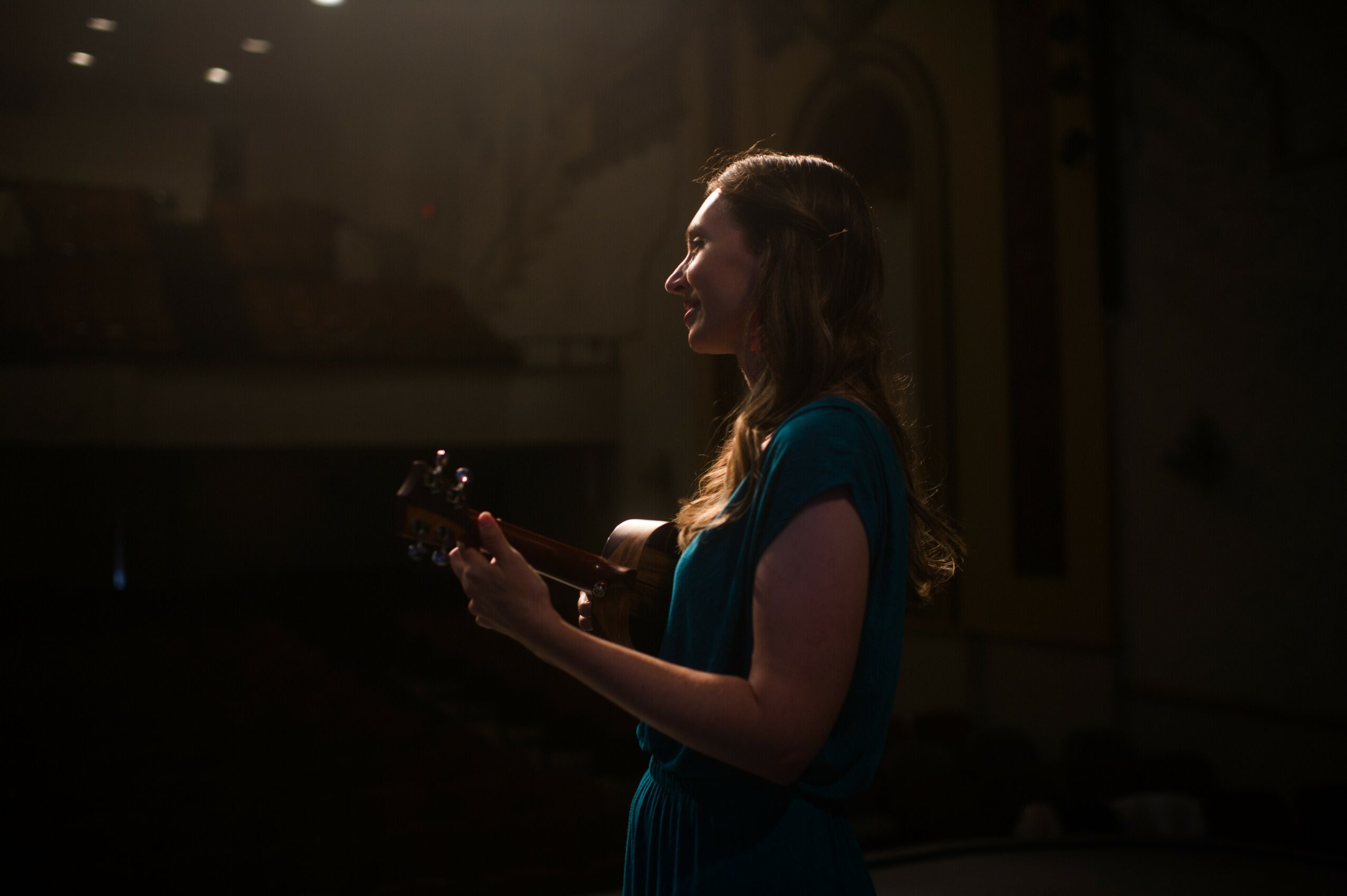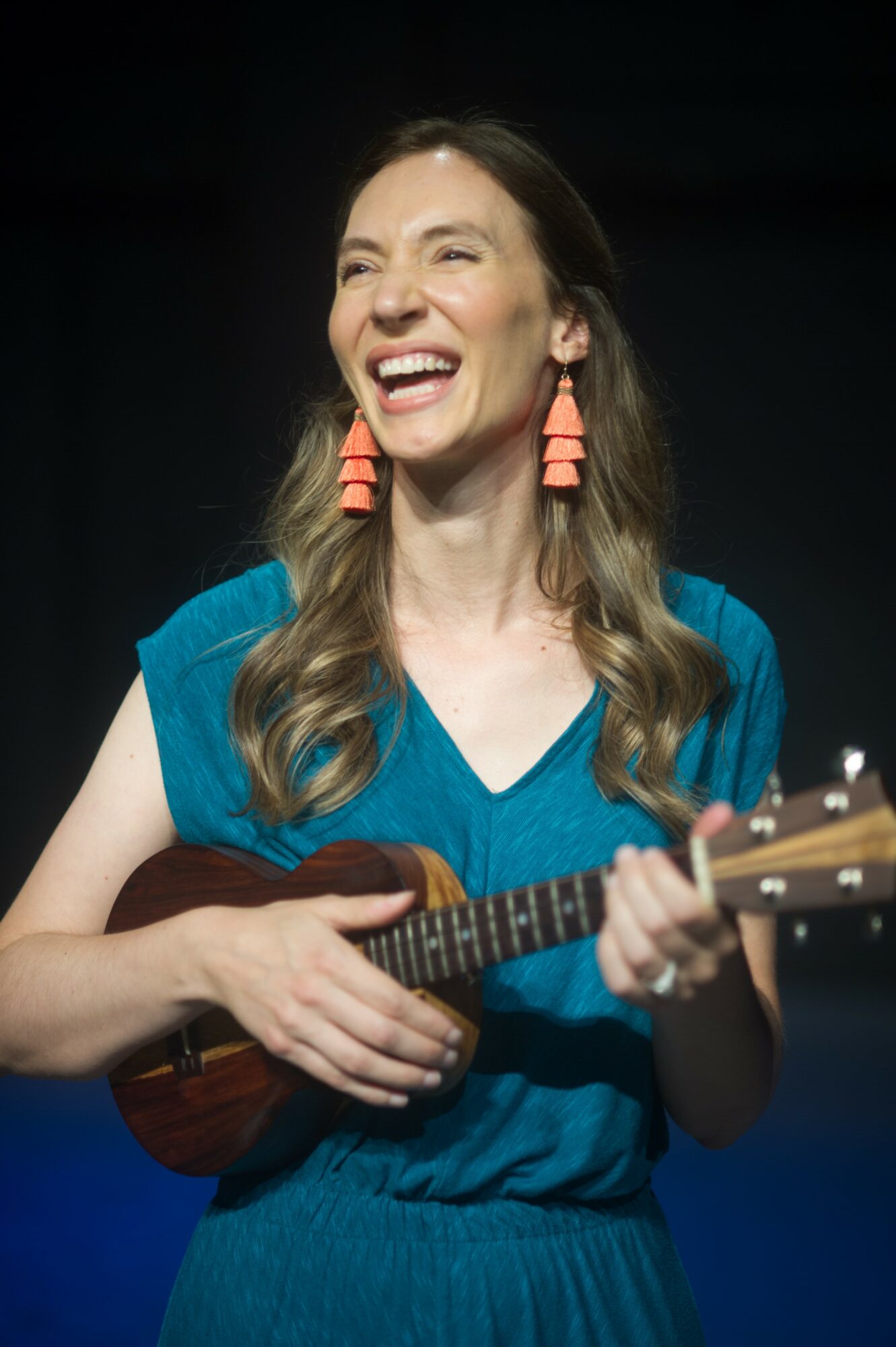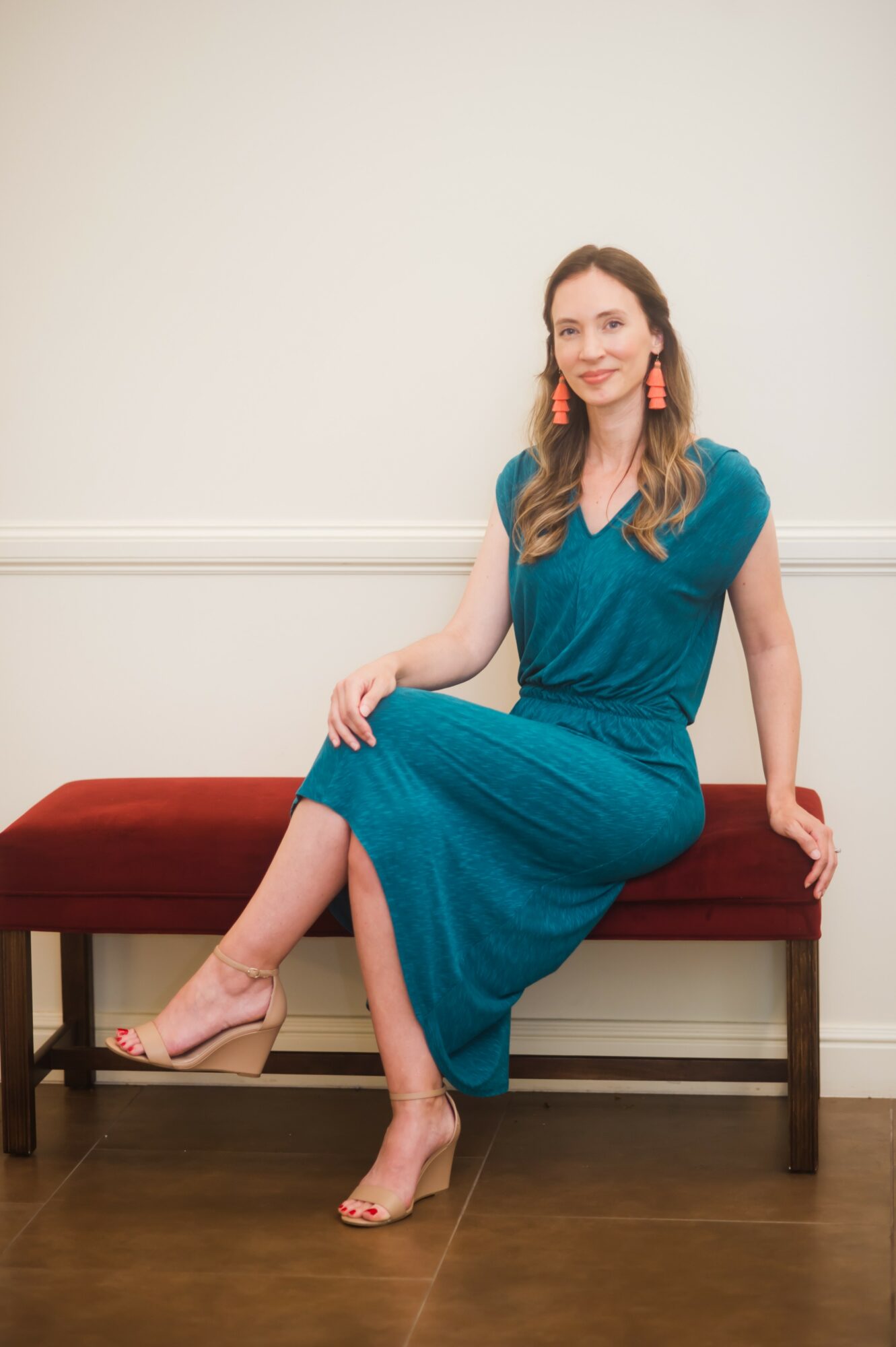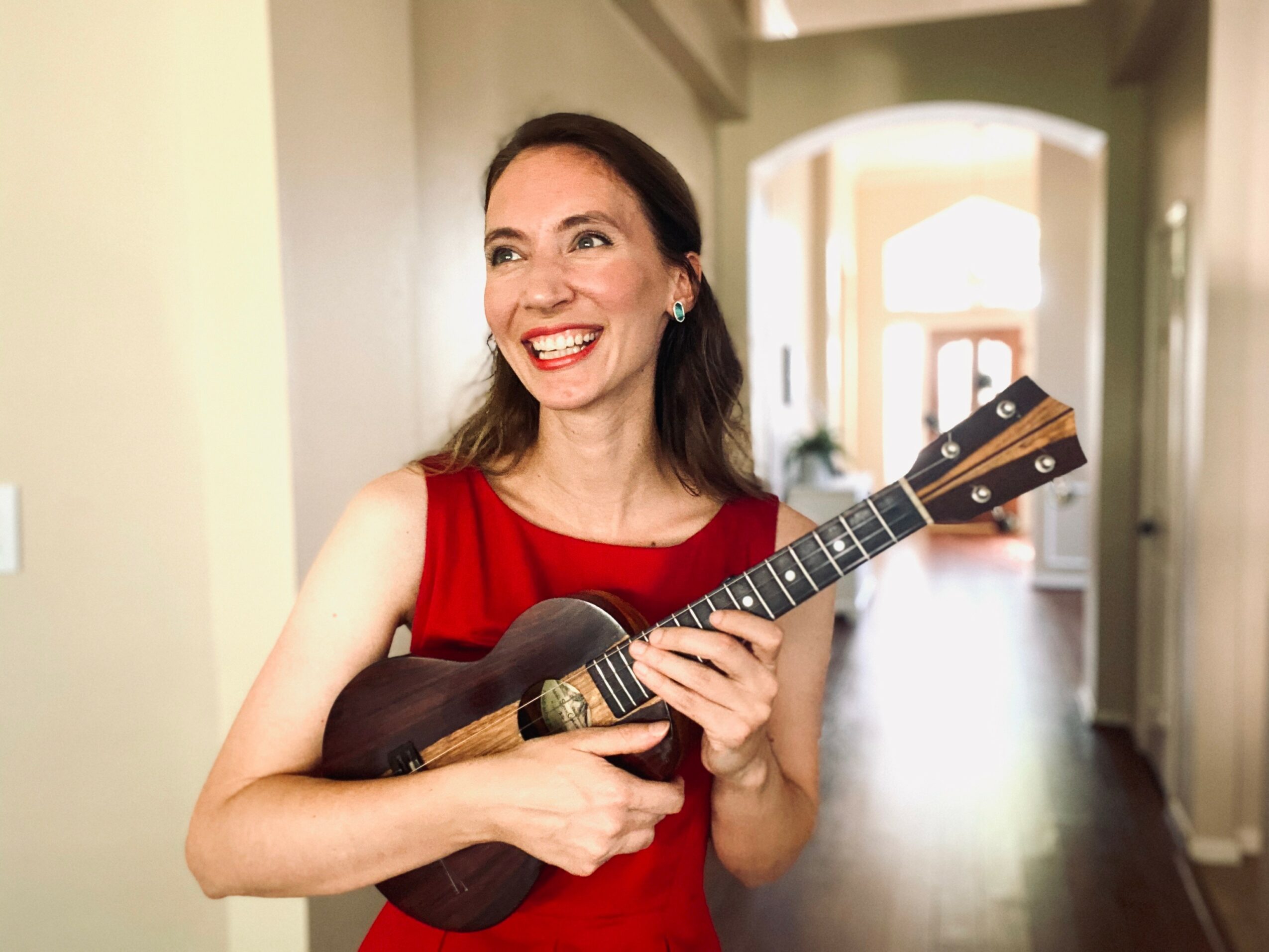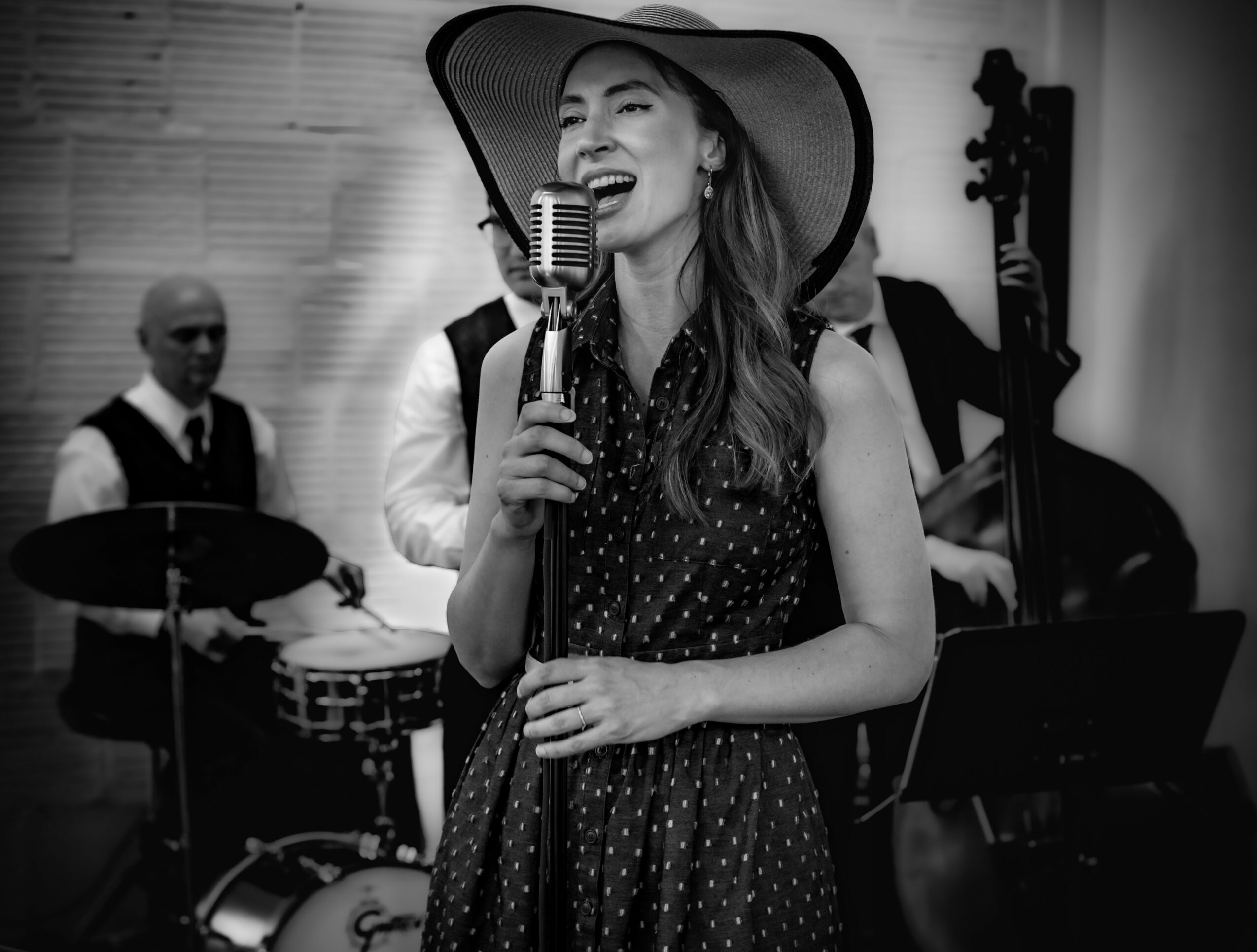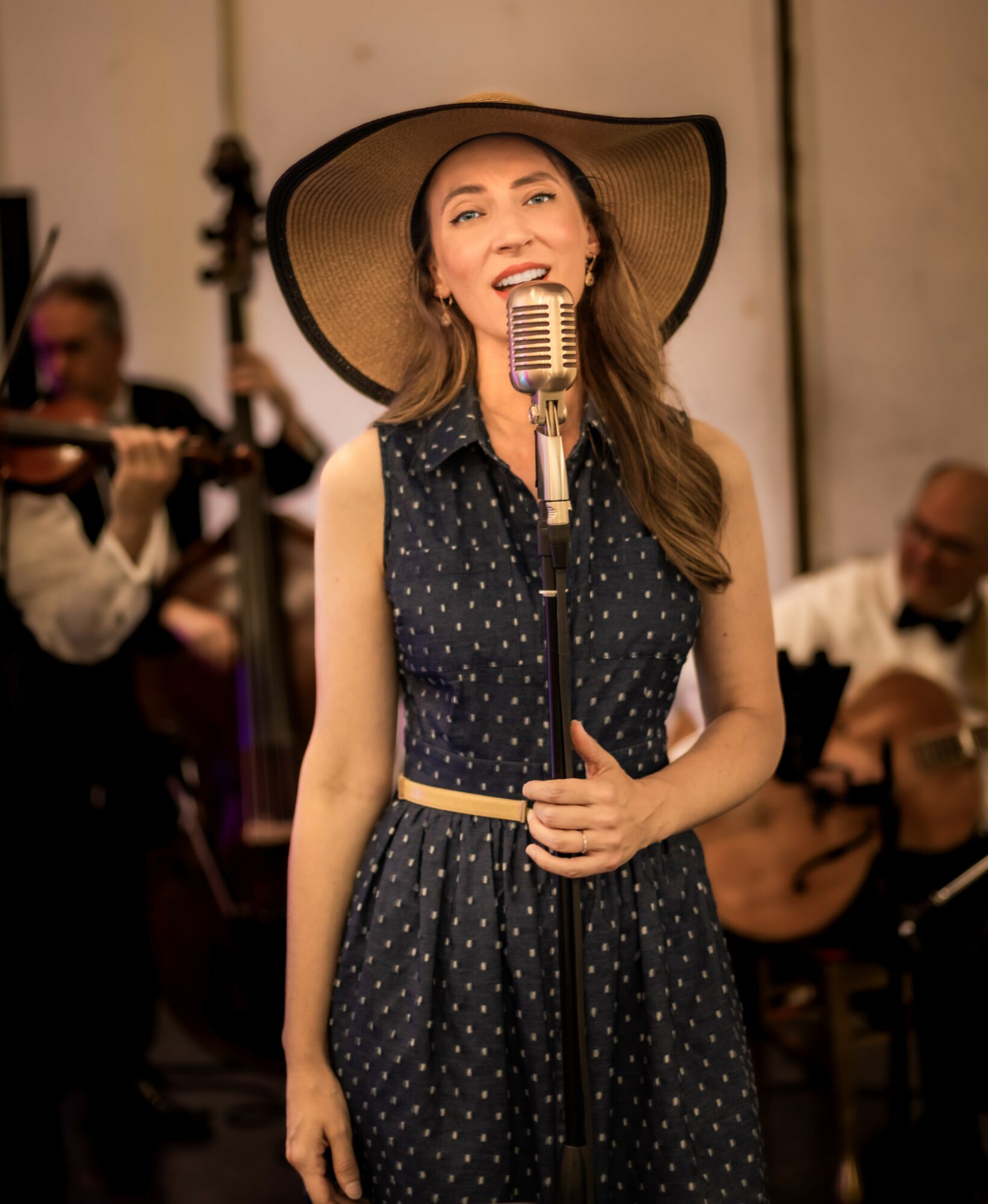 Image Credits
Kitty Sanchez Photography
Vic Clark Photography
Padam Pandit
Suggest a Story:
 VoyageHouston is built on recommendations from the community; it's how we uncover hidden gems, so if you or someone you know deserves recognition please let us know 
here.