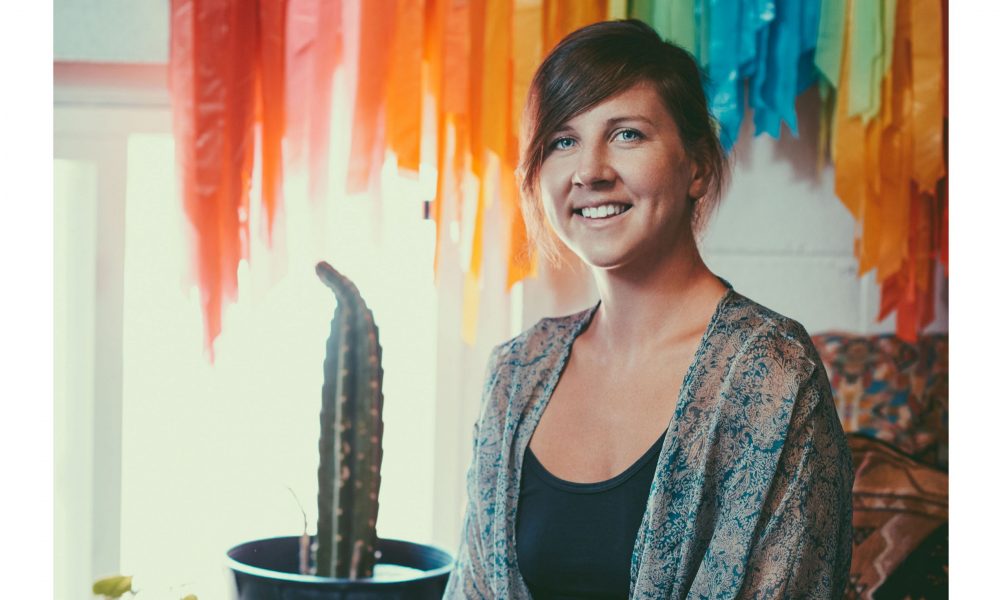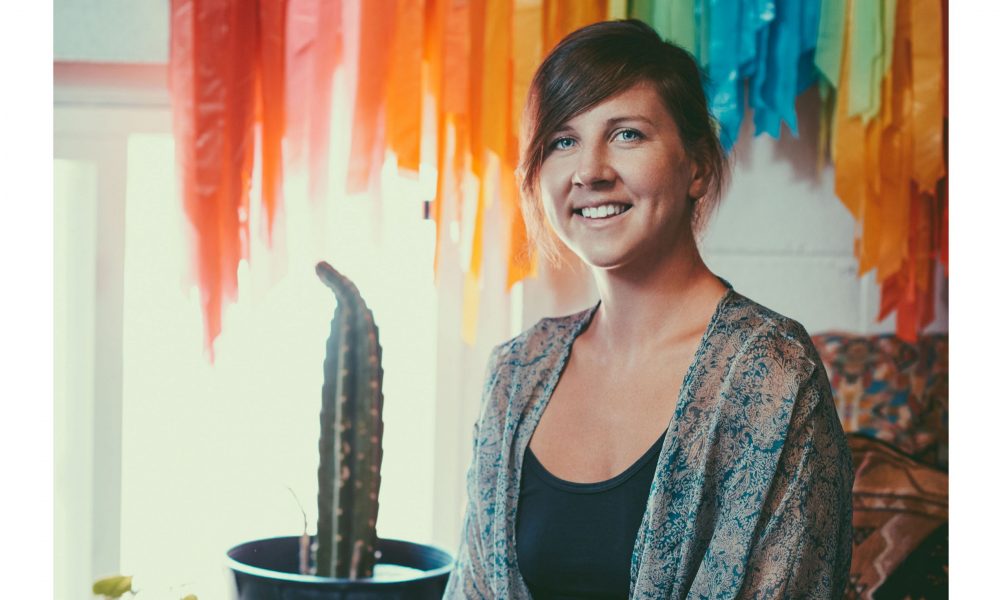 Today we'd like to introduce you to Emma Balder.
Emma, please share your story with us. How did you get to where you are today?
As a child, I was always interested in textiles and fashion. I had an extensive collection of fabrics, and my closet would overflow with wild colors and patterns. Early on in high school, I took fashion design classes at the School of Fashion Design in Boston, as my interest lay in clothing construction and reconstruction. I was always trying to reconfigure things: reinvent the way fabric was used or the way clothing was intended to be worn. I would take apart clothes and try to reconstruct them in a very hodge-podge way.
I took art classes in high school to expand my portfolio, and immediately fell in love with painting while taking a course at the MFA Boston. I attended the Savannah College of Art and Design for painting, as I quickly realized that fashion design wasn't the right path for me. I enjoyed the versatility and freedom that I found in painting. In college, I learned that painting didn't need to be restricted to it's traditional materials and techniques, and that left the door open for me to later incorporate the parts of fashion and textiles that I loved. 
After college, I was making these large abstract paintings in a very physical and visceral way, falling into an abstract expressionist style of painting. It was enjoyable, but I felt that something was missing from my process. I participated in a month-long residency at the Vermont Studio Center (VSC), where my practice took a drastic shift. I cut up a large painting I was working on, rearranged the pieces, and sewed them together to create nine small paintings that I call Pinglets. The Pinglets are baby paintings, like a piglet but a painting-let, birthed from this one large mother painting. This "birth" marked the emergence of a new practice.
My residency resulted in me being awarded a one year Staff Artist Residency at VSC. 60+ artists arrived each month from all over the world to participate in residencies. While engaging with this evolving community, I continued to have my own studio space and diligent practice. I started to notice the obscene amount of waste that all these artists around me were creating and it really bothered me; I saw beauty in what they were throwing away. I would find pieces of torn paintings, full sheets of watercolor paper, half used tubes of high quality paint, and many, many textile scraps. Naturally, I began incorporating this wasted material into my Pinglets.
The Pinglets helped me crack my shell; I was essentially going back to this love of reconstructing colorful, tactile things. I was also creating other embroidery works and had begun to create small fiber paintings on paper, which acted as studies to inform my other work. I wanted to explore these studies further, and uncover how the material could be manipulated in its simplest form. Since this time, I've been furthering my investigation of fiber painting, essentially using the fibers as I would paint, and experimenting with this unique way of transforming the material. The fibers take on interesting shapes, and sometimes the appearance of creatures lurk within the imagery. I'm very interested in this idea of pareidolia, seeing recognizable imagery in something that is abstract, and accentuating what I discover in the fibers. This is the work I'm currently pursuing and experimenting with as an artist in residence at Box 13 here in Houston.
Has it been a smooth road?
The good roads are never paved; we must pave the way for ourselves. Sometimes the road is dusty gravel in the dry desert, or a winding road at high elevation through the mountains and one wrong turn could drive you off a cliff. Over time, I've come to learn that the opportunities, inspiration, successes, and struggles of one's career come in waves. One minute you feel like you're in a creative rut and question what you're doing, and the next moment you're on a creative high, or so busy with opportunities that you feel like you'll never get over the finish line. The most valuable lesson I've learned through all of the highs and lows of this creative life is the importance of consistency and perseverance. Spending every day being creative in some way, shape or form can be a challenge, but it is vital to keeping our creative muscles strong and active. Creativity is kind of like a sport in that way; you have to practice every day in order to push past your threshold and continue to improve. Pushing past that point is always difficult, but it is wholly necessary.
Another challenging, but equally valuable lesson has been the realization that being an artist is a lifelong commitment. It's easy to get swept away by the notion of instant gratification in our modern world, but it's important to realize that you're in an ongoing relationship with your work. This simple realization has helped me get through some of the ups and downs of my creative path.
Please tell us more about your work, what you are currently focused on and most proud of.
My fiber painting practice is very unique. It's a process where I am literally painting with fibers, manipulating the smallest bits of textile waste with a paintbrush, tweezers and painter's medium. I treat the fibers as I would paint, or as a drawing tool. Different fibers can create different hues and values. Tightly wound threads can make a distinct, crisp line. Fibers like wool can make a denser section of color and then disperse out, creating a softer, lighter gesture, where I'm often given more space to interpret and respond. The density of the fibers can act like a shaded color or a distinct mark.
What I find so interesting and profound in this process is that it's really a collaboration with my material. While I am giving these tiny parts a new life, it's also a practice of call and response. The fibers often have a mind of their own, and I can't necessarily dictate where every single fiber will sit on the painting. Sometimes, they tell me where they want to go. Then, I respond to the way the fibers have moved along the surface, adding in marks with graphite and acrylic paint to create a conversation with the material. This is something that I'm most proud of as an artist; that I've found a way to not only transform this neglected material but to develop a new relationship with it, in its most minuscule, basic form.
I also rent out installations to different private and public events. I mostly rent to public festivals or single day events, such as Arise Music Festival and Stanley Arts Festival in Colorado. My installations have also been rented by the likes of the Cherry Creek Arts Festival, Role Ad Agency, and Meow Wolf. This method has proven to be a sustainable, alternative way to make art more accessible to the public. I'm looking forward to creating more rentable installations in the near future and bringing this concept to Texas and elsewhere.
What are your plans for the future? What are you looking forward to or planning for – any big changes?
I am thrilled to be having a solo show at Heidi Vaughan Fine Art in October 2019. I've been trying to slow down and focus more in the studio in preparation for this, and am very excited to show all new work to a new audience here in Houston. I have three group shows this summer in Quebec with Stella Ripley Contemporary, in addition to teaching workshops and continuing to rent out my installations. I am also looking forward to participating in more art fairs in the near future.
For now, I'm buckled down in my studio as a resident artist at Box13, making lots of new, larger work, and popping out here and there to scope out some of the amazing art this city has to offer. I do love conducting studio visits with other creatives and artist professionals and, although my studio is open by appointment, I am always open to a visit! Please email me at emmaabalder@gmail.com if you'd like to come to take a peek at what I'm working on.
Contact Info:
Image Credit:
Portraits: Paul Miller Photography, Artwork: Courtesy of the Artist, Other: Courtesy of the Artist
Getting in touch: VoyageHouston is built on recommendations from the community; it's how we uncover hidden gems, so if you know someone who deserves recognition please let us know here.