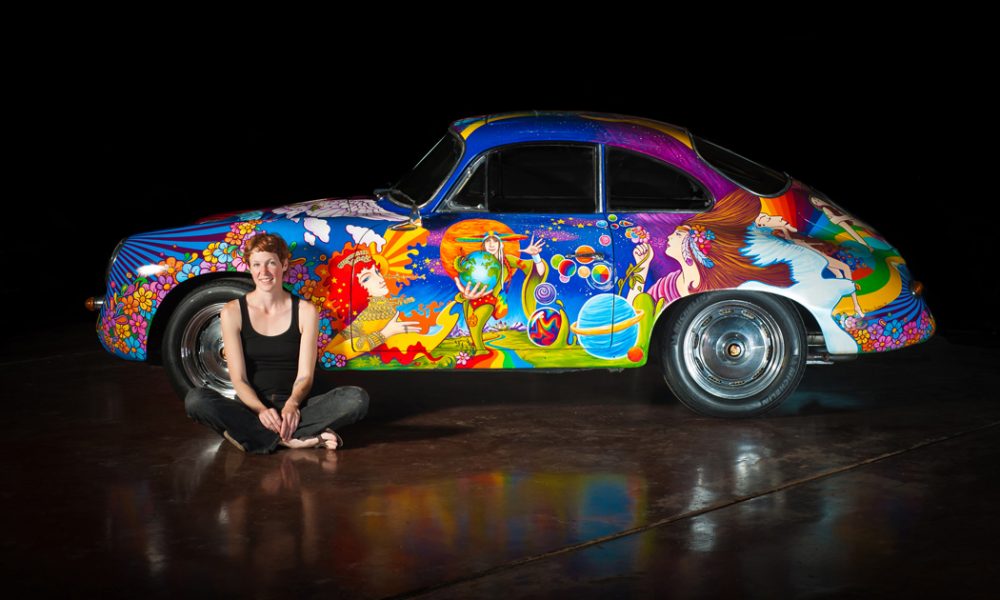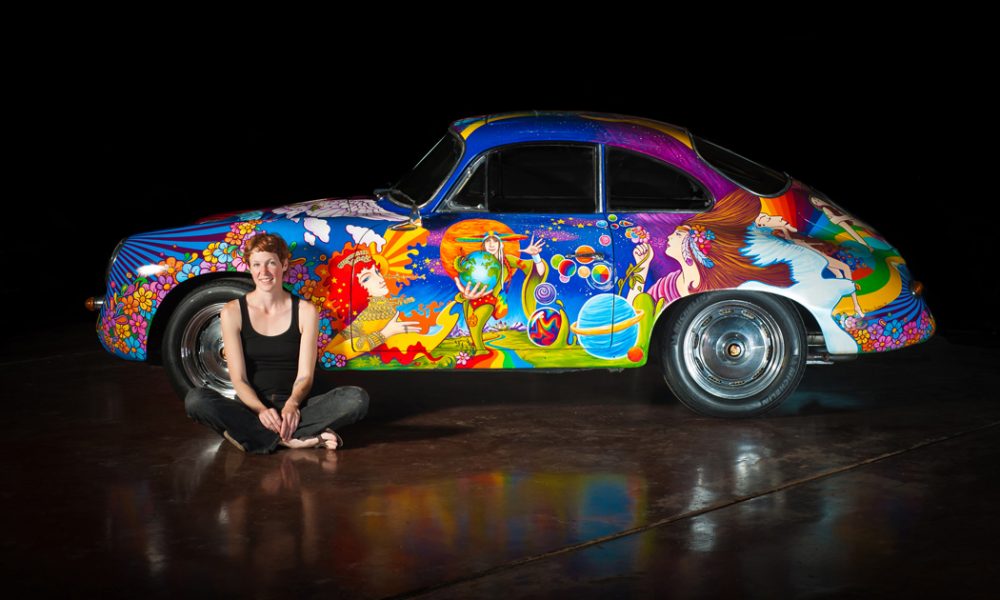 Today we'd like to introduce you to Robynn Sanders.
Every artist has a unique story. Can you briefly walk us through yours?
Staring at a wall does not sound like the most fun but at the age of 14, I painted my first mural, an 8'x12′ mural for an elementary school and I decided then and there, that's how I want to spend the rest of my life! Here I am 21 years later and I am still staring at walls in schools, restaurants and people's homes but I have also added cars to my list of things to stare at and paint. When I was 26, I found myself staring at my car and I decided that Henry Ford's statement in 1909, "you can have any color you want, so long as it's black," was one of the most uninspiring quotes I had ever heard. My car was just begging for me to help it identify with its true self and a month later my car become the Super Duper Trooper Raygun and it was designed, hand-painted and built to protect earthlings from evil invaders.
It was equipped with electro-fizzilating cosmic clouding bubbles (bubble machine) that cleansed the earth of dirty doing, some dual-action dastardly deed destroying darts (plunger in a canister vacuum cleaner), and some hypersensitive sound blasters (assortment or car horns and bells). I would have never imagined ten years later, I would still be staring at cars and painting them with tiny brushes. I have been commissioned to paint more than 20 cars and have several waiting for their new identity. Each car has defining characteristics ranging from curvy body lines with perky headlights, to boxy bodies that have pointy fins. All the cars are so unique on their own, they are rolling sculptures. Each paint job is custom designed and painted to the desires of the client and around the aesthetics of that particular cars body lines. So, in a nutshell I became not only a muralist but a custom car painter.
Please tell us about your art.
My art is the voice of my clients. My art is designed specifically around the idea that the car is a canvas, public art on wheels. Clients love that I will listen to their ideas and try and make the most engaging car possible with just paint that will bring the viewer in closer or just provide a single smile while driving by. I prefer my art to grab the viewers' attention both visually and intellectually. I want them to view it for longer than a glance, let their eyes keep circling and passing over it and finding the little added details or even a story of their own.
The car that started this chain reaction is a 1963 Porsche 356 owned by David Duthu, a local car collector. When I met David, he had this little white Porsche tucked away in a corner hiding under a layer of dust. David was looking to find an artist to breathe some life into it and take him and the car back to the psychedelic sixties that he missed so dearly. This is when the Psychedelic Surfer Dude (PSD) was conceived. The little Porsche began its new identity by getting a 200-hour, hand-painted paint job that divides the car down the middle with one side representing fire and the other side representing water. The two sides are brought together with a guitar that has been incorporated in with the hood ornament. This car is a tribute to a bygone era of peace and love. PSD was the first purely painted art car to win one of the top three awards, participants choice, at the 2009 Houston Art Car Parade. This gathering is the largest in the US and showcases over 250 artists. The car went on to be written up in the New York Times about being one of few, "vehicles that have merged the world of art and automobile". The car was also a centerfold in a Porsche Magazine, and several other publications and was on exhibit at the Art Car Museum. Due to its growing fame the car and I were invited to the Petersen Automotive Museum in Los Angeles where I painted the museum directors, 1966 bug in-front of museum attendees as an interactive display titled "Cars as Canvas".
Upon my return to Houston I started my relationship with Saint Arnold Brewing Company and I have painted seven cars for them. Brock Wagner, the owner of Saint Arnold bought a "59 Cadillac and wanted a beer related pattern to adorn all 18 feet of the car. It turned into 65 rows of pattern that shift in shape and color to create a morphing pattern of beer ingredients Barley – Hops – Yeast – Water – Fire. The other cars are themed after their signature beers.
The cars I have created for clients range from Day of the Dead, robots, bubbles, Cuban flair, stripes that follow a Boxster's body lines with a psychedelic twist, a super intense Tibetan Buddhist themed '49 Plymouth, and a pirate themed car that I painted live for the Museum of Natural Science Pirates exhibit opening. I also started painting individual cars body panels (hoods, half of a Porsche 911) that act as white wall gallery art.
The cars are painted with 1-shot paint and are taken to get a professional automotive clear-coat after I am done with them.
We often hear from artists that being an artist can be lonely. Any advice for those looking to connect with other artists?
Loneliness does come with being an artist but if you live in Houston the most contagious group of artists, I have found is the Houston art car community. The Houston Art Car Klub is a community of artist that are always helping one another, sharing tips, visiting schools and hospitals and other events to spread the smiles with this rolling gallery of public art. When you own and drive an art car everyone becomes a friend.
How or where can people see your work? How can people support your work?
You can find some of the cars I have painted in Florida, California, Louisiana, Washington and here in Texas rolling the through the streets of Houston, Dallas, San Antonio and Austin. If you visit Saint Arnolds Brewery and Restaurant you will find my art in one of the chapels, The Goddess Room, and in the stairwell in the Brewery, some hop vines and Don't Worry be Hoppy. The Cadillac is parked out front from time to time. You can follow me on Instagram and Facebook for my latest cars and see what walls I am staring at and painting.
If you want your car to take on a new identity, I will love to meet you and your car. Walls need fresh paint as well, feel free to reach out.
Contact Info:
Website: robynnsanders.com
Phone: 713-304-9596
Email: info@maverickmurals.com
Instagram: robynn_sanders
Facebook: Robynn Sanders – Maverick Murals Art and Design

Image Credit:
Kim Brueggerhoff
Paul Mcrae Photography
Getting in touch: VoyageHouston is built on recommendations from the community; it's how we uncover hidden gems, so if you know someone who deserves recognition please let us know here.