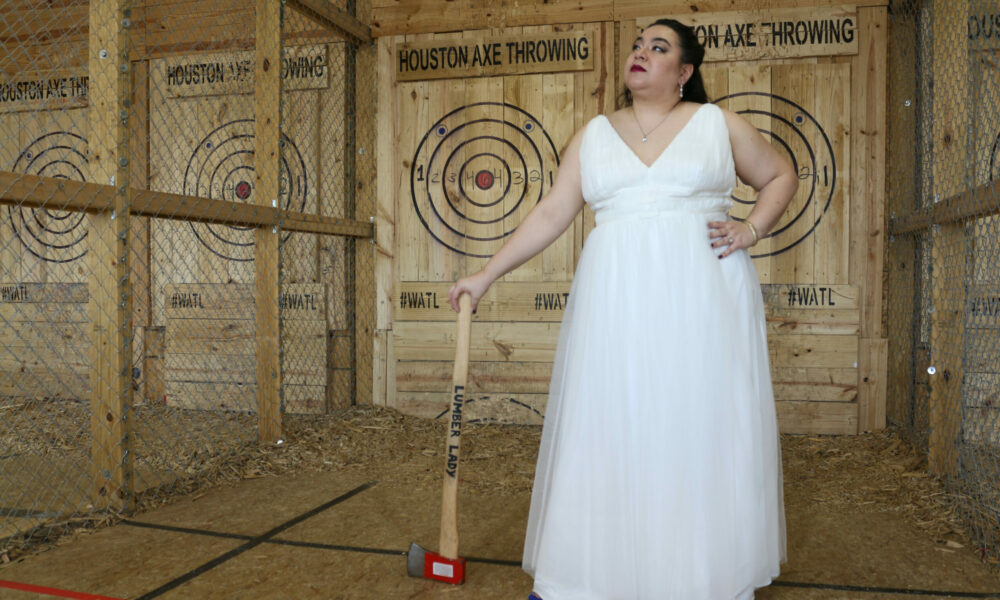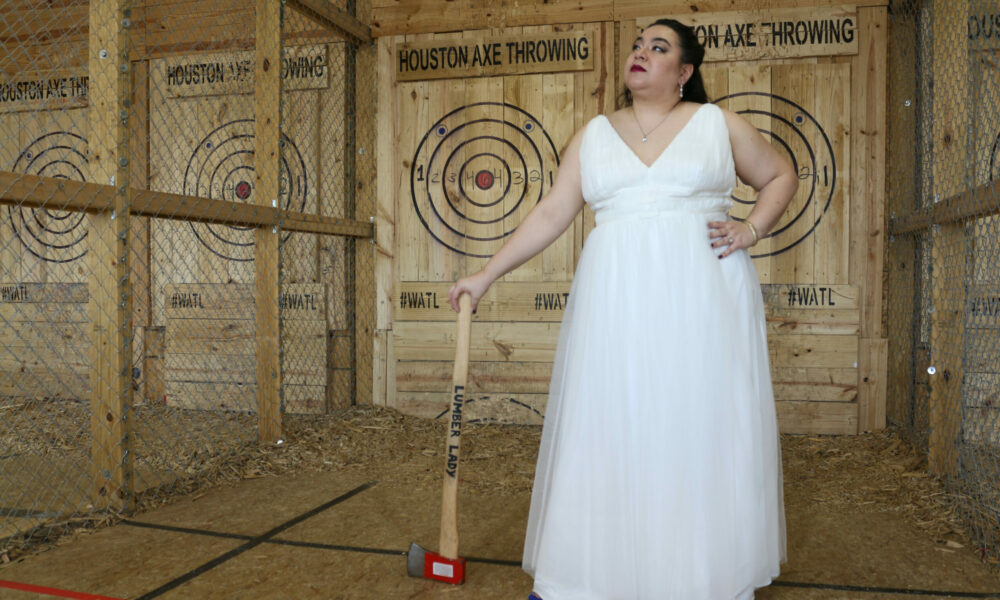 Today we're excited to introduce you to Sarah Sed. Sarah is the Owner of Houston Axe Throwing and is also a content partner. Content partners help Voyage in so many ways from spreading the word about the work that we do, sponsoring our mission and collaborating with us on content like this. Check out our conversation with Sarah below.
Sarah, it's been too long since we last connected. Thanks so much for taking the time to share your thoughts with our community again. Some readers might have missed our prior conversations, so maybe you can kick things off for us with a quick intro?
I own Houston Axe Throwing, the first axe throwing facility in Texas, and one of the first in the United States. Houston Axe Throwing opened it's doors on June 13th, 2017 on International Axe Throwing Day. We provide axe throwing space, lessons, and equipment rental to teambuilders, date nights, birthday parties and more. Recently, we started offering knife throwing as well.
Congrats on expanding to a new location in Katy, Texas. Can you tell us about it?
The Houston Axe Throwing Katy Location opened in February of 2020 with our soft opening. Then COVID happened and put a wrench in our plans for a grand opening. Instead we decided over the past year to work slowly to build up the Katy location to have everything that we do at the Bellaire location including a bar where we serve beer, wine and non-alcoholic beverages. Just a few months ago we finished adding on a triple target range that has a more casual VIP set up with more chairs, a couch, and space to spread out. It's conveniently located near the bar, jukebox, and restrooms. The best part about the VIP space is that it's next to our spinning chair. I see people tag us on social media all of the time trying it out!
We plan on continuing to make small and big changes this year as well including some fun photo opportunities around the facility.
You recently started offering knife throwing both for groups and offer a league. What made you decide to add that on?
One of the biggest requests we got from our axe throwing league members was to be able to throw knives as well. It's a request that everyone in the axe throwing industry gets constantly, so The World Axe Throwing league (WATL) helped push that forward and formed The World Knife Throwing League (WKTL) as well. Between all of the axe houses pushing for knife throwing, WKTL, WATL and the customer demand we finally were able to add on knife throwing this year.
For an additional $5 per person, we give an additional safety and technique lesson for knife throwing and provide the knives as well. If people really enjoy knife throwing, they can join our league on Thursdays at Bellaire. We also have axe throwing leagues at both locations. They can get more info and sign up at www.houstonaxe.com/league
Axes and beer? How does that work?
This is by far the most common question we get! It's not as crazy as people think. It works a lot like bowling where you can have a drink between turns, but when it's your turn to throw you have to set your drink down. We have a bar at both locations that serves beer, wine, and non-alcoholic beverages.
We take safety very seriously and all of the employees are Texas Alcohol & Beverage Commission (TABC) Certified just like any other bartender or wait staff. We monitor the participants closely both in person and on our security cameras to make sure that no one is being rowdy or unsafe. If they start behaving in an unsafe manner or breaking our safety rules they are not permitted to throw. If they become intoxicated then they are not permitted to throw. If they show up intoxicated they are not permitted into the facility.
Some people have never heard of axe throwing. What is it, and how can they sign up to participate?
Axe throwing is an activity that goes back hundreds of years. As long as there have been axes people have been using them to chop wood, hunt and even in battle. More recently it's seen a resurgence in Timber Sports or as most people call it "lumberjack competitions." The modern version of axe throwing that we provide is an athletic activity that is similar to darts, where participants throw axes at a target to earn points. Axe throwing has gained in popularity to the point that you can see televised competitions on ESPN.
Anyone who wants to try axe throwing can sign up for a 1 hour reservation that includes an intro lesson directly on our website www.houstonaxe.com. We also accept walk ins. Kids over 8 years of age can participate with a parent or guardian.
For large groups (13+ people), longer sessions, team builders, or fully guided experiences we recommend contacting us at info@houstonaxe.com.
Do you do off site events/have a mobile target?
We do have a mobile trailer that has the ability to run up to 8 targets. We bring trained coaches to each event who will provide instruction in safety and how to throw. It's designed to handle large gatherings, but we can also do smaller events. Pricing is based on length of reservation and the amount of targets you want to reserve. https://houstonaxe.com/mobile/
You've already had some big ups and downs since you opened in 2017. How has dealing with Harvey and then COVID effected your business?
When we first opened in 2017, we weren't expecting the city to have such a devastating natural disaster just a couple months later, but Hurricane Harvey came and ravaged the Houston area. We were very fortunate that the facility didn't flood and that once we were able to open again we had staff who could and wanted to come in. There was a fair demand from people looking for things to do because so many activities and restaurants were temporarily closed. It was enough for us to get by and continue expanding our small facility from just 4 targets and a check in table to what we have today. We were very lucky that we decided to start smaller and planned on adding on slowly, because it really worked in our favor. People were hesitant to go out for a long time.
With COVID, we've seen a large decline in attendance. A lot of people are staying home more or are going out in smaller numbers. Last year, even though we could open much sooner than the rest of the country, there just weren't as many people who felt safe doing indoor activities. So we made a lot of changes to fit the new market. We adjusted to private targets only, and restructured the facility to accommodate more small groups, instituted a strict cleaning procedure, and of course put hand sanitizer everywhere. As time has passed and the vaccine rolled out we've seen a steady increase in attendance. We're hopeful that things will return to normal eventually, but we're doing our best to roll with the updates as they come.
It was so great to reconnect. One last question – how can our readers connect with you, learn more or support you?
Visit our website www.houstonaxe.com 
Buy tickets www.houstonaxe.com/book-now
League info www.houstonaxe.com/league
Our mobile axe throwing www.houstonaxe.com/mobile
Our FAQ's www.houstonaxe.com/faq
Follow us on Facebook www.facebook.com/houstonaxethrowing
Follow us on Instagram www.instagram.com/houstonaxethrowing
Follow us on Tik Tok @houstonaxethrowing
Follow us on Twitter www.twitter.com/hthrowing
Contact Info:
Suggest a Story:
 VoyageHouston is built on recommendations from the community; it's how we uncover hidden gems, so if you or someone you know deserves recognition please let us know 
here.