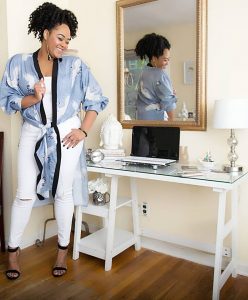 Today we'd like to introduce you to Tifarah Naava.
Tifarah, please share your story with us. How did you get to where you are today?
It started long ago, born in Houston, TX. I was surrounded by different cultures with music, food, art, and style. I would go into my dad's office to look at his Auto-cad drafts and blueprints. I would accompany my mom to plays and different performing arts events. All of this imprinted on my heart, soul, and spirit at a very young age. As I got older, I craved the creative expression of all kinds. And through depression in my teens, I discovered that I had a natural talent for drawing and painting. Something my mother tried to cultivate by sending me to different art centers/programs throughout my entire childhood and youth. Through those programs, I fell in love with theater as well. I bounce between being an aspiring artist or actress. Each outlet not only evoked different parts of my being but also was cathartic in it's own unique way. After being introduced to Drafting and Auto Cad in high school, I decided to work at Home Depot, to become a Kitchen and Bath designer. I loved to work and there were no doubts in my mind. It was the best decision I had made at that point in my life. Because it set me up for everything I would need. There, I met a kindred and talented spirit named Melody Vaughn. Melody allowed me to intern with her while I was in my last term in college. I was allowed to use my creative talents with her as a graphic and interior designer. I also acquired the knowledge of event planning and logistics. She gave me the opportunity to further hone my talents and skills for two years. At one event, while working with her, a photographer noticed me and asked me if I would like to be featured in his magazine. With no previous experience in print modeling, I accepted and from there another path was set before me.
After my photos were published, I began to receive more opportunities for print modeling. This is something I never thought about or wanted in life but I wanted to give it the best I could. I was told I was a natural and photogenic but what I discovered is that I had to step into a different mindset to do it. This eventually sparked the desire to act again. I was in Atlanta, GA now and films were being filmed all over the state. I recalled being cast as an extra in high school with my sister and enjoyed the experience. A colleague showed my picture to a casting director and I was cast as an extra yet again almost ten years later. I went from doing print modeling – to working as a creative assistant for a photographer. I assisted him with creative ideas, location scouting, styling, and any graphic work that was needed. I developed and discovered my purpose, passion, and began discovering my creative identity. In those four years through trial and error of course, I went from extra work, a creative assistant to being an art director and assistant director for independent projects.
One day, I came across a binder from my performing arts high school that had film ideas, business ideas, and etc in it. With the encouragement of friends, work colleagues, and family, I decided to step out in faith and pursue what my heart and soul has always wanted. To live a life that was authentic, creative, purposeful, inspiring, and impactful. I'm on that path now and this process is something I wouldn't trade for anything. Nothing happens overnight. My spirituality has been the greatest factor and has become a lifestyle for me.
Be fearless in the pursuit of what sets your soul on Fire! – Dare. Dream. Design. Discover.
Overall, has it been relatively smooth? If not, what were some of the struggles along the way?
It hasn't been a smooth ride at all. All the mistakes and things I went through has edified me. Meaning, I choose to learn and grow from them. I also believe I needed to experience those things to help cultivate the spirit, person, and woman I am and will become. I'm grateful for every rejection and a closed door. I have dealt with depression in my pre-teens and in my mid-twenties. I am trying to keep my body healthy. So, I can experience the life of my dreams. I have dealt with not believing in my own self, my talents, and not trusting my instincts. So, I didn't take advantage of the opportunities that were given to me. Even when others believed I could accomplish them. I have wanted to give up completely on everything. I can be my own worst enemy at times, unfortunately.
However, when I discovered the feeling I get from creating and assisting others the way I do, well, there is no feeling like it. This world is a once in a lifetime experience. I believe there will never be anything like it again and I want to experience it in the best way possible It's still a process to live that truth every day. To love myself, have faith in myself and be Tifarah no matter what others might think. You have to do you because either way, others will have something to say. You might as well do what you want and be truly happy. Hopefully, without harming anyone in the process.
My advice from my journey – is to be truly real with yourself first and foremost. Write down what you truly desire and don't worry about resources or what others will think when doing it. Then, explain why for each one. Write steps that might help you achieve it. The best way of knowing if it's right for you – is to simply try it. You have to go for it. And go knowing you will make so-called "mistakes" and it won't always be so-called "perfect" but learn and grow in spite of. Gather your information and surround yourself with everything that reflects that which you want. Another level in your life, requires another form of you.
Forgive yourself, love yourself, and trust yourself. Understand the power of the words YES and NO, when it comes to yourself, others, and situations.
Please tell us more about your work, what you are currently focused on and most proud of.
I am a freelance creative and assistant director for films, branding, and personal projects. I love taking a concept and helping clients bring their vision to life. Producing is a passion through my company Hologram Productions. We embrace all cultures and backgrounds. Being on big budget sets to independent sets, I love the feeling. I am able to pull on all the skills I have acquired over the past 14 years. As a kitchen/bath and interior designer, I work with art  departments on shoots. I assistant with coordinating and keeping things on schedule as best as possible. I'll also assist with the creative branding and marketing for projects. Recently thou, I started to play around with some personal projects of my own.
I started a blog over a year ago called "Unveiling Naava" and my YouTube channel will be relaunched soon. I want people to really get a sense of who I am as a person. I haven't been able to dedicate the amount of time that I would like to but, I have found myself getting some recognition with my brand nonetheless. It's something I'm still learning. I look forward to doing things with this personal brand I'm building. Through this, I founded the docu-series "Goddess Revelations.". I am truly proud of all the women that have chosen to be apart of it thus far. And I absolutely love working with kids in a creative way. I plan to produce things that will involve them as well. Hopefully, through creative centers and programs that helped me when I was younger.
I think what I'm most proud of – is how far I've come, how much I've grown and that I'm still standing. The fact that I truly dared to dream, to design and to discover my life. I am coming full circle. The unjaded Tifarah is emerging again and I'm so in love with her.
What sets me apart – is that I'm unveiled and evolving at the same time. I am authentic and tenacious with a rebel flair. I'll do just about anything to make someone's desires come to life, and I promise I won't give up easily. I embrace the fact that life is imperfectly – perfect. I am eclectic with my love of all cultures and backgrounds. I embrace what makes me, me and I will continue to cultivate that. I hope it will always be reflected in everything that I produce.
Do you feel like there was something about the experiences you had growing up that played an outsized role in setting you up for success later in life?
Absolutely! Everything was connected and is working together for my greater good. I just have to continue to remind myself and allow myself to be within those experiences. Every school, program, activity, and choice I made has set me up for the "success" I am experiencing and will continue to experience. Be it internal, personal or career-wise.
The most powerful thing that has played a role in my life – has been my feelings, thoughts and the words that have followed. Those have had the greatest impact on my life. I have known and have seen how I created my life experiences. So, staying mindful of my preconditioned feelings, thoughts and words are of utmost importance.
Contact Info:
Website: www.unveilingnaava.com
Email: mztifarahnaava@gmail.com
Instagram: @unveilingnaava
Facebook: @https://www.facebook.com/officialtifarahnaava/
Twitter: @unveilingnaava

Image Credit:
Tiphani Photographi, Visuals.by.dre
Getting in touch: VoyageHouston is built on recommendations from the community; it's how we uncover hidden gems, so if you know someone who deserves recognition please let us know here.