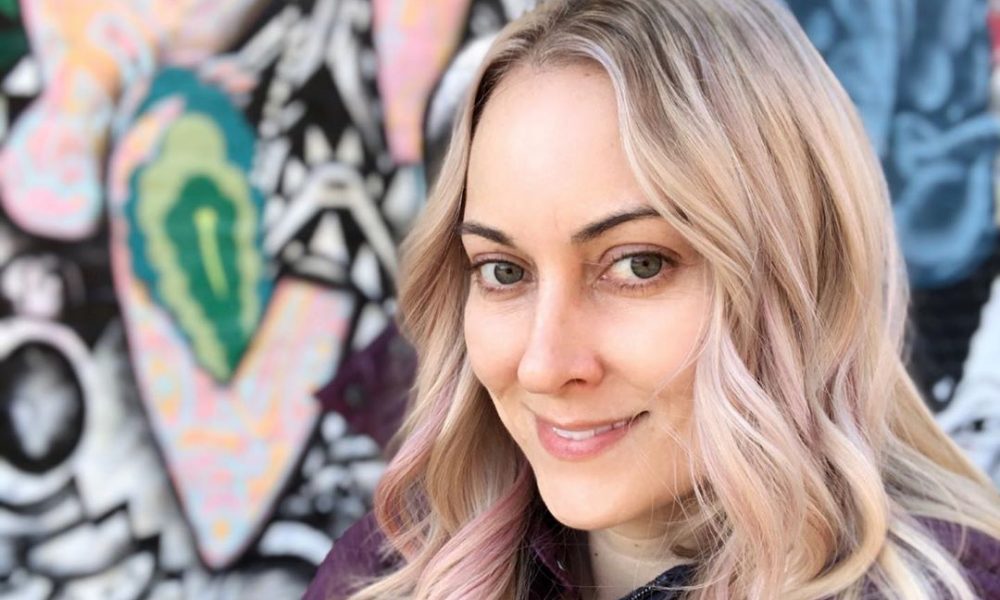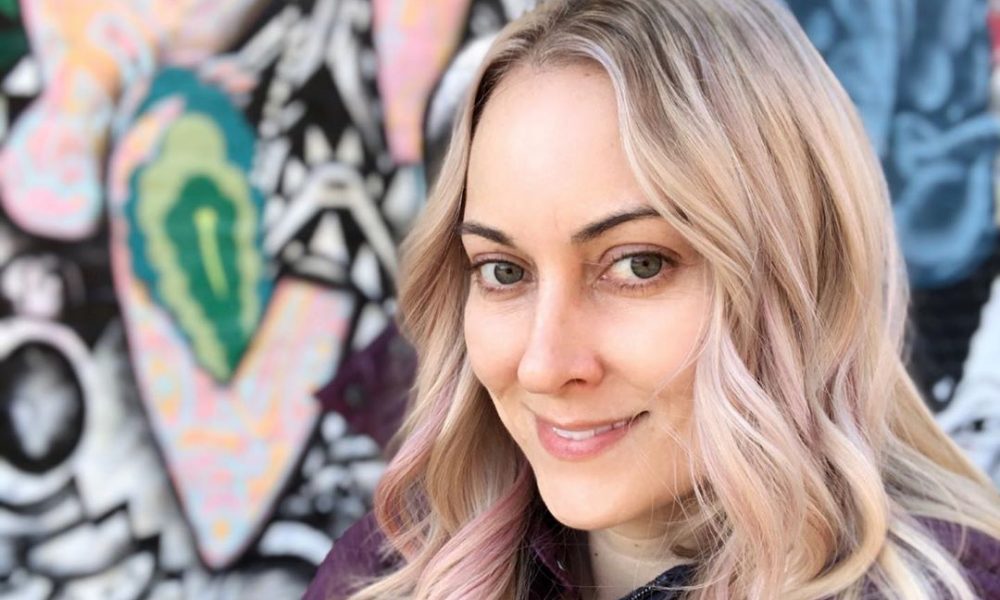 Throughout our journey with Voyage, the one thing we have learned over and over is that hidden within every challenge is a blessing or opportunity. It's up to us to determine whether a challenge we face will be a step back or the catalyst for a step forward.
We had the honor of connecting with some of the city's brightest leaders and role models and we asked them our question of the month: What is the best advice you have for someone who feels like they are facing insurmountable odds.
Below, you'll find their advice and links and other info so you can learn more about them, their work and how to connect with them. We'll be interviewing many of these amazing individuals in the coming weeks, stay tuned.
90 ONE | Radio Host for Tuff Talk Radio on 101.5fm on Vanguard Media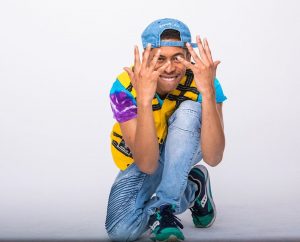 One step at a time. If a challenge seems to big then break it down into smaller sections. Focus on the small steps that will get you to the top. Rome wasn't built in a day.
Instagram: @est.90one
Alyssa Vasquez | Model, Vlogger, Influencer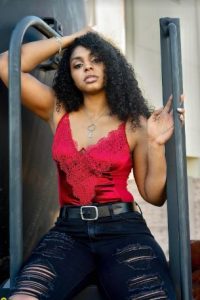 My best advice to anyone feeling like the odds are against them, would be to make time to find somewhere you can have solitude and examine your thinking. Focus on the things you want to come to you. Picture yourself achieving these things and cherishing these things and you'll notice that they'll come to you. As long as you change your focus from the odds and everything negative that keeps coming your way, you'll begin to flourish in your dreams.. it's working for me.
Instagram: @Lyssasymone
Twitter: @PrettyLysss
YouTube: youtube.com/channel/UCHVMLdxS34QWntOIQWgX3eA
Tara Nicole Carpenter | Mobile Dance Instructor
The best advice I have for anyone that feels like they are facing insurmountable odds is to believe in them self and the power of a positive mind. Accept the challenge, move forward, and focus on how you will turn it into a stepping stone to success instead of adversity. Take it one step at a time, one day at a time, and remember that there is always something to be grateful for in every situation. Keep your head up, your mind strong and you can make it through and accomplish anything!
Website: taranicolecarpenter.com
Facebook: @taranicolecarpenter
Brittany King | From "Decor challenged" to Decor obsessed! | Lover of all things decor and adding a little sparkle where ever you go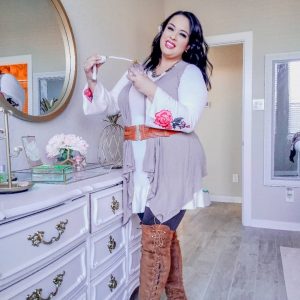 None of our pain, tears, or trials are ever wasted. When facing the impossible, we have the chance to dig deep and learn exactly what we are made of! For me, I learn every time how God is always for me, and a million steps ahead of me. That takes the pressure off completely to rely just on myself to get through!
Instagram: @kinghomeoftexas
Tejiri Peretomode | Business Analyst/Entrepreneur/Blogger
You are not alone, at one point or the other, we all go through that phase in life but what differentiates us is how we handle such situations and our attitude during that time of difficulty. Most importantly, stay focused on your faith in God- He has promised that no challenge will confront you that he's not given you the grace to overcome. Yes it is very hard and painful, but rather than giving in to your feelings, turn those circumstances into opportunities for growth and development. There is always something great at the end when you press beneath your pain. It requires persistence and determination but in the end it's always worth it.
One quote that comes to mind are the words of Wintley Phipp's- It's in the quiet crucibles of your personal sufferings that Gods greatest gifts are given in compensation for what you've lost.
Website: tamarbeautysuply.com, writingsbytamar.com
Instagram: @tamarbeautysupply, @writingsbytamar
Benjamin Blackburn | Real Estate Investor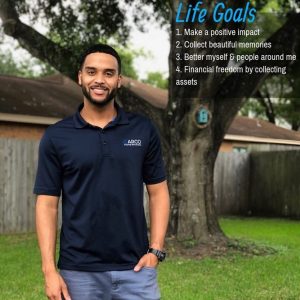 Stay focused & LET GOD.
Instagram: @ben.buys.houses
Website: arcohomesolutions.com
YouTube: youtube.com/channel/UCV3clfjsJy89N07gwJblm9Q
Reyna Reyes | Esthetician
It would be a simple quote that I live by,
"Accept the things you cannot change & change the things you cannot accept"
I hope this helps! Please let me know if there's more that you need.
Instagram: @reynaaxreyes
FWESHIE OLOYE | Music Artist & Fashion Enthusiasts
"No matter what you're facing in life, always Trust God & Be Yourself. "
Website: nineteen90worldwide@gmail.com
Instagram: @therealoloye
Twitter: @fweshieoloye1
YouTube:  youtube.com/fweshieoloye
MitchMars |Rapper/Entertainer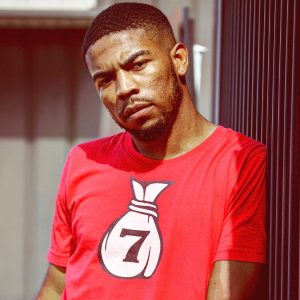 The best advice I can give is to keep overcoming & to always create/discover a plan that works for you. Doesn't even have to be a business plan just a plan for your life, a plan to create new ambitions you wish to one day accomplish, a plan to keep your mind in check to remind yourself to keep going then try to make a routine of that. Mental health is a major problem within my community and within society, it can get in your way a lot and make you feel as though you want to give up more often than normal. I think the best thing I did was go to therapy, but I know that isn't a currently accessible option for most, especially in my community; though what I learned from my therapists I can pass down to others, and I came to something I felt really worked for me; come up with a plan to keep my mind in order and not in a rut. Stuff that normally makes me happy or motivated that I can continue to do and recollect. I really enjoy speaking my message and uplifting experiences into my music, so they could listen to that to overcome too, lol. I hope my suggestions can help someone in the near future.
Soundcloud: soundcloud.com/mitchmarsmk/sets/hey-you-litsen-t0-me
Other: fanlink.to/cvMg
Erin Artzner | BMX Racer and marathoner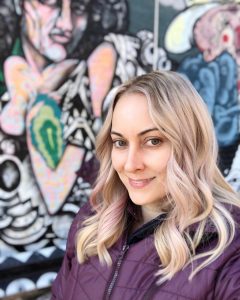 My best advice for someone who feels like they're facing insurmountable odds is to not be afraid to reach out to others. Social media loves to show the best and brightest of moments. It can appear that everyone BUT you is living their best life. It's very skewed and not a complete picture. It also isn't helpful to someone facing a hard struggle. You can be surprised at the kindness and honesty you get when you reach out, as well as helpful and inspiring advice from those who have gone through similar challenges. You're not alone in what you're going through, and gaining that support system, weather online or in person, can make all the difference.
Website: ErinElizabethRuns.com
Instagram: @DeeGeeDoll
Meagan(May) Juric | Owner of JBD Photography | Juric International is a Multi service company providing media, advertising and photography services under jbdphotography
Adversity is something that we all will have an encounter with. Acknowledging the emotion involved with that encounter is important but continuing outward is even more important. Insurmountable odds can awaken a level of strength and drive to move forward that can be very essential. Learn how to use insurmountable odds to condition yourself to be better equipped for new challenges in the future. Most importantly keep God first.
Website: jbdphotography.com
Facebook: @JuricInternational
Instagram: @juric__international/ | @ms_may2u
Randee Berman | Concierge Jeweler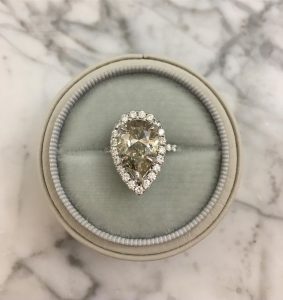 You don't need to see the whole staircase, just take the first step.
Instagram: @ByRandee
Amli Canseco | License Esthetician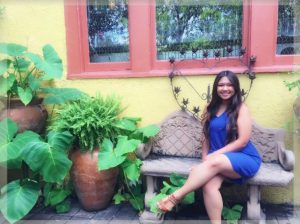 As someone who felt stuck and lost in pursuing a career that honestly did not interest me I wanted to give up. I was thinking to myself "it's too late to start something new" but in reality it's never too late. I've always loved skin care and anything beauty. I knew I wanted to pursue a career in an industry that catered to that and I did. Now I'm an up and coming License Esthetician with expertise in beauty and looking for new opportunities in this journey.
The best advice I can give to anyone whether you are young or old is if you always had your mind on something that you enjoy more than what you're already doing is to GO FOR IT! Yes you will face obstacles throughout the journey, but think about the bigger picture and the outcome from it all. Your love and passion for doing something that makes you happy makes such a difference in your life and changes your mentality in such a positive way. Nothing happens overnight it's going to take hard work and lots of dedication on your part to make the changes you want to see. Everything will be a learning experience for you and will make you want to work even harder to get to your in end goals!
Instagram: @truebeautyhtx
Other: bit.ly/2S8vwNe
Fortune McDonald | Creative, Entrepreneur, & Motivational Speaker
Understand that everyone on earth has a purpose and has a fighting spirit in them, it's God-given from inception, that's why you made it into this world. Whatever you're facing now cannot overtake you if you tap into the fighter in you. Getting past your present challenges is part of your story, purpose, and destiny. You can win because you've already won. In other words, dum spiro spero!
Instagram: @dafortune500
Veronica Anderson| wreath designer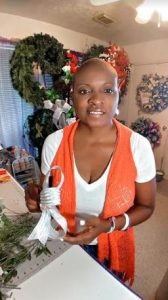 We have all heard those voices telling us to stop or simply give up before we even try but the trick is to not give in. In life things aren't designed to be easy; if they were everyone would have all of their wants and desires. I have faced several obstacles in life but I have always found a way to persevere. I found my niche in life and used it to guide my journey and so can you. You just have to "keep your head up," as Tupac would say because your time is coming. If all else fells I suggest one of my favorite scriptures: Philippians 4:19.
Website: wreathsbyveronica.com
Facebook: @vmawreaths
Instagram: @wreathsbyveronica
Pinterest: @wreathsbyveronica
YouTube: youtube.com/c/wreathsbyveronica
Etsy: etsy.com/shop/wreathsbyVA
Email: info@wreathsbyveronica.com
Ruth Arumala, DO, MPH, NCMP, Obstetrician | Gynecologist & Hostess of the Pretty in Pink Podcast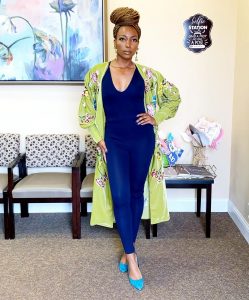 First of all, congratulations! If you have a goal that seems insurmountable you have managed to do what the majority never do: dream big and aim high. It is time for battle. Like a warrior, you must be willing to do what others wouldn't. Sacrifice time, money, pleasures, & pride to achieve your goal. Be resourceful and garner help from every available avenue. Always remember WHY you started in the first place!
Website: drarumala.com
Instagram: @i.am.dr.arumala
Podcast: Pretty in Pink Podcast" on Apple, Spotify & Soundcloud
Irvin Randle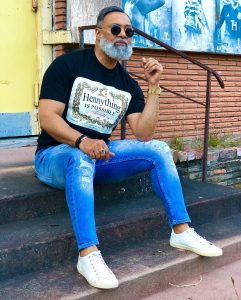 First and foremost it is important to embrace the fact that life brings success as well as defeat. Success can only truly be appreciated by experiencing the notion of defeat. There will be obstacles that will present themselves only to knock you down. The test lies in how you are able to pick yourself up. The only way you truly lose is by giving up trying. Every success story has a road paved with failure leading to it. Nothing worth achieving is done without struggle.
Instagram: @irvinrandle
Facebook: Irvin Randle
Anna & Alejandro | Award winning wedding photo & video | Giverny Wedding Photo & Film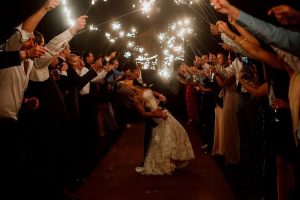 If storm hits you in the middle of the road, try to focus on making it to the closest safe point, use any help you can get, then look around and find the next point, then next and next. With little steps and little help you will always make your way out.
Website: givernywedding.com
Instagram: @givernywedding
Facebook: @givernywedding
Twitter: @givernywedding
Keif's Catering | Local Catering Business In The Houston Area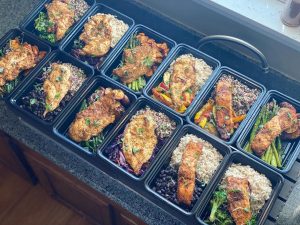 Just Keep Going Cause Your Breakthrough Is Near " As My Mom Would Say ( If God bring you too it he will bring you through it ) In other words continue to hold on. #NeverLoseFaith
Facebook: Keifs Catering
Instagram: @keifscatering
Google: Keifs Catering
Website: keifscatering.com
Cale Genesiiis | father | entrepreneur | musician and health & fitness coach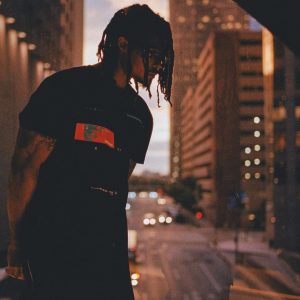 We often cannot control the obstacles set before us, but we can control how we overcome them. There is nothing odd about insurmountable, each day poses a new challenge to be concurred, it's up to each and every one of us to do so…keep the faith!
But faith with out works is dead !
Spotify: open.spotify.com/artist/4whz1GD1T4C4wA2ZgPSIR9?si=_nYbPpkKT4CF3pthJCVxjg
Apple Music: music.apple.com/us/artist/cale-genesis/1205490346
Vanessa Hulsey | Jewelry creator/designer-dental hygienist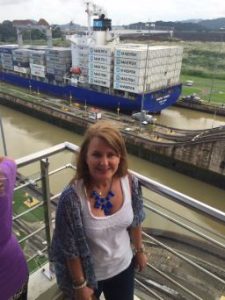 When faced with insurmountable odds…everyone will be challenged with insurmountable odds at one point in their life whether it is loss of a job, an ill family member, or even a death in your family. It is all about how you rise up out of that situation. Think of when a baby is learning to walk. The baby falls and gets up and tries over and over. The baby has no fear of getting hurt he has the inner drive and spirit to keep trying. In life, you will fall over and over but you need to get up dust your pants off and keep TRYING! I have learned that it is up to you make things happen and see things through to the end. Have a positive mindset and be hopeful and great things will happen! Just remember it might seem insurmountable at the time, but like anything, it can be overcome with patience, fortitude and perseverance. Keep living and be strong!!
Instagram: @.coppervinedesign
Facebook: @.coppervinedesign
Etsy: etsy.com/shop/CopperVineDesign
Early B | Artist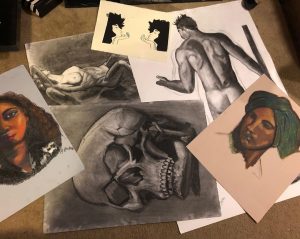 My advice to someone who feels like they are facing insurmountable odds is to take a breath and have faith. When you feel like everything is against you, have faith. Having faith is trusting that's everything will come together. No matter what your beliefs are. Taking a step back and understanding there will be obstacles. Those obstacles are test to see how badly you want to achieve your goals. Have faith that you will accomplish everything you want, no matter what life throws at you.
Website: www.Artbyearlyb.com
Instagram: @_earlyb_
Facebook: https://www.facebook.com/ArtxEarlyB/
Jalia walda | makeup artist & nurse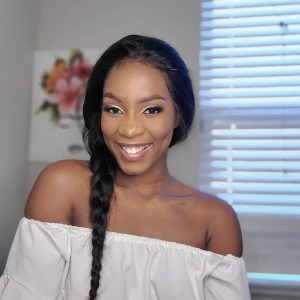 Keep trying even when things seem so difficult, there is only one way to achieve what you want & its not giving up & prayer.
If you give up, there is no assurance that you will make it but if you keep pushing hope is there that things will happen.
Instagram: @jalia_walda
Facebook: https://www.facebook.com/Jaliawald/
Alexis

 

Love

 | Author, Athlete, Speaker, Mentor 
The best advice I have for someone who feels like they are facing insurmountable odds is this: Push through it because when you come out on the other side, you will discover that it was all worth it. Nothing you are going through or have gone through will be wasted. In the end, it all works out for your good! Fight back and go get what is already yours! You are an overcomer. #BeResilient
Facebook Business : OfficialAlexisLove
Twitter: @alexisllove
Amy Nelson | Virtual Wellness Coach & Cruise Line Logistics Specialist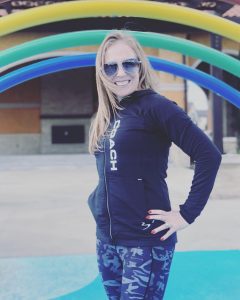 Mindset is everything – you absolutely must believe you are worthy to feel your best. I have a passion to inspire, connect busy overwhelmed mothers like myself who feel they handle insurmountable odds to FEEL their best via spiritual, mental and health solutions I offer. It is my passion to take them from that feeling of defeat into a feeling of confidence having the tools to handle what they are called to be – their most confident self.
Instagram: @amy_nelson_wowfi
Christopher Aguirre | Freelance Graphic Designer & Digital Artist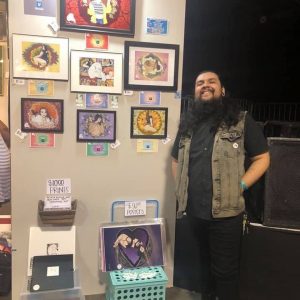 What is the best advice you have for someone who feels like they are facing insurmountable odds?
Answer: There is only one person in this world that will push you to your best and continue to show you your value as you experience life. That one person is you and what you value yourself at. Life with continue to factor in insurmountable odds in your life from time to time and teach you how you handle situations. Life is an unknown, you on the other hand are something you have control over and can build on. Remember that you are only human and mistakes are what make you just that! So don't worry we're all in this together playing the experience of life and what it brings.
Website: https://www.revisiongraphics.com/
Instagram: @chrislulz
Facebook: https://www.facebook.com/artbyChrisAguirre/
Calla Prejean | singer/ songwriter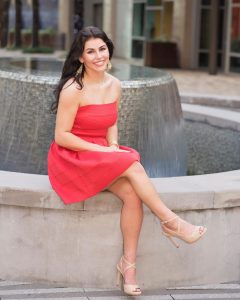 The music industry is one of the most uncertain jobs one can go into, so sometimes it feels like the odds are stacked against you. The best advice I can give someone is to make small goals to achieve and take it day by day! When I am feeling uncertain about my future, I remind myself of why I chose music as a career. Having a passion and pursuing that as a future is one of the most terrifying but freeing choices in life. I try to live my life with intention and remind myself that fear of failure happens to everyone but for those who are bold enough to step out of the lines, the greatest goals can be achieved.
Website: www.callaprejean.com
Instagram: @callaprejean

ANAHI | MEDIA INFLUENCER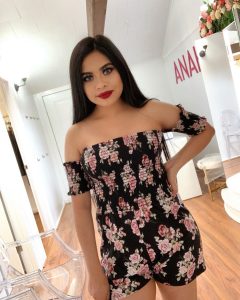 My advice for someone who feels like they are facing insurmountable odds is to try to stay positive and not give up. Think about your goals and brainstorm what you can do to make this happen. Know that it takes time but most importantly takes consistency and don't let anything discourage you. Surround yourself with positive, like-minded people because vibes are contagious!
Instagram: @anahiworldd
Website: shopvisiblelashes.com
Trae Comello | Teacher and Musician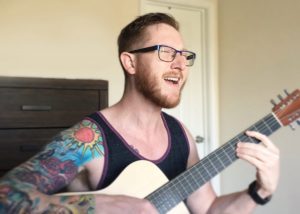 When facing insurmountable odds, it can be easy to lose sight of what is important.  First, reach out to friends and family for guidance.  It may not solve your problems, but it can lead you to a revelation or provide you with a different outlook on what your dealing with.  Understand that not everything in life lasts forever, and that eventually the odds will be in your favor.
Instagram: @musicbytrae
YouTube: Trae Comello