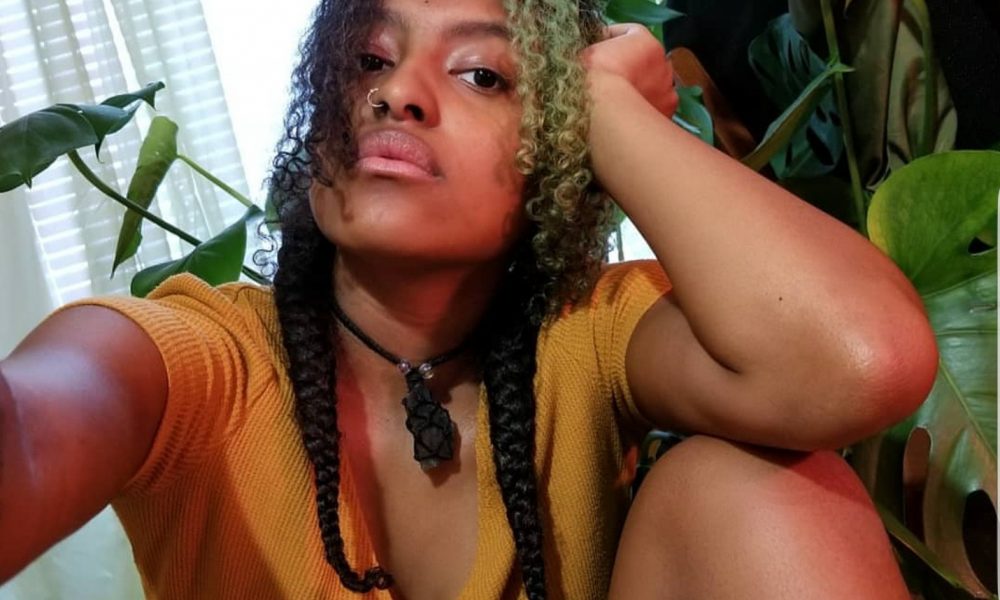 Today we'd like to introduce you to Celica Ledesma.
Celica, please kick things off for us by telling us about yourself and your journey so far.
Well, I was raised in a blended family of African American and Mexican American culture and have two sets of amazing parents.
Lucky for me my parents have always been supportive of what I wanted to do with my life but there were many times where it felt like it was me against the world. I felt very different from others while growing up and I still do till this day. I was a shy kid and a competitive cheerleader most of my childhood which is kind of funny…but as a kid I would constantly get made fun of. Whether people made fun of my hair, my unibrow, my light mustache, or even the fact that my mother didn't look like me.
I was told I was adopted and that I was an Oreo or that I talked weird…just things I guess people couldn't understand about me. As I got older I would get made fun of for how I dressed, or what I liked to listen to and was known as "that gothic cheerleader" at my high school. I didn't consider myself goth but that was how people categorized me and this is all in addition to racist comments and colorism I was taking in while growing up. One has to think about how all these things can impact a kid and how they see themselves.
I had a very hard time trying to love who I was and constantly felt like I didn't want to be alive anymore which resulted being depressed, making attempts, and then trying to figure out how I can channel out my emotions and perspective to others. My art class in high school was what sparked my decision to become an artist. I worked with Prisma colors and watercolor beforehand but I didn't pick up Oil painting until my junior year of high school, and I just fell in love with how rich it was and how oil paint could make a figurative subject seems so alive.
I started off just painting whatever I thought would look nice but when I got into college my painting just became what some would think is political, but my work just reflected this release of how I felt about certain things, how they can affect someone like me, and I just wanted to make people think or question the reasons behind my concepts; and I was very surprise to how many people came and told me how they related to my work. Now, study Studio Art at Texas State University in San Marcos, Texas.
Can you give our readers some background on your art?
Back then I used to just take a picture of my subject and try to make them look as naturalistic as I could as I try to study portraiture and the figure; but my lasted work goes through a different process. I had learned how to just start writing whatever was coming to my mind whenever I felt angry or frustrated with something and I would save them in my little notes app. Often times, it would feel like I mad at the world that certain issues exist. I would say this idea started when I began reading comments about how adults felt about my generation and it was funny to me that parents would criticize us so much while forgetting whose job it was to raise us, so I made a video comparing their negative opinions to visuals of the generation doing amazing things.
I then started noticing a great amount of racism and colorism within social media platforms, and honestly, they would get to me and I think the one that hurt me the most was when I saw a YouTube comment telling black women they should leave the U.S. but also no country would want them because they would "ruin their country". Then when I speak of colorism, I'm definitely talking about with black and Latino communities for if you are lighter you are praised and can get away with things but if you're darker than you need to work harder to be appreciated. Obviously, this is a lot to take in when you're a woman of color but even harder when you see your loved ones being oppressed or disrespected in this cycle of oppression towards others. So, the concepts stem from how as I was not being understood or heard. I tend to think about my concept in many layers then I focus on how I can make a visual for it. First, I would take a picture of my selected subjects and then plan put the layout of my painting. I always liked incorporating text but now it is more so a diary log within the visual.
After painfully trying to mix accurate colors to the figure(s), I create a wash layer of the layout and then began painting the figure, thin layer after thin layer. Next, I would think about how I can include invented elements within the background of my paintings and lastly… figuring out where I can present my texts. When a viewer sees my work, I hope they can either relate to it or take back with them how strong words really are.
What responsibility, if any, do you think artists have to use their art to help alleviate problems faced by others? Has your art been affected by issues you've concerned about?
I think the roles of artist have change for there are pros and cons of course. I usually hear that anyone could be an artist now which is great but it could be a bit saturating sometimes. There are plenty of new invented art and refreshing ideas now but also a lot of stealing and discrediting practices going on between artists or more so famous artists and underground or not well-known artists. I've been told before that most of the time it's not even about someone's work anymore, it's more so about how popular the "artist" them self is. Now and days you can easily buy an expensive camera and have no skill but be seen as an artist or find cheating ways out of creating art and have a great way of networking and be deemed a better artist than someone who truly puts in time and planning into their work.
Which can be seen good and bad to some people for I think art has turned into "how can I sell or market this". I feel as if people aren't making art for themselves or to get a point across, or to emphasize a process, or to challenge rules of art; but instead I see artist trying to market and cater to what people want. Besides that area of "quick money" art I see a great amount of truly creative Artists who are really pushing the boundaries of what is considered art and how the internet has affected us, new ideas towards concepts, how work is displayed or accessed; and I often see this trend of vulnerability within works, which I think is a response to how we put everything on the internet now and days.
There are also a lot of advocacy in most works today and I am all for that for I think the role of artists is to be somewhat a voice of others who cannot speak or to reveal what is not being investigated and to do it in an almost hinted way because if an audience doesn't want to hear what you have to say, you almost have to trick them into understanding your work. If that makes any sense.
What's the best way for someone to check out your work and provide support?
Besides my website and social media people would be able to see my work depending on what gallery I'm in at the time. I did do a Mural at Texas State University with in the Multicultural lounge and it is participated to be there forever, so they can have a chance to see that. I also have a couple of works in the gallery below the multicural lounge.
I've had works at TXST Galleries with in the Flex Space, done Art Shows around Houston, I've also had works at Centro Cultural Hispano Museum plus the Calaboose Museum in San Marco's, and a couple of Exhibitions around Texas State as well. Basically, my work would often be shown at a whichever gallery I decide to be in and I would let possible viewers know through social media if they want to see them in person.
Contact Info:
Website: CelicaLedesma@yahoo.com
Email: celicaledesma@yahoo.com
Image Credit:
Photographer Victoria Ramos (for the picture of me with my work)
The Work Titles:
"Escape" (the name of the painting with the house and water)
"Fruit Bat" ( the painting with bananas)
"Sundays" (the painting with the pink hands)
"Tejana" (the portrait of a girl in the dark)
"Trabajador" (the painting with the man and striped background)
"Self portrait" ( the painting with the stringed face and close up of a foot)
Getting in touch: VoyageHouston is built on recommendations from the community; it's how we uncover hidden gems, so if you know someone who deserves recognition please let us know here.