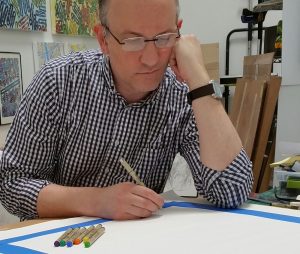 Today we'd like to introduce you to John Hovig.
John, please kick things off for us by telling us about yourself and your journey so far.
I have degrees in Electrical Engineering and Computer Science, but art and architecture have always been my passion.
After 15 years, as the CTO of a small internet company—and inspired by the birth of my second of two wonderful daughters—I felt it was time for a change. I stepped down—we sold off the company a few years later—and I dedicated myself to art.
A few years after that, I opened a studio at the Silos—a building in an incredibly vibrant arts campus called Sawyer Yards—and am doing my best to keep the momentum going.
My background in science and engineering makes my work structured and visually precise, but my love of architecture and design keeps my eye toward making art that celebrates space, and my pursuit of emotional intensity guides me toward work that lives and breathes.
Can you give our readers some background on your art?
My practice includes drawing, painting, assemblage, and photoshop, with some old-fashioned printmaking sprinkled in as well (particularly woodblock prints).
I might be systematic and analytical on the outside, but on the inside, my heart and mind burn with perpetual passion. I use structured problem-solving to create abstract, complex art, but draw upon my emotional intensity for added punches of vigor, keeping as much sense of overall balance in the final artwork as I can.
My Single-Line Drawings are deceptively simple pen drawings. They seem computationally complex, perhaps even mechanically produced, but are actually entirely hand-drawn. They're made of loops—sometimes round, sometimes squared; sometimes colorful, sometimes monochromatic—that overlap and emerge into embroidered abstract designs.
They remain intentionally abstract. I want everyone to see something unique, like clouds: different from different viewpoints—an undulating solid shape from afar, but complicated road map up-close—keeping the viewer's eye in constant motion, equally drawn to every region. I end a drawing when I feel it contains is enough movement, and the next mark I make would disturb its sense of balance.
My paintings and sculptures are built around patterned arrangements of paper clips—a simple, modest way to experiment with patterns—both colorful and monochromatic. Once I begin laying them out on a surface, the patterns become interesting exercises in themselves. Paper clips are surprisingly versatile visual building-blocks.
Most surprisingly, sketches of paper clips on paper—whirling 2-D loops—quickly evolved into the Single-Line Drawings. And the same rule applies to my paintings as the drawings: I want to energize the eye by the entire surface, and keep the image structured, balanced, and intense.
I remix my paintings and drawings into digital kaleidoscopic images I call mandalas, printed onto circular aluminum discs. They are highly symmetric, and at first look computer-generated, but all this supposed perfection really begins with the imperfect man-made drawings and the paper-clip images I made before. The photo-editing brings a magical new dimension to the original.
Visitors to my studio-gallery often find themselves reminded of their childhood toys: Spirograph, Etch-A-Sketch, kaleidoscopes, and Legos. How much happier can an artist be than to hear that?
Artists rarely, if ever pursue art for the money. Nonetheless, we all have bills and responsibilities and many aspiring artists are discouraged from pursuing art due to financial reasons. Any advice or thoughts you'd like to share with prospective artists?
Houston has a growing number of studio communities like the Silos and Sawyer Yards, and many other towns and cities have them too. Find one! It's a blessing to be among other artists with whom you can share experiences, not to mention tips and tricks, from art techniques to professional practices.
It's also a good idea to keep taking classes, no matter your current skill level. Even if you're the most technically-proficient artist in your area, it's worth it for the feedback you will receive, and sense of community and camaraderie you will find. You might also look into local drawing/sketching clubs or art-critique groups. You might be surprised at how many there are out there.
Art-making is a form of on-going dialog—an art career won't mean much in the absence of human contact—and these are great ways to feed and maintain that dynamic.
What's the best way for someone to check out your work and provide support?
Visitors are always welcome at my studio-gallery at the Silos (1502 Sawyer 77007). I'm often there on weekdays, but our building holds regularly-scheduled open houses on weekends, free to anyone who wants to browse all kinds of fine and decorative art.
I love receiving visitors to my space. I've learned more about myself and my practice by hosting visitors than I ever believed possible. The interactive discussions are always energizing.
Not everyone is a collector, and not every collector has a spot on their wall for me. I want to offer my work in a fair and reasonable way to anyone who might have an inkling to collect it, and make a concerted effort to create work in a wide range of size and style, but everyone is part of the dialog: the collector, the art-lover, and often most importantly, the enthusiastic supporter.
Online, Instagram has been a wonderful medium for me—tailor-made for art-viewing—but the best form of support is still good old-fashioned word-of-mouth. To quote Oscar Wilde: "There is only one thing in the world worse than being talked about, and that is not being talked about."
Contact Info:
Image Credit:
All images courtesy of John Hovig.
Getting in touch: VoyageHouston is built on recommendations from the community; it's how we uncover hidden gems, so if you know someone who deserves recognition please let us know here.