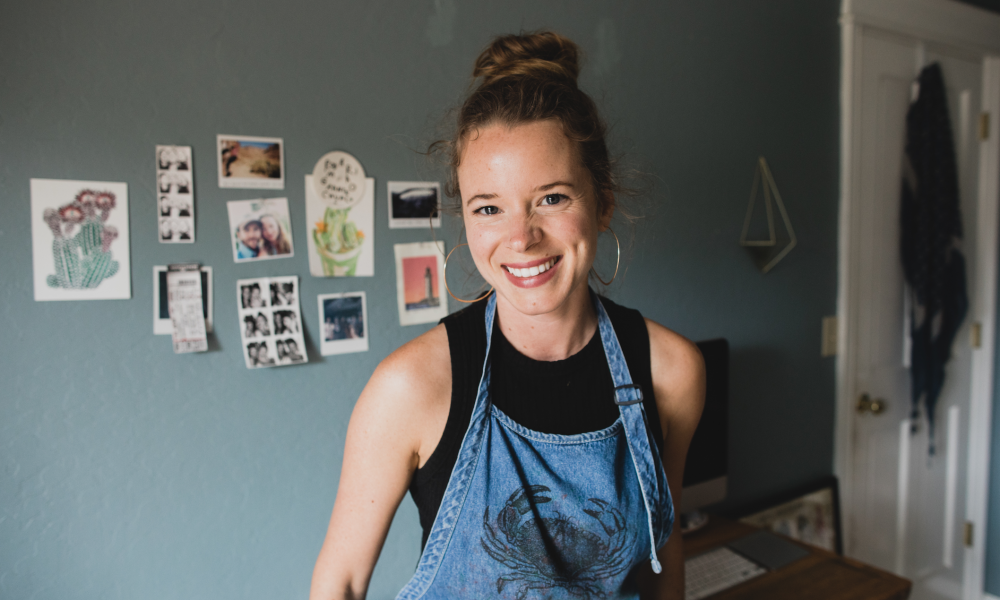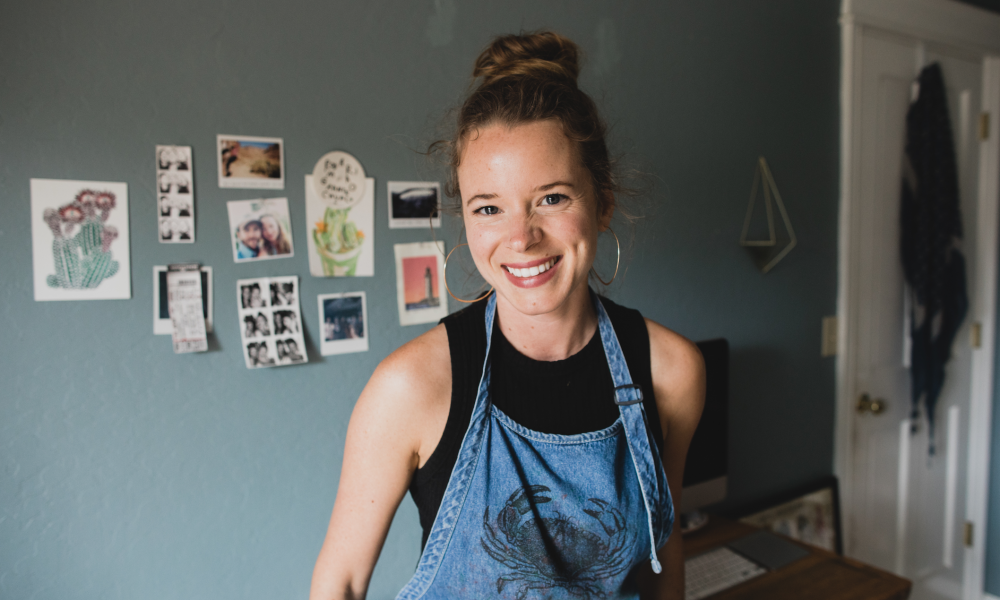 Today we'd like to introduce you to Lili Arnold.
Lili, please kick things off for us by telling us about yourself and your journey so far.
I'm an artist based in Santa Cruz, CA. My journey has been a long one, but each part of it has been full of learning and growing. I started creating art as a child; both my parents are visual artists so inevitably I was exposed to the arts in many forms. I never imagined I would become an artist myself. I had so many doubts and no clear path of action to pursue my creative dreams. So, I ended up going into graphic design when I graduated with a Studio Arts degree from UCSC. I thought graphic design was the perfect bridge between financial stability and creativity, and it was for the most part; however, after a few years in the field, I was craving experimentation, individuality, and the hands-on satisfaction that fine arts gave me in the past. At the time it wasn't realistic for me to quit my full-time job and pursue my own artistic path, so I began creating art on the weekends, or on quiet evenings during the weeks. I experimented with everything from watercolor, to handmade clay pots, to fine line illustration, to acrylic painting. When I brought my old printmaking tools & materials out from a dusty cardboard box, that's when things really started to click. I carved my first piece in many years. It was a sperm whale, very small & simple, but it sparked an eventual entire body of work which led to my very first art show. The satisfaction I was getting from carving and printing blocks was unlike anything I had experienced before. I continued on and eventually discovered my love of cacti and other captivating flora. I ended up taking a leap and leaving my full-time graphic design job to pursue my small block print business which gave me so much more time to print, develop new works, network with shops, create an online presence, and participate in all kinds of artist/maker events. It was scary to leave a steady job and have to figure out all the intricacies of running a business, but it's been the best decision of my life yet. It's been 2.5 years now since I've been creating my art full time, and I am so grateful every day for the people who have supported me along the way.
Can you give our readers some background on your art?
I create block prints, also known as linocut prints, relief prints, or woodblock prints. My inspiration for each piece comes from being exposed to something beautiful in the natural world. For the past couple years, I have been intrigued by cacti and all the intricate textures & colors that come with them. For this particular piece, I was inspired by a visit to the Huntington Library Cactus Garden; my husband and I took a trip down last summer and many of the cacti were in full bloom, including the Echinopsis Mamillosa that inspired this particular print. I knew right then that I had to make a block print of this beautiful natural wonder. And that is what prompted this print, and hence the video!
So, here's a walkthrough of the different steps of my process: After carving my soft-kut rubber block with linocut tools, I separate the flower pieces by cutting them out with a facto knife. When the pieces are separated and ready for printing, I then choose my ink colors and begin mixing on my palettes, using palette knives and brayers. When the inks are mixed, I then roll the different colors onto my carved block, starting with the simplest pieces first, then adding gradients and finer details toward the end. When all the pieces of the block are inked, I then assemble the composition like you would a puzzle, and I move it into place inside a template the same size as my paper. The next step is placing the paper on top of the inked block, placing it down on one end and gently guiding it down the rest of the way. I will smooth the paper over with my hands, rubbing back and forth and around the edges. Then I take my baren and do a more thorough burnishing of the entire block. The final step (the best part) is peeling the paper off the block and revealing the final work of art!
I hope people take away a curiosity from my work. Whether it's a curiosity about the subject, the process, or the materials, my goal is to inspire others to explore the ideas and questions they have. What really makes my day is when someone sends me a message letting me know that they were inspired by my work and tried printmaking for the first time!
In your view, what is the biggest issue artists have to deal with?
I think one of the biggest challenges for artists today is balancing creating genuine work with the business side of things. If you're lucky as a fine artist, you can get picked up by a gallery and they take care of most of the business end, but most artists work independently and don't have the resources to figure out how to become financially sound. As an independent artist, you need to manage so many relationships with customers, business owners, printers, suppliers, and beyond…all in conjunction with having time to relax and be social once in a while! For me, I had to figure all those elements out along the way and I surely made some mistakes. I take those mistakes as real-world education, but it can be very discouraging sometimes. My best advice to an artist who's starting their journey is to ask questions! Find artists you admire and pick their brains. Some might not respond, but some will, and the information you can get from someone who's already been through the hurdles is gold.
What's the best way for someone to check out your work and provide support?
The best place to see my current collection of work is my website, www.liliarnold.com/shop. The "About" section of my website lists upcoming events if anyone wants to attend an event to see my work in person. I also have a "Stockists" section of my website that lists all the stores that carry my work. An easy way to support me as an artist is to follow me on Instagram (@liliarnoldstudios) or Facebook, and engage with me and my posts. I always love hearing feedback from people far & wide! I also have some items on my website that are under $25 which is a great way to support me and have a piece for your collection!
Contact Info:
Image Credit:
Portrait image & working image by Sun + Life Photography. All other images are by me.
Getting in touch: VoyageHouston is built on recommendations from the community; it's how we uncover hidden gems, so if you know someone who deserves recognition please let us know here.