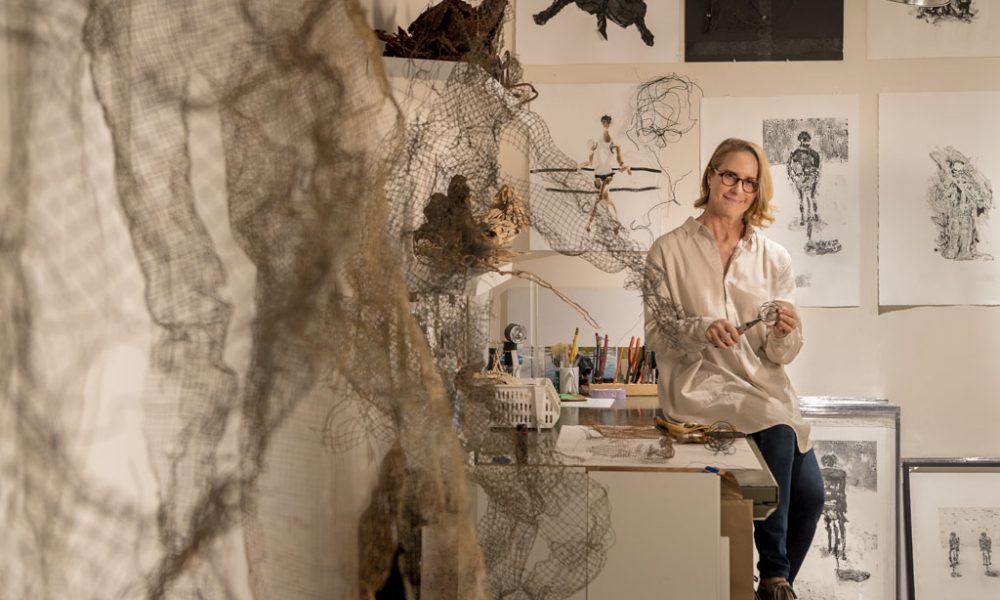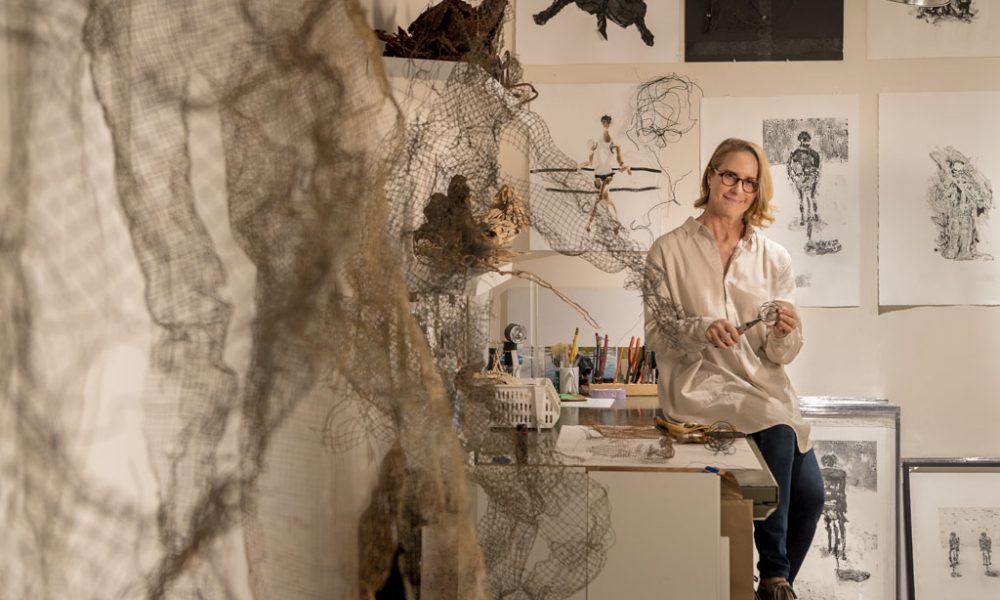 Today we'd like to introduce you to Cindee Travis Klement.
Cindee, we'd love to hear your story and how you got to where you are today both personally and as an artist.
The need to create has always been a characteristic of my personality that I cannot turn off – it finds its way into every aspect of my life. Spending my early years on an isolated cotton farm outside of El Paso, Texas, I entertained myself with daily art projects. It was living in this desert that I first remember being mesmerized by the grace of cracked, decaying and twisted lines made in nature by an arid climate. As a young adult, I was a freelance graphic designer in El Paso, Texas. During my thirties and forties my need to be creative was satisfied by construction projects; remodeling old homes, knocking out walls, moving plumbing and electrical. I drew my own plans, was the contractor, designer and custom painter. I often designed the home furnishings, light fixtures and sinks to fit the remodeled spaces. While living in New Orleans I discovered the French art form of fibrocement faux bois, which embraces the same beauty in nature that I have obsessively studied my entire life. Deciding it was time to refocus my creative energies. I found Donald Tucker, an artist in Ferro cement faux bois. Donald taught me the chemistry he took years to perfect. After creating a few pieces on my own I found that I wanted to take the craft of Ferro cement faux bois to another level. I then began to research metals that would be compatible with the steel and concrete. Bronze was the perfect alloy. A brief internship with bronze sculptor Bridgette Mongeon confirmed my interest in bronze. One day after assisting Bridgette she gave me a lump of clay and sent me home to sculpt my first piece to be later added to a faux bois bench. After sculpting my second piece I decided I needed to learn about the complete process of casting in bronze from the original carving or sculpture to the end of the process at the foundry. Enrolling in the foundry class at the Museum of Fine Art Houston Glassell Studio School has given me the opportunity to sculpt bronze pieces to accent my faux bois work as well as inspired me to create independent bronze and concrete sculptures.
January 2014 was a major milestone in my career as an artist. The city of Houston, Texas purchased two small bronze pieces from me. "Heritage" is on display at the Houston George Bush Intercontinental Airport Terminal for international flights. A sculpting workshop in 2014 opened up a more visceral, creative side of me that I did not know existed and has been exciting to explore. It takes complete focus to draw and sculpt not as I see others draw and sculpt but as is inherent and instinctive to the artist in me. Early in 2016 I discovered sculpting in wire and working with shadows. The process is a beautiful combination of drawing and sculpting. In 2017, reinforced concrete resurfaced in my work and gives strength and stability to my wire sculptures.
April of 2016 I was accepted into the MFAH Glassell Studio School BLOCK 2016 fellowship. This program provides me with a studio at the school/museum property. I have 24 hr. access to the facilities and weekly mentorship is provided from the school, museum, art community and out of town visitors.
We'd love to hear more about your art. What do you do you do and why and what do you hope others will take away from your work?
Artist statement
Line is the thread that ties my sculptures and works on paper together. It is this simple design element that defines my sculpting and drawing.
"There is a palpable difference between a line that's alive and tense and somehow natural, and one that dies like a bum note. You can feel the vitality of Miró's line from your head to your toes, your hand clenching and unclenching in your pocket, somehow feeling in your own body the artist's concentration – the tensing of his wrist, the movement of his hand – as you follow the line on its way to nowhere. I imagine Miró holding his breath as he draws, and I hold mine too as I look."
-Adrian Searle
As in the Adrian Searle' quote, I, too, have emotions about lines and the stories a simple line can tell. The lines in my work can be seen in the twists and kinks that oscillate water from a dog's coat or knots and gnarls that hold a static tension and focus as it waits for a ball to be thrown. Lines are bound with an eagerness that cannot be contained. I, too, am inspired by the line and the gulf between a line that is alive and organic and a line that is mechanical and tense; a line with a gentle ending that makes you feel at ease or joyous, and a line that stops abruptly and takes your breath away.
Through lines, I have built a body of work that focuses on capturing the emotional or physical energy of a particular event, through sculpture or works on paper. How I achieve this depends on which process I use. In my abstracts, it is the least amount of detail that creates the most energy or life in a piece, and in my bronze burnouts, (the term burnouts refers to the process of physically burning away an organic material or ready-made object to a cavity in the mold), it is the detail of the wear and tear that is gripping.  For example, in "suffrage", it is the distressed and tattered leather that airs the frustrations felt by women struggling for equal rights. In "broken", it is the gesture of the line that details the pain and despair of a homeless man. In either case I am engaged in an ongoing experiment with lines, and materials, with an interest in narrative.
Artists face many challenges, but what do you feel is the most pressing among them?
With the ability to apply for exhibitions worldwide through the internet and social media todays artist are challenged with too many opportunities. Balancing the time spent to making art and the time spent promoting it through the right venue is daunting.
Do you have any events or exhibitions coming up? Where would one go to see more of your work? How can people support you and your artwork?
Currently I have work at George Bush International Airport, Houston in the Portable Works Collection, and the 41st International WaterMedia Exhibition:  Water Color Art Society-Houston, March 4th – April 5, 2018.
In addition, my work can be seen on my website cindeeklement.com, @cindeeklementart on Instagram, and in various juried exhibitions listed on my website cv. However, there is nothing like seeing art in person and talking to the artist. I welcome studio visits and love to host small intimate gatherings – coffee or tea and art, wine and art, or a birthday visit which may or may not end with a piece of art. In order to make an appointment email me through my website contact page.
Supporting galleries that exhibit local artist such as arts Brookfield and Williams Tower Gallery, where I exhibited last fall, helps grow the Houston art community. Furthermore, it is important to support nonprofits such as the Art League Houston, Lawndale Art Center, Houston Center for Contemporary Craft, and the MFAH Glassell School which are all important to the growth of the art scene on our third coast.
Contact Info:
Website: cindeeklement.com
Phone: 832-358-0001
Email: cindeeklement@gmail.com
Instagram: @cindeeklementtart
Facebook: cindee klement
Image Credit:
all other photos except as described below are by – Nash Baker,
"the road" – Rick Wells,
"January 21,2017 the Woman"s March" – Will Michels
'sit" – Will Michels
Getting in touch: VoyageHouston is built on recommendations from the community; it's how we uncover hidden gems, so if you know someone who deserves recognition please let us know here.