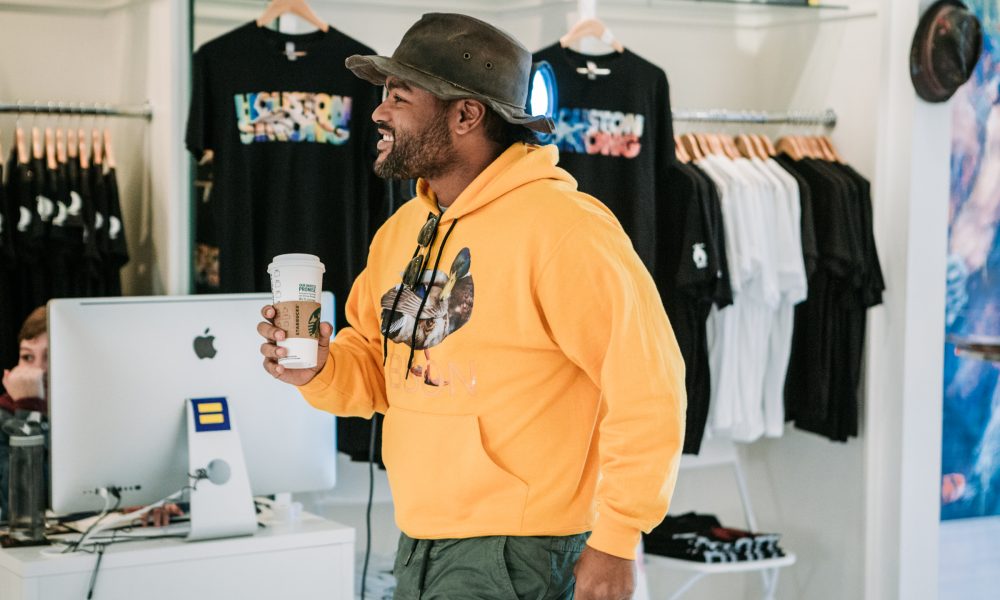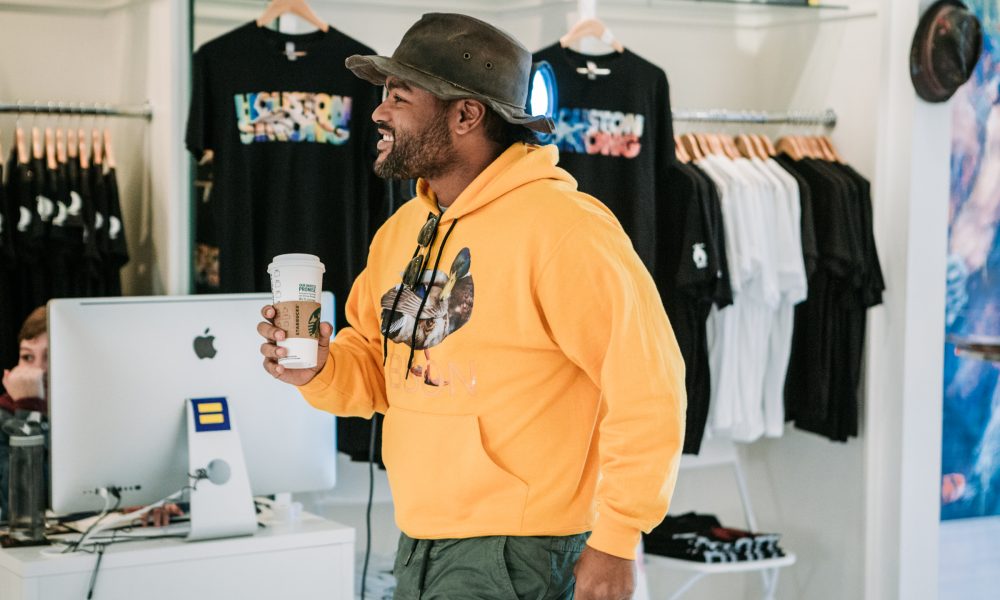 Today we'd like to introduce you to Neiman Catley.
Neiman, we'd love to hear your story and how you got to where you are today both personally and as an artist.
To give you bullet points. I grew up in South Park, Houston, TX… the "hood." My father was one of the most notorious drug Kingpins the south has ever known (Johnny Binder). I was raised by my grandparents because of the nefarious activities of my parents. Thanks to my grandparents for pushing academic achievements and immersing me in the arts. Fast forward to making a lot of not so good decisions (being vague) in my 20's.
However, fate stepped in the way when I had to move back home to take care of my dying grandmother. That gave me the space and freedom to be creative. That was my start. I've had a computer in my face since roughly 1985. A Texas Instruments TI-99. I never realized how my familiarity with computer would lend itself to my artistic expressions. I started dabbling in graphic design as a way to make a dope Myspace page. I would change it every few days. People took notice and started to ask me to do theirs. At some point, it became too time-consuming, so I complained to this one random lady who asked me to do her page. When she offered to pay me, I realized I had something.
From that point on, I started to study art and design so that I could really understand what life I was entering into. From Fibonacci Sequence to color theory, I was in the weeds like a tiger stalking its prey. I immediately started freelancing in the night-life-entertainment world. Those were the most creative gigs I could get at that stage in my development as an artist. It kept me fed, so I could continue to work as an artist. Well, fed most of the time. There were many times I had to decide on whether I'd pay the light bill or the gas bill. It all depended on the time of year. Those were some rough, hungry years but I was still free to work on my craft as I wanted. That helped me to grow.
A few years passed and I started to find consistent success. I also found a penchant for traveling. I became a digital nomad of sorts all around the states. I can tell you the best coffee shops in several cities around the U.S. At some point, I picked up a camera. It was a throw-in special for buying a computer and a printer. It coincided with a trip I took to Bali. I was slated to go out there for a week… I stayed for 3 months. That experienced changed and enriched my life. Bali is an artist's haven! I met so many creatives. That, along with my unworldly spiritual experiences, catapulted me to be where I am now.
Soon, as I came back to Houston, I created the Brand Waxaholics along with DJ Big Reeks. It started as a conversation (while I was in Bali) about spinning all wax records at a bar and jokingly… I was making fun of the subculture by calling them Waxaholics. It immediately stuck. A brand was born.
Being able to create a brand from scratch and then nurture it allowed me to be able to express myself freely and openly with a new audience. I was making album covers essentially every week! I was taking photos and shooting videos and then that's when people started to take notice. From that point on I was heavy into learning to film. I would just start shooting everything and everyone. I would make little videos on my website for fun. Some were good, some were not so good. But I was doing it.
In 2014 I was discovered by Houston Arts Alliance through my photography. Then one of the directors, Pat Jasper looked on my website and read my stuff and watched some of my videos. She then told me that I was a natural ethnographer and asked me if I believed I could put together a documentary. I said yes… and my film-making days began.
I put out some independent short documentaries to hone my craft that was received well. I had screenings at 2 prestigious art galleries in Houston. Then I decided to combine my constant traveling (30+ countries in 3-4 years time) and film-making to produce a travel documentary series. We filmed in Indonesia, Thailand and Australia. It was an amazing experience. It took two years to complete shooting and now, it's in post-production.
Fast forward a couple years and I receive two grants for film in 2017 from Houston Arts Alliance. I just screened two films over the past 6 weeks. I have also been getting work creating events and using my video editing skills to produce visuals on projections. I have since started 2 companies… Blah Blah Co. (Commercial work) and Magic Beans Films (film company). They are both beginning to flourish and I feel like I am just getting my feet wet. I am living my dream and getting to tell stories in the medium that I love!
We'd love to hear more about your art. What do you do you do and why and what do you hope others will take away from your work?
I am a film-maker, photographer, graphic designer.I create documentaries (for now) and commercial videos as well. I create it on the computer Adobe Premiere, After Effects. I shoot with various cameras using an assortment of rigging, etc. I love to tell stories. I write as well. I feel that since man could speak we have been telling stories to educate, pass the time and evolve as a species. I believe it is essential to the human experience.
My message is simple: "See it. Believe it. Work hard and you can achieve it." I am a shining example of what positivity and hard work can do. Everyone has a story to tell and I hope to inspire people to go out and make their own. My films are meant to inspire people to move and do something positive with their lives. Hearing and seeing other people that you can relate with goes a very long way to your own self confidence.
Do current events, local or global, affect your work and what you are focused on?
I don't think the role has changed. It has evolved definitely. We have many more ways in which to express ourselves to the world. Local and international affects my art because I deal with people. Ultimately their stories are forged through happenings all over the world.
Do you have any events or exhibitions coming up? Where would one go to see more of your work? How can people support you and your artwork?
My websites include:
storiesintertwined.com
muzzlewump.com
and my social media (Instagram):
@intertwinedseries
@muzzlewump
@thatblahblahco
People can support my work by sharing or liking it. I also am setting up a donate button on Intertwined and a Patreon eventually.
Contact Info:

Image Credit:
Bun B is a few
Getting in touch: VoyageHouston is built on recommendations from the community; it's how we uncover hidden gems, so if you know someone who deserves recognition please let us know here.