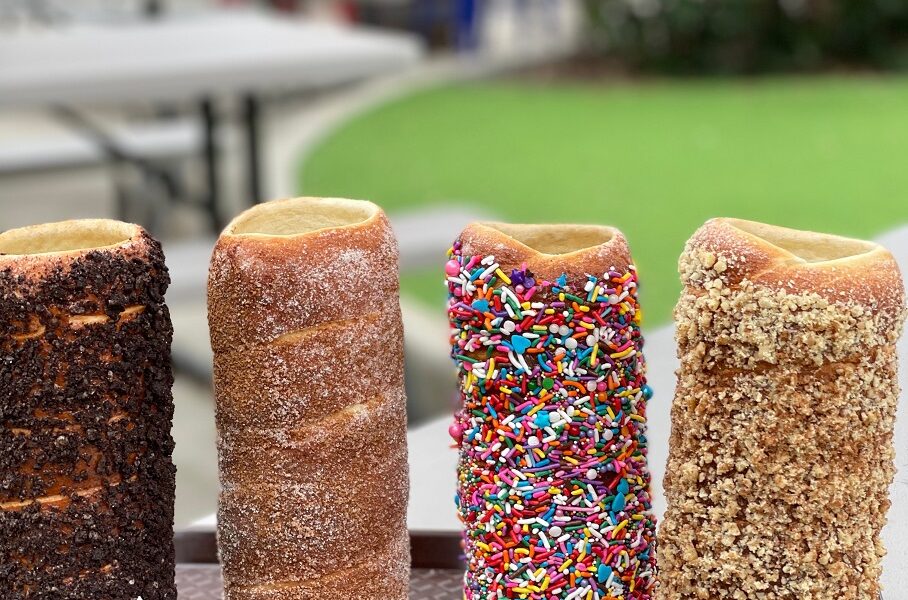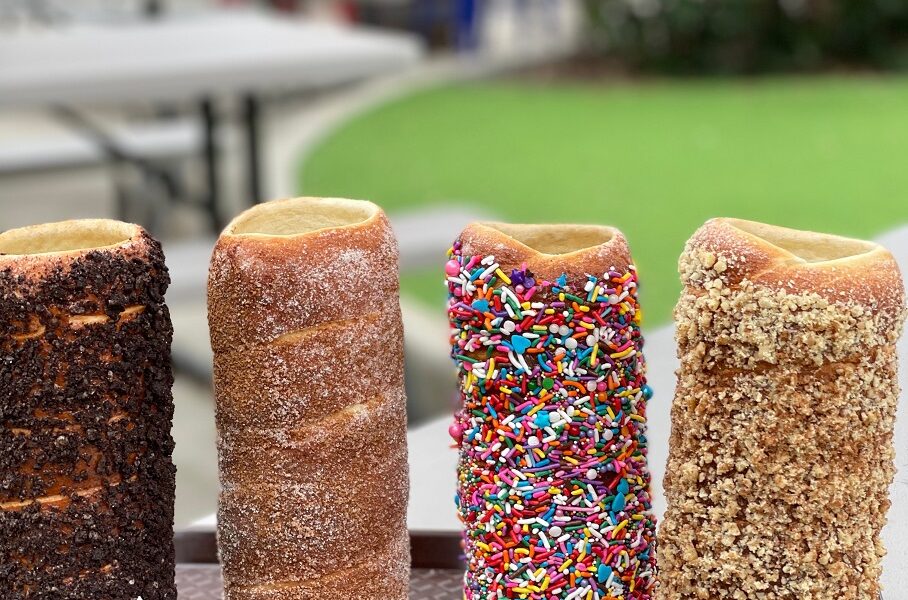 We are thrilled to be connecting with Gabriel Toma again. Gabriel is the Founder of Dracula's Chimney Cakes and is also a content partner. Content partners help Voyage in so many ways from spreading the word about the work that we do, sponsoring our mission and collaborating with us on content like this. Check out our conversation with Gabriel below.
Hi Gabriel, thank you so much for sitting down with us again. For folks who might have missed our initial interview, can you start by briefly introducing yourself?
I am Gabriel, moved from Romania to Houston in 2014 with my wife Katya and our daughter Eva and, we had a big idea, to introduce a 300 year old Transylvanian Tradition called CHIMNEY CAKES to Texans and later to the whole nation. What a challenge! Yes!
Fast forward in late 2018 I finally got started out of my garage, moved into festivals and local farmers markets, 2019 we bought a food trailer and placed it in Tomball at 403 Eats food truck park, 2020 we bought our second unit that we keep mobile so we can keep building the customer awareness on our baked goods.
We make our own special dough using 7 simple healthy ingredients, then we roll the dough on a special designed wood roll and we bake them fresh to order every time for an amazing texture, soft and fluffy on the inside and crispy on the outside.
Our product is very unique in the way it bakes and it can be sweet (traditional) ; savory (twist) and savory with meat (Texas twist)
Our guests love the convenience of having fresh baked chimney cakes to order, a great alternative to funnel cakes, donuts and even churros. We are passionate about supporting healthy food choices and stand for peoples greatness.
Why choose Dracula's Chimney Cakes as your brand name?
This came to me somewhat natural, I was born in Romania and grew up eating chimney cakes every time we drove to Transylvania region. And I wanted a name that could have impact on the guest, a name that could have a great marketing and brand impact.
And then I thought immediately at Dracula story by Brian Stoker and it made sense – chimney cakes originates in Transylvania and so is the story of Dracula and we all know the famous Bran Castle aka Dracula's Castle
So, I connected both stories and named my bakery Dracula's Chimney Cakes
How is your product done?
We make fresh dough, we let it proof, we cut it in stripes then wrap around a wood rolling pin , roll it in sugar with vanilla flavor and we baked over heat (the rolling pin rotates automatically)
When the cake is baked, will have a golden brown color, then we roll it in your desired topping – the texture will be crispy on the outside and soft & fluffy on the inside.
It can be sweet, savory or savory with meat,
Yummy!
Do you have plans to expand into brink and mortar?
In 2018 we started in our garage and today we have two food units, one food trailer in a food truck park in Tomball and on Food Truck that we keep mobile.
Our goal is to move into a drive thru type brick and mortar by the end of 2023.
Are you planning onto opening other concepts as well?
Yes, actually I just partnered with a buddy of mine and we will open Burrito District, a Cali-Mex type restaurant. It will be the most amazing and delicious authentic Mexican food around.
What is your vision for you brand?
We want to have locations around the city, state, country and the world just like Starbucks, if they can do it, then we can too. I love their concept and I am looking into something similar concept.
We also want to become the #1 Chimney Cake baker in the world by 2030 and be part of Top 100 Forbes Best Places to Work for by 2035!
What makes your product so unique?
Chimney cakes dates back in 1700's and some books mention them back in 1400's and they way are getting bakes its very unique. Yes, the technology evolved but the baking principle stayed the same and people love to get carried away and immersed into the whole experience, they love watching the cakes getting bakes and eating with their eyes while doing so.
It was so great to reconnect. One last question – how can our readers connect with you, learn more or support you?
We can be found on these platforms:
Website: www.dccakesusa.com
Facebook: https://www.facebook.com/draculaschimneycakes/
Instagram: https://www.instagram.com/draculaschimneycakes/
Yelp: https://www.yelp.com/biz/draculas-chimney-cakes-tomball
TikTok: https://www.tiktok.com/@draculaschimneycakes?
Contact Info:
Website: www.dccakesusa.com
Facebook: @draculaschimneycakes
Youtube: Dracula's Chimney Cakes
Yelp: Dracula's Chimney Cakes
Suggest a Story:
 VoyageHouston is built on recommendations from the community; it's how we uncover hidden gems, so if you or someone you know deserves recognition please let us know 
here.