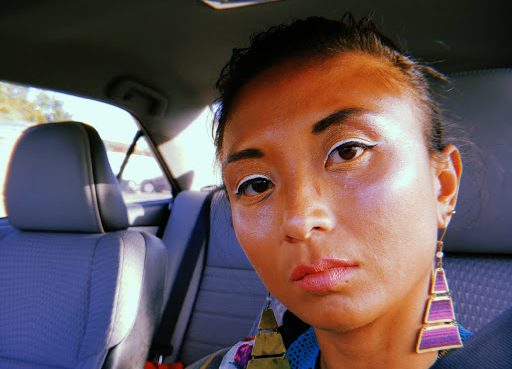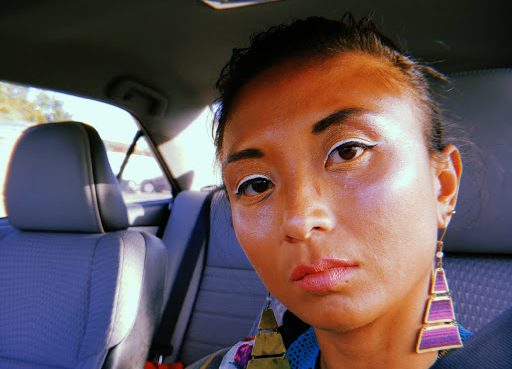 Today we'd like to introduce you to Royal Sumikat.
Royal, can you briefly walk us through your story – how you started and how you got to where you are today.
I've been doodling and making things since I was little but after high school, I got a car and was pre-occupied with the experiences that happen between that post-teen and pre-adult life.
I picked it back up again in my early 20's when I called a friend looking to hang out so he invited me to join him at this house party. When we got there, the first thing I noticed was all the art on the walls. All of the paintings were abstract art and it seemed like the artists had a good understanding of color theory.
I found out they were created by the two roommates who hosted the party. When I complimented their work and asked about their process, they were actually surprised I thought so highly of their work. They said that they were just having some fun and wanted to put things on the walls so it wouldn't look so plain and empty. But I suppose perception is everything because I don't even remember what the paintings looked like but seeing the art on the walls, unlocked a part of myself that I didn't even know I imprisoned.
It seems after high school, I put away the creative part of myself that saw the world as an inspiration because I was no longer obligated to go to art classes or participate in anything creative. So, for four years after I graduated, I didn't look at art, I didn't see people making art, and I didn't notice art unless it was on TV or in a movie.
Seeing those paintings freed the part of myself that needed a healthy outlet. I eventually became their friend and we had many fun collaborations where we just messed around with different textures and basically threw paint on canvases for fun.
A couple of years later, I made the decision to go back to school and take basic art classes to improve and learn some foundational techniques. I signed up for Design 1 and Drawing 1 at Lone Star College in North Harris. This is where I discovered my love for charcoals and portraits. Taking those classes really refreshed my memory and helped me re-remember some art fundamentals.
What happened next became a series of synchronicities that lead me down this magical rabbit hole of artistic encounters where I met people who shared their knowledge on specific art methods, inspired my growth, and assisted in unlocking so much of my creativity whether they know it or not.
Around the time of my art classes, Instagram was finally available on the Android operating system so I signed up for it. I would post pictures of my art progress and really abused the use of hashtags. One day, a person in Florida started following my account and commented on some of my drawings. I was curious, so I visited her page. I saw that she also posted progress shots of her charcoal drawings. I followed her back and was glad to have an Instagram friend who was in the same part of the journey as me. Someone who was just getting back into art years after high school.
One day, I posted a drawing on Instagram. She liked it and then sent me a message asking if I'd be interested in being her art pen pal.
She said it would be great practice and I eagerly agreed. The next day, I went to the art store to purchase a drawing pad specifically for this new pen pal ordeal. As I was browsing the shelves, I heard someone calling my name.
I turned around and saw an old friend I hadn't seen since high school. We were catching up about what we've done since high school. I asked him how long he's been making art since I didn't know he was into it.
He was like, "I'm SOMEWHAT making art. I've been painting with spray paint."
He pulled up pictures on his phone of characters he's been painting on a board in his backyard. I asked him about spray paint and he told me he gets his spray paint at this art store in the Heights and he suggested we exchange numbers so we can plan on going together.
He called a few weeks later to plan the ordeal and one Saturday morning in December 2012, we visited Alva Graphics. I even have the Facebook post DECLARING that I am going to get into this new medium.
I used to be intrigued about this place because of all the art around the building but never got out of my car to figure out what the establishment was.
I purchased a few cans of spray paint and different sized caps then I invited my friend to my house so he could show me how to use them. I didn't have a large surface to paint on so we cut up some large boxes and taped them to the fence. He showed me how to angle the can so I can control where the paint lands, how to move my wrist, and how quickly I needed to move my arm so the paint doesn't drip.
I was OBSESSED. After that day, I found out Alva Graphics (the old location) had a wall behind the store that people used to practice and I could come in during business hours and paint whenever I wanted. So, of course, I took that offer and ran with it. I was there three to four times a week buying spray paint and just learning some can control out back. Pretty soon, I got a little better and gained the confidence to participate in local graffiti/street art jams.
We're always bombarded by how great it is to pursue your passion, etc. – but we've spoken with enough people to know that it's not always easy. Overall, would you say things have been easy for you?
The road has had its share of bumpy and smooth.
Here are a few struggles I've had:
1. Expressing my boundaries: In the beginning, I had a hard time saying no to anything that came my way. I was excited that people were interested in my work so I made a bunch of art for little to no pay.
2. People not understanding the value of the original work. Instant gratification is prevalent in our society. We can now buy hundreds of things on our phones while we're sitting in traffic and it'll be at our doorstep in two days. There are people out there who demand the same from artists and can get pretty exhausting.
3. Finding time to make art, build a website, and work all at the same time.
4. Making sure I don't put my self-care on the back burner.
5. Imposter syndrome. I'll find myself wondering if my art is actually my idea or if I am somehow a good idea thief and my subconscious mind just made me forget where I got the inspiration from.
6. Becoming distracted when things get challenging. I used to get super excited about an idea, start making it, and then I'll lose steam because I'm not working as fast as my mind is running. Then, I'll put that project down and start on a new one, rinse, repeat.
7. Currently, the struggle is getting back into putting out steady work after a long hiatus while I focused on my priestesshood, life coaching certification, and planning my wedding.
For advice, here's something I would tell my younger self:
1. Spend some time to get to know yourself. Often times, we drown out our inner voices with vices and entertainment so we don't have time to get uncomfortable with a mirror held up to ourselves.
What do you really want out of this? Do you have something inside you yearning to escape into the world? Is it for fame? Is it for money? Is it for clout? Figure out your intentions.
2. Invest in yourself.
3. Don't abandon self-care for the sake of art. Your work will still be there if you went out for a jog. Your brain won't feel so foggy if you get your required sleeping. The more we take care of ourselves, the more energy we have for our work.
4. Don't compare. Cliche advises but it still happens.
5. Be patient and kind to yourself. Our vision takes time just like a flower blooming. Don't force it. Stay consistent and determined.
So, as you know, we're impressed with Alternate Royality – tell our readers more, for example, what you're most proud of and what sets you apart from others.
I do brushwork, draw in different mediums, and I also paint murals.
I'm most known for and proud of my Future Tribez mural at The Silos On Sawyer.
I'm also proud of doing everything on my own. I don't know my way around websites and yet, I managed to create a simple one to showcase my work, put up an online shop where I can sell merchandise, and share my musings.
Currently, I'm in the process of figuring out what I specialize in. Prior to my hiatus, I was painting murals and mostly creating tribal futuristic work using markers. And now, I have other ideas that have been brewing so I am going to play with a few things and see what formulates.
Since I have a job and a couple of side hustles, what sets me apart is I am not a traditional commission artist. When people commission me, they pay me a certain amount of money to make them something in my style. They may give me a few themes (i.e. Something psychedelic, warrior symbolism, etc.) but most of the time, I get to paint what I want.
I feel like I am going deeper in that direction. I have a few passions and art is really important to me so I want to make what I want in my leisure time. If you like it, you can buy it, and it was made with all the passion and love.
Who have you been inspired by?
Wow, so many! I feel like I can't even name one without naming every woman.
My grandma for her kindness and patience.
My mom for raising three children alone for a while because my father lived and worked overseas.
My sister for her intelligence and resilience despite challenges and discomfort.
My friends who seek growth and inspire me to do the same.
All the mothers out there living out mystical lives after a soul was birthed out of them and into this planet.
Mothers who stay at home. Mothers who work. Mothers who live out their passions.
Women from underserved communities – who rise from the ashes of their hardships, overcoming struggles, and healing past traumas.
Women who are still struggling and showing up anyway.
Women who go against the grain.
Women inspire me so much. Most of them, I can't name but they have a place in my heart.
Pricing:
11×14 drawings start at $200.
Canvas paintings start at $400 at the size of 16×20
Shirts are $25
Stickers 2 for $5
Contact Info:
Getting in touch: VoyageHouston is built on recommendations from the community; it's how we uncover hidden gems, so if you know someone who deserves recognition please let us know here.