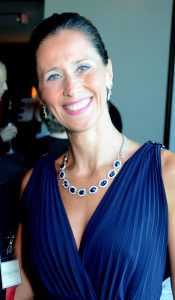 Today we'd like to introduce you to Tiziana Ciacciofera Triolo.
Tiziana, please share your story with us. How did you get to where you are today?
Thinking about my story is something that always gets me very emotional. Years of sacrifices, difficult choices, such as leaving Italy, and continuous changes, all centered around my greatest success: my family! I am a native Italian, born and raised in Palermo, Italy. In January of 2011, I relocated to Houston, where I still am today, and in February of this year, I proudly became a US citizen.
I met my husband in 1986 when I was 15 and he was 18. From that moment on, we built our career and our beautiful family one day at a time, one choice at a time, one challenge at a time, one accomplishment at a time. We've been together for 33 years and married for 28. Nice achievement, right?
We have a son, Roberto, who is a college student majoring in business administration at the University of Houston and has a huge passion for soccer. He played for many years for Palermo's professional soccer team academy, as well as for the Houston Dynamo Academy. We also have a daughter, Désirée, who is Senior Associate at EY, as well as National Academy of Sports Medicine-certified Personal Trainer and founder of the Instagram account @itsdesifit. Finally, we have two furry children, both born in Italy: Luna, a beautiful European Doberman, and Alex, a French Bulldog convinced he's also a Doberman.
In 2011, my life was changed completely by a unique opportunity, but also a difficult choice, that came when I was a forty-year-old mom with two children, one of which just entering, and the other exiting, the teenage years. In that period, my husband received multiple excellent offers from the USA at a point of our life in which we would have never imagined moving from Italy. At least, that's what we thought. Instead, maybe because we were attracted by the thought of living in a country based on meritocracy, or perhaps because, in this historical moment, we couldn't imagine a bright future for our children in Italy, or maybe because after many sacrifices we were ready to turn our lives around, we made that choice. And today, we are among those Italians who decided to pursue the American Dream and made it.
My husband grew up between Italy and the USA, graduated in Biology in Palermo, where he also completed a Research Doctorate in Chemistry. On top of that, he was a Fulbright Scholar at Mount Sinai School of Medicine of New York University, where he was conferred a Master of Philosophy and a Ph.D. in Biomedical Sciences. Today he is a well-known world expert in clinical cell therapy manufacturing for regenerative medicine applications. After serving the University of Pittsburgh Medical Center in Palermo, where he established the only cellular therapy manufacturing facility south of Rome, he was recruited by the Department of Pediatric Surgery at UTHealth, where he currently serves as The Clare A. Glassell Distinguished Chair, Associate Professor, and Director of the Cellular Therapy Core.
With regards to me, after spending 15 years serving as a public administrator of the Region of Sicily, I was hired by the Italian Cultural and Community Center (ICCC) of Houston where I directed Programs and Marketing from 2011 to 2016. During that time, I also served the Hotel Granduca, a renowned 5-star luxury Houston hotel, in the capacity of Public Relations & Marketing Consultant. I left the ICCC to pursue my passion for Italian cuisine and traditions: I became Head of Foreign Relations of ScelteDiGusto.it, an Italian online food & wine magazine, managed special events for the Lombardi Family Concept Italian "Taverna" and French "Toulouse" Restaurants located in Houston's luxurious River Oaks District, and opened Tiziana's Cook2Learn Academy®, a culinary academy that offers educational & cultural cooking classes for children 3 to 12 years of age. A perfect, easy way to learn about Italy and be exposed to a different culture without having to leave Houston. While the children have fun cooking authentic Italian recipes, they explore Italy by learning about the history of the dish, the region of its origin, and they learn the Italian and English names of all ingredients and utensils used. They also learn to convert between the metric and the United States customary units by measuring the ingredients using both systems. Each class is designed to be child-friendly with a "taste of Italy."
In 2017, my events and fundraising activities attracted the attention of the American Cancer Society, and I was recruited to manage the organization's distinguished fundraising events in the greater Houston area. I manage two major fundraising events: Houston Corks and Forks, a spectacular culinary competition among Houston's top chefs, and Couture for the Cause, an exclusive fashion show featuring cancer survivors.
If that wasn't enough, I am an elected member of the Committee of Italians Abroad (COM.IT.ES) for the consular jurisdiction of Arkansas, Oklahoma, Louisiana, and Texas. COM.IT.ES members are elected by Italian citizens residing abroad with the goal of representing Italian nationals in dealing with the Italian Consulate and allow Italians residing overseas to actively participate in the life of their community.
I'm also a former competitive swimmer. I started competing at the age of five, breaststroke specialist and former Italian Masters Swimming Champion. In the swimming world, I'm known as "Wonderfrog." Having recently become a US citizen, my goal is to compete in red, white and blue colors and add a US Masters Championship title to my swimming career.
Has it been a smooth road?
The life of a woman is by nature one of compromises, good compromises, between career and family. It's important for young women to understand that career and family are not mutually exclusive. My relocation to the USA, for example, was a difficult and very courageous choice. I was at the peak of my career, had a wonderful family, many friends and an enviable social life in an unbelievable geographical setting. In other words, I had everything. When the opportunity of moving to the US came up, I immediately thought of my children and what this choice could mean for their future. Was I scared? Of course, but in life you can turn your fears into the driving force that allows you to face change and make courageous choices, as only few people are willing and able to do. I was already 40 years old and aware that I was going to have to roll up my sleeves and start from scratch, starting from me. I made a new Tiziana out of me and had to overcome many challenges, including the language barrier, but today I have an established career, I live my Houstonian social life with enthusiasm and I'm happy with my work, which allows me to help others, especially those who are suffering. I believe that in life you don't ever stop learning, also and especially from past mistakes. Since my relocation, I have learned so much from Americans, and in particular, from Houstonians. For example, the importance of being an active member of the community you live in. I love the sensation of being welcomed and of welcoming others, the concept of sharing, the beauty of being part of a multiethnic community from which to learn so much. What could seem like obstacles to a closed minded person, I see as great resources. Through my experience, I try to guide my Italian friends to navigate through those aspects that are different from our culture, and because of that, can only enrich us.
To young women, I offer the same advice I give my daughter: don't be afraid to make unconventional choices and be determined. My greatest resource has always been my determination. The determination that allowed me to choose unconventional paths and to overcome the obstacles and curve balls that life threw at me. Cherish your falls, get back up, set your goals and NEVER, EVER GIVE UP until you reach them. You need to be the best version of yourself and an example for others in order to be a leader in a society that seems to have forgotten the most important values of life.
Please tell us more about your work, what you are currently focused on and most proud of.
I have over 20 years of experience serving public and non-profit organizations in Europe and the US and extensive experience in fundraising, as well as producing and managing major events. My personality is naturally inclined toward relationship building, public relations, and networking. As a consequence, I have very strong local and international networks. One of the most important things I learned from Houstonians, is giving back to the community, so I decided to use my experience and network to serve a noble cause. After witnessing friends and family struggle with cancer, I decided to dedicate my efforts to raising funds to fight cancer. One of the most intense experiences in my life was volunteering at MD Anderson's Pediatric Division, where I donated educational cooking classes to pediatric cancer patients. To have met so many children who were so brave and courageous in facing such a ruthless experience, truly inspired me to become more involved in fighting this terrible disease. Each and every patient who I've met has left an indelible sign in my heart. One that I know will not leave me for the rest of my life. Raising funds through the American Cancer Society (ACS) allows me to contribute to making a difference in the fight against cancer. Working for ACS and witnessing on a daily basis what it provides, in term of vital services and support, to cancer patients and their families, constantly motivates me to do more. My dream is to be able to celebrate more survivors, more lives, every day. I'm always looking for people and opportunities that can help me transform this hope into reality!
Who have you been inspired by?
My mother was my role model, my inspiration, my hero! She taught me so much throughout my life by leading by example, that I don't even know where to begin. She was the most generous person I have ever known in my life, always ready to put in a good word for everyone, to help anyone, and do so with every bit of her heart, something few people are able to do. Most importantly, she always did it in silence because she didn't like to be thanked. After her unexpected passing three months prior to our move to the US, we learned of many of her charitable acts from a multitude of people she had helped in life without telling anyone. An incredibly precious grandmother, always present, an amazing mother and mother-in-law. A wife like no other, a mom in a class of her own, a true pillar of our family. She was a simple, yet strong and determined woman, one who would walk into a room and light it up with her optimism and big personality. I cherish all that she taught me and hope I will be able to carry forward her teachings without ever letting her down. My mother was truly a source of encouragement and inspiration to everyone whose life she touched.
Contact Info:

Image Credit:
Roswitha Vogler and Catch Light Group
Getting in touch: VoyageHouston is built on recommendations from the community; it's how we uncover hidden gems, so if you know someone who deserves recognition please let us know here.