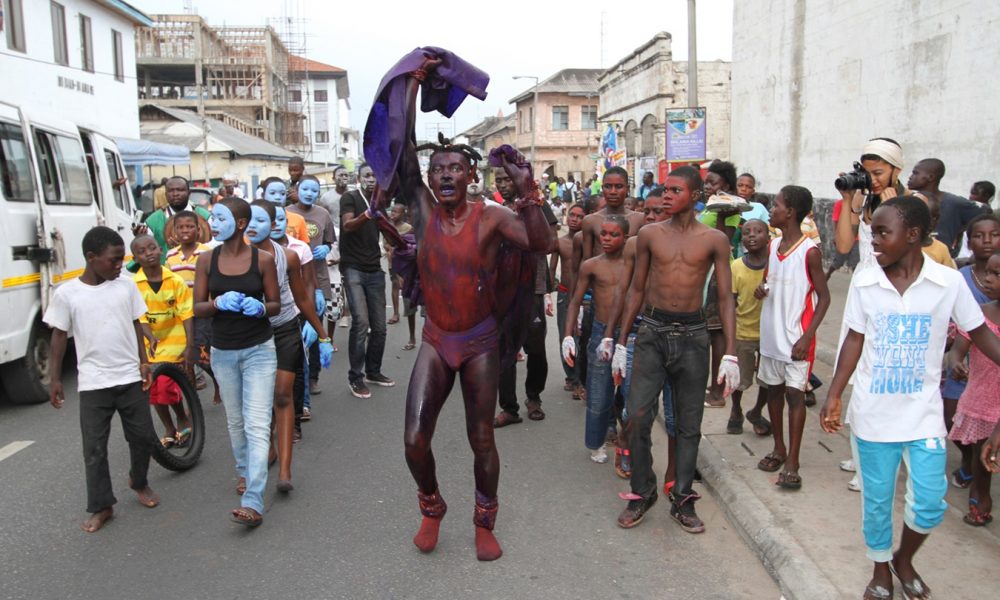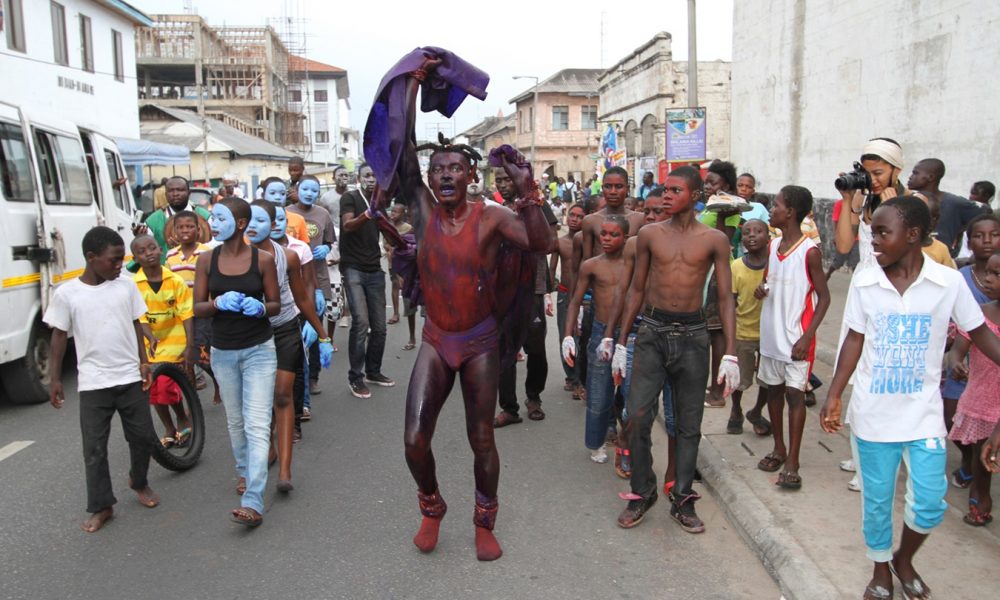 Today we'd like to introduce you to Akirash Olaniyi Akindiya.
Akirash, can you briefly walk us through your story – how you started and how you got to where you are today.
My relationship with art begins when I was 3 or 4 living with my grand mum. I saw her extracting colors from leaves, back of trees, roots, boiling clay stones, using them to dye clothes and polish the floor because they live in a house built with clay so it gathered dust.
After a few months, she polished the outside the house with this color extract and also used this color to draw on the walls and clothes. But I never studied or learned art at elementary school as a kid. I never buy gifts for people, I create gifts with my hands in my childhood. Seeing my dad who is a car builder also is another inspiration for me. It helped me today in my creativity to build things with my hands as a graduate of biochemistry. Most of my works start as experimental with lots of stages.
Olaniyi Rasheed Akindiya, also known as Akirash, is a Nigerian born artist whose passion for cultural interaction carries him around the world, but he currently calls Austin, Texas home. Akirash is an interdisciplinary artist working with various media like mixed media painting, video, installation, sculpture, textiles, performance and photography. His works exist as moments, documenting his relationship with various places, cultures, and traditions that he has encountered in his travels.
In 2000, Akirash created ARTWITHAKIRASH, a nonprofit organization used to inspire creativity in the community of the Republic of Benin. By encouraging a creative relationship with public art, individuals learn more about each other and their own community. Ultimately, ARTIWTHAKIRASH has successfully removed women and children from the streets, opening opportunities for learning by going back to school and expanding employment is a way of him giving back to communities and thanks God for all is success.
I as a person believe no matter where I go, I can not become that place but who I am, where I come from, so I love to remind myself with languages, proverbs, prose, traditions, colors, materials and incorporate them to what is going on now or where I am. The world has become small. The intermarriages and cultural diversity bring everyone together.
Olaniyi's work focuses on moments of time, fleeting moments that can be easily forgotten or transformed. Reflecting on rural versus urban life, the accelerated pace of development, and social infrastructure, his work explores the personal and the universal, investigating the invisible systems of power that govern everyday existence. He utilizes a multitude of techniques and materials, including re-purposed objects, which may result in mixed media painting, sculpture, installation, video, photography, sound, or performance.
Ultimately, his work is designed to create comfort, peace, and solace. He believes that art can be a balm to the soul, revealing a quiet inner truth. His art is a reflection of the joys of life, directly inspired by rhythm, harmony, and the movement of daily existence.
Olaniyi Rasheed Akindiya aka AKIRASH was born in Lagos – Nigeria. His first degree in BIOCHEMISTRY from the University of Agriculture Abeokuta in Nigeria (1991). Later he studied Fine and Applied Art at the Institute of Textile Technology Art and Design in Lagos – Nigeria (1995). He moved to the USA in 2011. He now lives between Lagos – Nigeria and Pflugerville – Texas – USA.
Olaniyi is a recipient of the Innovative Artist Award from the Mid America Artist Alliance (MAAA / NEA) for 2017, Pollock Krasner Foundation Award 2016/17 & 2011, Cultural Initiative & Capacity Building Grant, Culture Alive from the city of Austin 2016/17, the Santo Foundation grant 2015, and the Commonwealth Connection Award UK 2011.
Throughout his career, the role of residencies and interactions with other artists has been pivotal to his work. Olaniyi has been awarded residencies in the USA Residency at Crosstown Art 2018, Residency Fellowship at International Studio and Curatorial Program NY 2016/17, Oklahoma State University Museum of Art 2015, University of Texas in Austin 2015, Santa Fe Art Institute Residency Award 2015, Mass gallery (Hot box Residency in Austin TX 2014, Centraltrak UTDallas 2013, Residency at Triangle Art Association New York 2012, residency at the Vytlacil of Art Students League New York, Residency Fellowship at Vermont studio Center 2011, Fellowship Residency at Bluesky Project Woodstock – Chicago 2008, artists in Residency at Artcroft Kentucky.
Internationally, Olaniyi has been awarded residencies Art at the Heart Award 2016 & 17 in Western Australia, Sacatar Instituto Fellowship Residency Brazil 2015, Kiosko Gallery Residency in Bolivia 2014, Fellowship Residency at John Muafangejo Art Center Namibia 2013, Fellowship Residency at Nafasi Art Space Tanzania 2012, Tupelo / Bag Factory Residency South Africa 2012, Nirox Projects Space Residency Johannesburg- South Africa 2012, Residency at Gladstone Gallery Toronto – Canada 2011, Centre for contemporary Art Residency Lagos- Nigeria 2010, Thami Mnyele Foundation Amsterdam-The Netherlands 2010, and Sansa Triangle International Residency in Kumasi – Ghana 2009.
Olaniyi's work was exhibited at the 12th edition of Dak'Art Biennale, Dakar- Senegal 2016. He also participated in Chale Wote Street Festival Accra – Ghana 2013, International Multimedia Festival Yagon-Myanmar 2012, infecting the City Street Festival Cape Town – South Africa 2012, and the East Africa Biennale (ESTAFAB), Dar Sallam – Tanzania 2005 & 2007.
His works and writing has been featured in several publications including Aesthetica Magazine (Issue 80), Important World Artists Vol 1, Hidden Treasure Art Magazine UK, Virtual Residency 2006/2007 Germany, Freedom to Create Prize 2009, ART EDUCATION (The journal of the national art education association Vol 68, No. 6) Studio Visit Magazine Vol 26 & Vol 34, Critical Interventions (Journal of African Art History & Visual Culture. NOV 11). Spring 2013, Reechantments (The City in the Blue Daylight) Dak'Art 12thEdition 2016.
Great, so let's dig a little deeper into the story – has it been an easy path overall and if not, what were the challenges you've had to overcome?
Every success story or stories had past and mine is no different I was born in an environment/societies that do not have many opportunities and this hard life build, prepared me for life, for my career to take everything seriously, make use of every opportunity that was present to me or comes my way as if there will be no another.
I have made through challenges and challenge myself and always put myself in competition, contest because nothing will be giving to us we have to fight for it and never back down for failure, if I apply for something i did not get, I will do it again and believe in what am doing even if people around me don't.
But as they say hard work does pay off, I had some success and failure and I am still here and am not going anywhere soon and this is just beginning because I have not yet got to where I want to go, Am still traveling.
Alright – so let's talk business. Tell us about ARTWITHAKIRASH STUDIO – what should we know?
Artwithakirash studio work focuses on moments of time, fleeting moments that can be easily forgotten or transformed. Reflecting on rural versus urban life, the accelerated pace of development, and social infrastructure, his work explores the personal and the universal, investigating the invisible systems of power that govern everyday existence.
I am driven by current social issues integral to human development, but with no easy answer. My works start with primary source interviews with those affected by the issue at hand. What I learn from these close contacts is interpreted into artworks complex in design, going through several stages before the final result. Most finished works will manifest in some combination of mixed media painting, sculpture installation, video or performance. The flexibility of media allows me to explore current social issues deeply from many angles, and touch people who may not otherwise find art in their everyday experience.
Artwithakirash is known for his palette is utterly strange and surprisingly familiar at the same time, reminding us of hidden spaces in our recollections of everyday journeys, reifying the mysteries of ordinary interactions as moments of intense negotiations with forces often beyond our control, while remaining within our contemplative range.
Akirash is a sculptor of time who translates original readings of urbanity into his personal vision of a global humanity, by exploring contemporary culture from various perspectives, as a pilgrim seeking nuggets of human comity. which may comes inform of Mixed media painting, installation sculptures, Interactive, provoking performances, Video and Photography. this is what set me apart we have no boundary of creation or materials to use.
Is there a characteristic or quality that you feel is essential to success?
Research, questioning, Tolerance, Courage, focus, Challenging, vigilant, collaborations, respect, Affection, confident traveling, and believe.
Contact Info:
Getting in touch: VoyageHouston is built on recommendations from the community; it's how we uncover hidden gems, so if you know someone who deserves recognition please let us know here.