We're so pumped about our conversation with Amy Cummins. Amy is an Artist, Police Officer, Domestic Violence and Rape advocate and is also a content partner. Content partners help Voyage in so many ways from spreading the word about the work that we do, sponsoring our mission and collaborating with us on content like this. Check out our conversation with Amy below. Amy and her team share her story with us below.
Thank you so much for sitting down with us again. For folks who might have missed our initial interview with Amy, can you start by briefly introducing Amy?
Amy Cummins is a self taught artist and is a veteran police officer, who has found inner peace with creating beautiful art. She has always been artistic but has painted on canvas since 2017. She has won numerous awards for her work in the community and recently a national award for her victim service advocacy as an officer. She has also won awards for her artistic endeavors. She has been a resident artist in the Art Machine Gallery in the Heights of Houston and 310 Gallery in Richmond, Tx., and occasionally teaches a student here and there. She has also shown work in Hardy and Nance as well as won her first art contest in the Art Alliance of Fort Bend. She has created an art book to share with those that love her work, researches all she can about different painting techniques, art history and how to run a successful business. In September of 2021, she will open her very own Art Gallery on Richmond Avenue in Houston, Tx and she couldn't be more excited for the next leg of her art journey.
Amy, can you talk to us about what you believe to be the most important aspect of your art business?
The most important aspect of my art business is the human connection. My work focuses on showing the collectors strength from overcoming a great deal of trauma. When I am not working on commissions, I find it important to make a connection when I am painting. Intuitive style is how I am able to create pieces that make the eye work the canvas and find things that connect with the viewer. The human connection is everything to making my art business thrive.
As a self taught artist, what are some of the ways you have learned to create a body of work?
I have watched videos, met with artists, studied other artist works and used those inspirations to find my true style. The art that I create allows me to be free of thought and move the paint with emotion. I believe that art is so subjective in nature that if my work is for you, then great. If my work doesn't connect with you, then that is fine too. I have learned to fall in love with my process of creating by trial and error. If I don't like a mark, I just paint over it or use the many tools, including my hands, to create beautiful art.
Where do you see your art journey taking you in the next five to ten years?
I will be opening up a new Art Gallery on Richmond Avenue in Houston and I am so excited to start that new adventure. I want to make a connection with the community surrounding the gallery and allow those that really want to perfect their craft, intern in the gallery. I want to teach younger people the importance of having art in your life. It could be music, painting, sculpture, etc. but art tends to build character and kindness in people.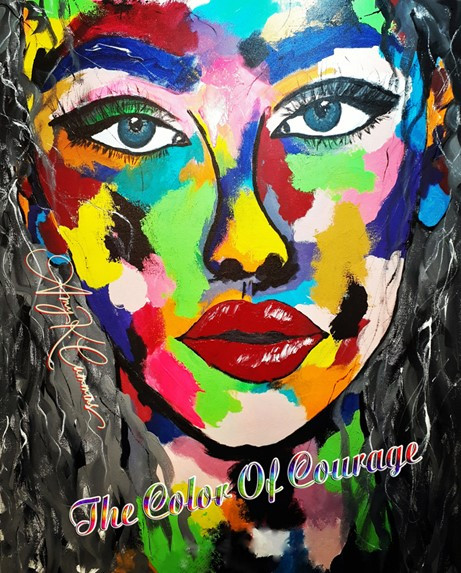 We'd love to hear your thought on whether you or more inspired by famous artists from the past of if you find today's artists more inspiring.
This is a great question and one that I hear a lot actually. I think the past artists have done a great deal to forge a path for future artists; however, I am inspired by living artists of today. There are so many phenomenal artists that inspire me to push the limitations I have placed on myself, try different techniques, and learn more about where I want to take my art journey.
We've got to know – how do you juggle full time work, family life, volunteer work and run an art business? Is there a secret to juggling so much so effectively?
Great question and sometimes I wonder how I do it. To add to all of the list you mention, I also do community theatre'. My most important job of course is taking care of my son and making sure he is happy and fullfilled as much as a teenager can be. Covid has kept him in a lot this past year, so I have had some extra time. My full time job as an officer is my bread and butter so that is top of my priority list as well. The spare time I have is spent, creating art during the evenings and weekends. I have lots of experience in multitasking because my mind never shuts off. Balance is key for juggling so much though. It is important to use the same amount of energy in all aspects of my life or something will fall apart. Also, having good communication with family that helps them understand my schedule. They are very supportive and I am so blessed. It really helps the heart to not feel guilty for hustling so hard to build a business and still make community connections through volunteering. I want to be the role model my son looks towards; not a stranger.
Have you further defined your art style and if so how did you get to that point?
Yes I have and it feels so much more comfortable knowing what is right for me. I still do commissions for clients that want different from what I want to paint, but I am happy to make them smile. The energy connection that I can make with the perfect music playing and just me and my paint and canvas…..magic happens
Alright, so before we go, how can our readers connect with you to learn more and show support?
You can find me on my Facebook page at: Amy Cummins Fine Art
You can find me on Instagram page at: ACfineart
September will be the grand opening for the new ART GALLERY. Exact date to be determined. More information about the gallery will be put out to media soon.
Contact Info:
Suggest a Story:
 VoyageHouston is built on recommendations from the community; it's how we uncover hidden gems, so if you or someone you know deserves recognition please let us know 
here.