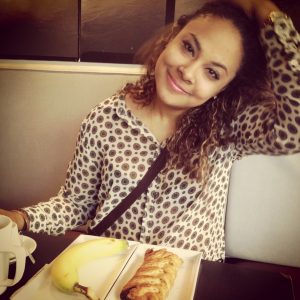 Today we'd like to introduce you to AVM Hawkins.
Every artist has a unique story. Can you briefly walk us through yours?
I was always very creative as a child, which continued all the way up to becoming a young adult. I always drew and even dabbled in painting. However, it was during my 1L year in law school where I began really painting abstract art. My first year was very stressful and anxiety driven. I was working so very hard, studying seven days a week, hardcore, but was not obtaining the results I wanted. One day after class, while feeling frustrated and exhausted, I remembered three blank 24 x 36-inch canvases, that was still wrapped in plastic. I was "saving" them for a great idea, which left them untouched for several months. When I thought of these canvases, I said to myself, "I am just going to let it out." That moment changed my life. I created three paintings that night, and have been painting consistently ever since. Interestingly, law school became easier for me. I think this is because by painting, I was finally expressing myself most authentically. All of my personal resistance dissipated because I was doing what I was created to do.
Please tell us about your art.
My art is abstract expressionistic paintings. I paint mostly with acrylic paint, experimenting with oil and oil pastels on canvas or linen. I usually paint with the canvas un-stretched and tacked on a wall where I feel very liberated and free to create. Then I build my own frames in which I stretch the canvas on. My paintings are created 100% with my own hands.
I create from "within."
I paint from my subconscious. I try not to "think." I think way too much in real life. Art is my vehicle to release my fears, insecurities, self-doubt, self-judgment, my overly analytical mind and most importantly, my ego. Then, underneath, during the creative process, I am blessed to find, and re-discover my Self. Art is my opportunity to "let go," — to take creative risks, to enjoy the process, to let go of my need to control and my attachment to the final result. I feel like my life is always about seeking balance, to live a more authentic life, and to reach closer and closer to my deepest, purest, most best version of myself. I believe we are all in pursuit of this, in some form or fashion, and I think this is why people connect and relate to my art.
I am very impulsive when I paint. I reach for colors, brushes, and even various materials to create textures instinctually and without a clear pre-mediated plan. I follow my heart and my curiosities. I see different creative opportunities emerge as I paint; they unfold before me as I explore deeper. Each blank canvas has infinite possibilities, but only if I am willing to get out of my head, surrender to the present moment, and trust that something beautiful will happen.
I always want the viewer to receive positive energy and inspiration from my art. My art usually has some form of intention, words, or message that is conveyed in the painting, whether that is to provide tranquility or vibrant energy to a space, sometimes my work contains messages of "Mastering Fear," "Surrender," or "Loving Life." I feel that each work of art, in ways, is a self-portrait which captures a feeling and essence of me within that particular moment in time. And I believe when a person connects with a work of my art, it means, that within the work, they saw themselves; and in turn, we see each other.
As an artist, how do you define success and what quality or characteristic do you feel is essential to success as an artist?
As an artist, I define success as the ability to wake up every day to paint and create work that I love and that is true to who I am, where I enjoy the process of creating and overcoming challenges with positivity and optimism, and that I am able to provide for myself, my family and give abundantly to others through the sales of my art.
The quality and characteristics essential to the success of an artist is to have a committed, relentless, exciting vision of who you are as an artist and what you want to do, give, and create as one, and then give your entire heart and soul to living it and being it now. My mom would always say, "If you want something, own it, and be willing to work hard for it, and you can have it." I believe that with my whole heart and soul. I think this characteristic is a combined: Vision and Perseverance. Nothing is impossible if you can see it and be willing to work hard for it.
How or where can people see your work? How can people support your work?
People can see my work at my art studio at 2101 Winter St. Studio #24 Houston, Texas 77007 at Sawyer Yards during Open Studio Events and by Private Appointment.
I also have art displayed at Ogun Art + Wine, 920 Student St. Suite 150, Houston, Texas, "A Sentimental Mood," from May 1st, 2019 – July 5th, 2019.
My work can also be seen on my website: AVMHawkins.com and on Instagram at A.V.M. Hawkins.
Contact Info:
Image Credit:
AVM Hawkins
Getting in touch: VoyageHouston is built on recommendations from the community; it's how we uncover hidden gems, so if you know someone who deserves recognition please let us know here.