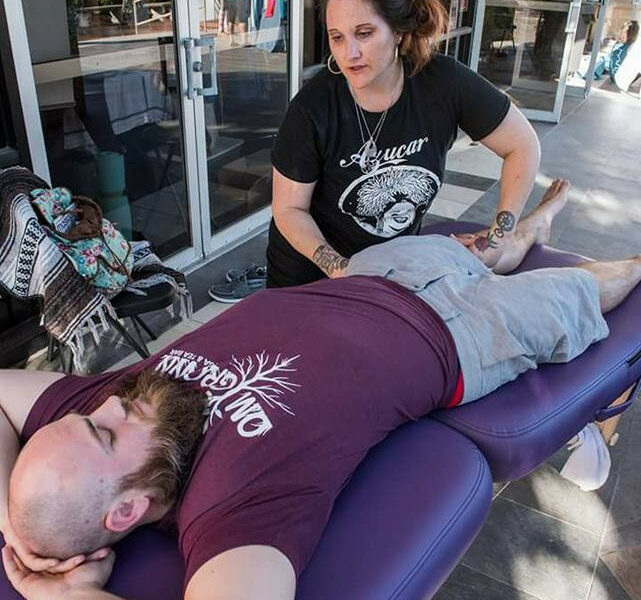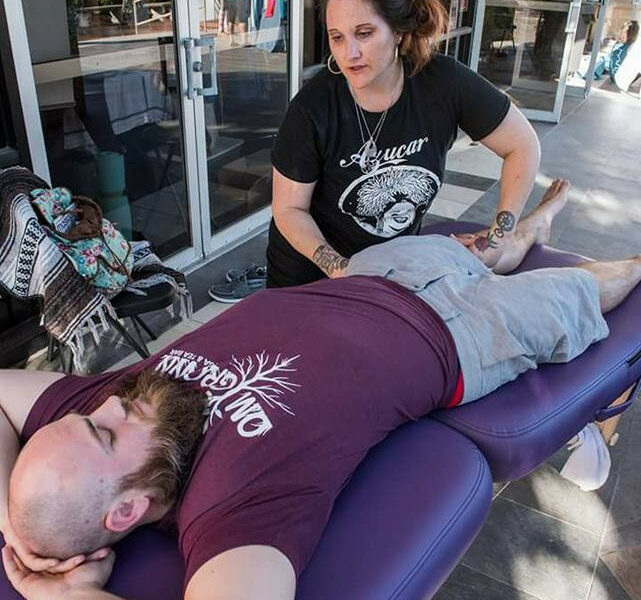 We're so pumped about our conversation with Jessica Davis. Jessica is a Licensed Massage Therapist & Business Owner and is also a content partner. Content partners help Voyage in so many ways from spreading the word about the work that we do, sponsoring our mission and collaborating with us on content like this. Check out our conversation with Jessica below.
Hi Jessica, so great to have you join us again. For folks who might have missed our earlier conversations, can you please take a minute to briefly introduce yourself?
Hello there. I am Jessica, a Licensed Massage Therapist in the Third Ward area. Normally I provide massage & bodywork for people with active lifestyles but in this covid world, I provide massage & bodywork for those that are taking the virus seriously. Many people are trying to stay socially distanced from each other but I get paid to touch people. It has all definitely put a twist and a strain on staying afloat. My number of clients has suffered. My bottom line has suffered but my work and passion for my work has not. I focus on deep tissue fascia work and love working with massage cups and pin & stretch techniques in a very covid cautious treatment space. I have put a lot into focusing on ventilation in my home treatment space and myself & clients mask for the duration of the session.
How have you been able to work safer since Covid has become a concern?
Early in the pandemic, I joined a Facebook group called Massage Therapists, Caretakers & Covid which has been a major source of information for me about everything covid related and trying to work safer in the middle of it all off top, clients and myself are masked the entire session. I also have headrest pockets that are attached under the headrest to provide an extra layer of protection while the client is in the prone position (face down). I have a window open in the treatment room and the connected bathroom. Both windows have a window fan facing outwards to help create a bit of a suction for ventilation. I have 2 air purifiers with HEPA filters, double the coverage needed on an average. I also wear a version of PPE that I change out in between clients such as a robe and sometimes a face shield over my mask. I am also fully vaccinated.
How has Covid affected your business?
I had to quit doing the chair massage that I was doing at Whole Foods once a week which was mostly a form of marketing for me but it did not feel safe to risk that much public exposure and volume of close contact. I also did not feel that I could control the safety of the space as much as I can in my home treatment space. I had to shut down for a couple of months early on and things have trickled back in ever since. I have been extremely lucky to have assistance where needed. I have also managed to create a little supplemental income with things such as furbaby sitting.
What is your favorite part of being a licensed massage therapist?
One of my favorite parts of being an LMT is helping to improve peoples' quality of life. Too often people are misled to think that massage & bodywork is a luxury or a treat but in reality it can make a massive difference on the quality of life when it is kept up with as a maintenance routine. Too many people think that things just start going south as we grow older. It is not necessarily age but it is a matter of time and what we do with it.
Do you use any tools in your sessions?
I adore my massage cups. I use my own for a ton of self care on myself. I sometimes will also use IASTM (Instrument Assisted Soft Tissue Manipulation) tools also for modalities such as Gua Sha or Graston. I also offer Theragun as an add on. I use both a Theragun and a Pure Wave for my own self care routine. I also offer CBD massage oil as an add on as well.
When and where are you available for appointments?
My massage days are usually Thursday – Sunday but I am flexible if someone really needs a Monday – Wednesday and I have that time available. 10am-6pm are my most common massage hours. I work from my home healing space in the Third Ward area close to Midtown, Downtown and The Medical Center.
Why should people receive regular bodywork?
We put our bodies through a lot on a regular basis through both our activities and our stagnation time. Repetition use or lack of use can both be detrimental. We have areas that get locked in with muscle memory that can lead to cellular memory if left unattended. Over time, these things can cause limited range of motion and the rest of the body will overcompensate. It sets us up for injuries and the body will just start adjusting to the pain over time. It can often be so slow and subtle that we don't even realize it until it is a bigger issue. Regular massage gives the body something else to remember to counter act that muscle memory. It also benefits healthy lymphatic flow and circulation. Not to mention the mental calming a good massage can provide. We expect a lot from our body. We need to give back to it.
Thank you so much again for sharing all of this with us. Before we go, can you share with our readers how they can connect with you, learn more or show support?
My current website is the best place to find all of my places at once. https://fullcirclehealing.massagetherapy.com/
You can get to the rest of my online spaces from there easily such as Massage Book. This is where current clients can schedule appointments online themselves. All first time clients will reach out to schedule directly with me. https://www.massagebook.com/Houston~Massage~full-circle-healing?src=external#booknow493768
Facebook. https://www.facebook.com/fullcirclehealingmassageandbodywork
Linked In https://www.linkedin.com/in/jessica-davis-39b07872/
Instagram https://www.instagram.com/fullcirclehealingmassage/
Yelp https://www.yelp.com/biz/full-circle-healing-massage-and-bodywork-houston
You can message through all of these sites in different methods as well as my tele # is always listed as well.
Email is fullcirclehealing@massagetherapy.com
Tele # is 281-460-8243
Contact Info:
Image Credits
The very first image of me working the Yoga Fest outdoors. His logo is in the bottom R hand corner. Photo by Anthony Rodriguez, AREXPRESSIONS.COM Had trouble with this one as I don't take many photos. I have a professional shoot in the works but covid has slowed that down at the moment.
Suggest a Story:
 VoyageHouston is built on recommendations from the community; it's how we uncover hidden gems, so if you or someone you know deserves recognition please let us know 
here.