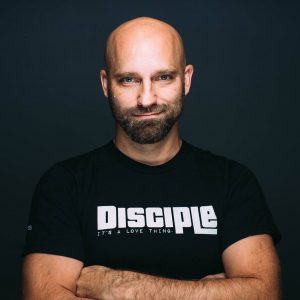 Today we'd like to introduce you to Justin Ulmer.
Justin, can you briefly walk us through your story – how you started and how you got to where you are today.
While my calling is that of lead student pastor at WoodsEdge Community Church, I'm a graphic artist and photographer at heart. I've never had any formal training in these disciplines; I just know I love the way our world looks through a lens.
My story in how I got started in photography is tied to my childhood. I grew up in The Woodlands, Texas. There are nearly 120,000 people living here today, but as one of the first 300 families to build here back in '75, I still remember when this was a one-restaurant town and all the main roads ended in the forest. It was a fantastic place to be a little boy.
Pinecone wars, exploring the forests, wildlife roaming through every backyard, chasing Deet trucks down the street; I loved every minute of it. But, early in my teenage years, my family imploded. Shortly thereafter, the men I looked up to fell. And then I lost a lot of friends fast. Life just sort of punched me in the face, and I didn't know what to do with the pain. Overnight, I went from being a happy little boy who loved to play in the woods – to a bitter, broken man who didn't love anything at all.
My little utopia lost all of its colors, and I started looking for liquor to brighten things up. As a result, the next ten years were a blur. I waited tables, tried my hand at real estate, but I was really only living for happy-hour. After a decade of that empty lifestyle, I reached my breaking point. It was 3 am. I was alone in a dark room. Feeling a little foolish, and a lot desperate, I said these words out loud, "I can't stop drinking.
But I know you can help. Jesus, rescue me." The next day I woke up, grabbed a camera and walked back into those same woods I used to play in as a boy. I looked through the lens and began noticing all the little details I used to love as a child. And the closer I looked, the more I saw. As I snapped photos of butterflies and bluebonnets and all of the tiny, beautiful tidbits of my forest, I heard this phrase in my mind: "I did not create you to be an alcoholic, but an artist." And that was the day I realized I was a photographer.
I've continued capturing snapshots of God's beauty in our broken world for the past 15 years. I've been privileged to travel to five continents and a score of countries as a result. While I love shooting landscapes, graffiti, portraiture and conceptual art, I specialize in macro photography. The little things. And because I feel like God gave me this artistic gift, I especially love to couple my snapshots with verses from the Bible.
As a visual learner, I have a horrible time remembering Scripture. Therefore, successfully pairing a photograph to a piece of God's Word in a way that brings the truth of those words to life is one of the great joys of my life.
Has it been a smooth road?
I think one of the biggest obstacles artists face is marketing themselves. Because let's face it, most creatives just want to create. And yet, what good is creativity unless it can be successfully shared? This leads to a constant tension for us because deep down I believe most artists feel their work should speak for itself. And yet, as an artist, I have to ask myself, "Who has the greatest responsibility to communicate the message of my art?"
Learning to balance my desire to create with my desire to share my creations with as large an audience as possible is what led to the production of the Sevenapples App; a free, interactive tool designed to display all of my artwork and accompanying Scriptures to anyone on the planet.
It affords users the opportunity to share art with friends, search for various styles of art by the gallery, and even participate in an interactive Bible-study. It took a long time, a lot of work, and a great deal of patience to see this app realized, but it was worth it.
Overnight, I went from having a potential audience of a few thousand a week to a few million.
So let's switch gears a bit and go into the Sevenapples story. Tell us more about the business.
The mission of Sevenapples is to "encourage others to love and good deeds." I pursue that mission by making sure that all of my artwork features a positive message that always points people to their true identity in Jesus Christ. The Bible says that God's Kids (me and you) were created to be "more than conquerors," "royalty," and "living poetry."
We don't often feel that way, though. Why? Because we live in a world that would have us believe that we're not good enough. That it's not possible for a person to change. That it wouldn't matter if we disappeared. My hope is that everyone who encounters my artwork would embrace the reality that they are fearfully and wonderfully made. That they matter. That they're loved.
Because much of my artwork has been built around specific verses in the Bible, and because the Sevenapples App features over 800 custom prayer cards and Bible studies that can be used in an individual or group setting, I believe what sets my work apart is that its designed to make people think.
Not just about the artwork, but the truth and love it represents. And what in life is worth more of our consideration and contemplation than those two things? The first word out of Jesus' mouth when he began his public ministry was, "Repent." To repent literally means to "change the way you think." About what? About who God is, and who he created you to be. About truth. And love.
This is why users of the Sevenapples App will not only find categories of art like "Black "& White" and "Graffiti" on the Sevenapples App, but also more thought-provoking galleries like, "Cards Against Depression," "Cards Against Unforgiveness," and "The Gospel According to Twenty-One Pilots."
Where do you see your industry going over the next 5-10 years?  Any big shifts, changes, trends, etc?
In the next 5-10 years, I hope to see Sevenapples become a great and reliable Bible study resource for individuals, small groups, and churches. I also hope to see Sevenapples artwork enriching homes, offices, and places of worship.
Because there's always a thoughtful, positive message behind my art, it serves as a great conversation starter wherever it hangs.
Sevenapples can currently be enjoyed and shopped via the Sevenapples App (available on App Store and Google Play), and my Etsy Storefront.
Pricing:
16×20 Gallery Wrapped Canvas @ $55/ea
24×32 Gallery Wrapped Canvas @ $95/ea
30×40 Gallery Wrapped Canvas @ $220/ea
Contact Info:
Getting in touch: VoyageHouston is built on recommendations from the community; it's how we uncover hidden gems, so if you know someone who deserves recognition please let us know here.