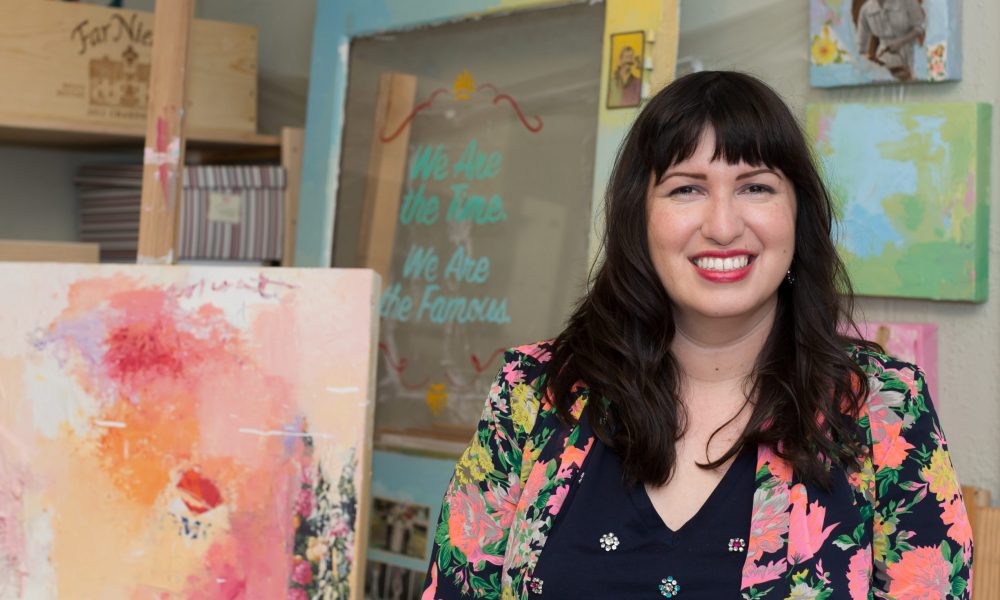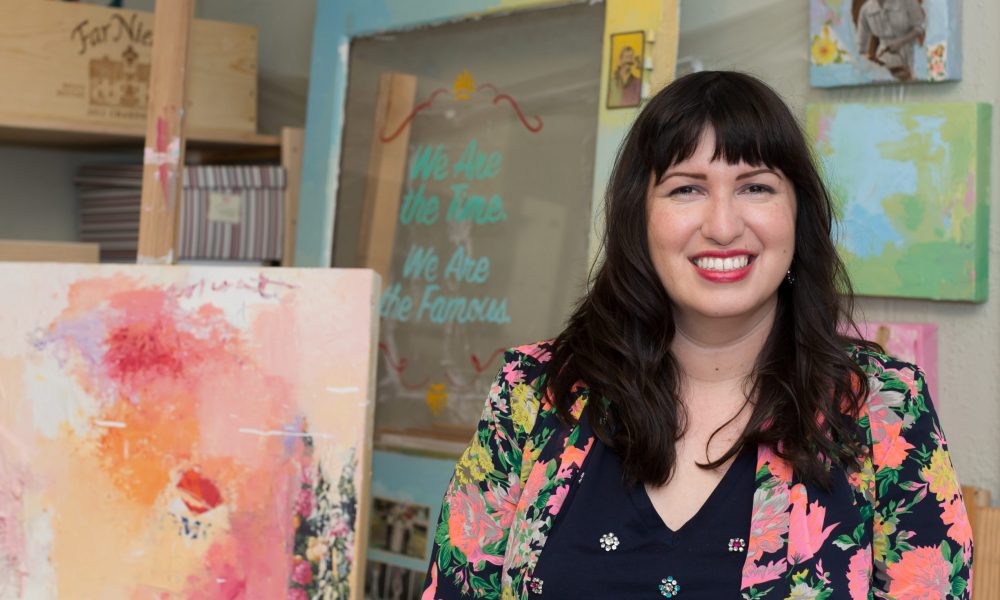 Today we'd like to introduce you to Marisa Avelar.
Every artist has a unique story. Can you briefly walk us through yours?
I was born and raised in Houston, TX. to a Salvadoran immigrant father and first-generation Mexican American mother. I grew up with a unique perspective on the world with a mother who was very sensitive, caring, a violinist and a teacher. My father, also a teacher was very political, into poetry and literature (like Gabriel Garcia Marquez) and has a playful sense of humor. Those things influenced and informed me as to who I am as a person and an artist. The influence of my Latin American culture, my awareness, and sensitivity to the world and my being drawn to color and work that is unique and makes a strong impact informs what I do. Since I was little, I always had a huge imagination and was also drawn to music. I took piano when I was young, but the real obsession came when I began to draw. I never stopped making art ever since. My artwork and experimentation has evolved. I was really drawn to color and the texture of painting, and so the natural evolution into painting in college was fun and a great challenge for me. I also began to experiment with collage and fabric; I loved incorporating graphic fabric patterns into my work as well as random objects. I also like to make shadow boxes, 3D mixed media collages and later was drawn to embroidery and weaving. I am very much influenced by the Dadaists and Surrealists; there is an edgy and rebellious attitude in the work I so admire. I love the combining of everyday objects from life to create a new work of art, there is something almost democratic about it and being something of the world we live in.
In college, I got a dual major in painting and graphic design, and I have been lucky to be able to earn a living as a graphic designer. In graphic design, I am very much drawn to typography and type, and I love playing with those elements. I also like vintage advertising, midcentury design, and love to collect vintage ephemera, objects and old record covers. My painting professor said that as a painter you have to be unafraid to change or shift things around in a painting, and she loved that about graphic design students that took her class. Graphic designers are not shy about hitting the "Edit > Undo" button and even starting from scratch, though it's harder to do that in painting, you have to. I find I apply that freedom in my graphic design as well as my fine art and it opens up the possibilities and makes my work stronger. Being taught to have a self-critical eye is important and to not just be satisfied with the first thing you put down. I also find that there are some mediums I am curious to work in and I am not shy about taking classes or trying to learn them even if I may fail, it is fun just learning and experimenting in a new medium.
Please tell us about your art.
I work mostly in painting, mixed media pieces and collages. I also love to make 3D objects such as Rauschenberg like "combines" and shadow boxes. Lately, I have gotten into the color and texture of yarn and have been making weavings. I love color, texture and the combining of various elements to make something new. I like finding objects or beautiful vintage designs that would often be discarded or thrown away and giving them new life. As a graphic designer, I understand that sometimes our work is not taken very seriously or may not even be considered art but I see beauty, lots of thought, and hard work put into it and I enjoy incorporating those elements and celebrating them in my work. I like for my work to have an element of mystery to it, I like working in the abstract and being expressionistic with it and what I find more important with my work is that people just feel a connection to it or are struck by the uniqueness or excitement of it. I don't like hitting people over the head with things, I love hearing every person's unique reaction and relationship to a piece, and often I am interested in the feeling they get from it. If the feelings can come across I know, I have succeeded.
My favorite successes in my work are when people form a personal connection with pieces. I have found many people over the years know when they like something I did immediately and feel a personal connection to it, treasure and cherish it. One friend of mine told me once she feels comforted by my work and wants to cuddle up and sleep in my paintings, like a warm blanket. I found that observation so fascinating and I loved the idea that my work generates warmth. I do want it to be very much alive, vibrant and impactful. Another female run non-profit arts organization I worked with once told me that my work is very feminine and edgy at the same time. I really loved hearing that because I am a woman, my work is an extension of me and I consider what I do to be unique but pushing the boundaries beyond what a woman artist should be. My work is definitely expressive, surreal, messy, warm, open, edgy and free.
Do you have any advice for other artists? Any lessons you wished you learned earlier?
My big advice and it may be cliche is to be yourself. No one else can do what you do; no one else can bring to your work your unique background, point of view, or way you see the world. Try to tune into those deep feelings and elements within yourself that you want to express. Jot down ideas and hold on to them when they spring in your head. I also like to follow my curiosity and interests and have been rather unabashed about the routes I have taken. Whether it be drawing, painting, graphic design, doing collages, embroidery or weaving. I find that restricting yourself or putting yourself in a category or box is not really healthy. I am a free spirit, tend to follow my heart, and I do that in my work. I think people respond to that freedom in your work and also don't be shy or timid with making things. Don't be afraid to experiment even if you don't know where you are going and take advice and feedback from people you admire and respect. Don't trust people that tell you that everything you do looks good, trust the people that will tell you the truth when something isn't working, or something could be improved. Try to do that with yourself and your own work as well. I think some of my biggest lessons in the art world I have learned is to get out there, make connections and get to know your community. Being isolated as an artist is not always healthy, it's good to be among your peers and to support your peers as well. Being an artist can be tough and we artists, we understand each other, we stick together and support each other. For an artist to succeed, it's important to have good friends, connections and seek out people you admire. Another professor once told me that just because they finished college didn't mean they had to stop learning. Keep learning, keep taking classes and keep growing. There are so many wonderful tools to learn a new craft or experiment in new mediums. It's great to take advantage of that and continue to grow as an artist.
How or where can people see your work? How can people support your work?
My work has been exhibited at various local venues in Houston including, Lawndale Art Center, Hello-Lucky, Cactus Music, Fresh Arts, and My Flaming Heart. You can currently pick up my small sculptures and decorative pieces at Hello-Lucky in Houston as well as my Etsy shop dedicated to my obsession with yarn, weavings, and vintage Christmas.
Contact Info:
Image Credit:
Photo Portrait of me by Alex Barber
Getting in touch: VoyageHouston is built on recommendations from the community; it's how we uncover hidden gems, so if you know someone who deserves recognition please let us know here.