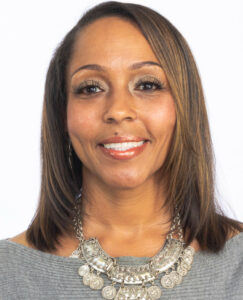 Today we're excited to introduce you to Natausha Slaughter. Natausha is a Career & Business Strategist and is also a content partner. Content partners help Voyage in so many ways from spreading the word about the work that we do, sponsoring our mission and collaborating with us on content like this. Check out our conversation with Natausha below.
Hi Natausha, thank you so much for sitting down with us again. For folks who might have missed our initial interview, can you start by briefly introducing yourself?
Hi, I'm Natausha Slaughter, the Business & Career Strategist. Are you waiting to connect to the right opportunities, the right employees, and the right clients? If you answered yes to either one, then we need to connect and develop strategic ways to position your brand for the marketplace. I've helped countless individuals gain employment, receive promotions, and transition into new careers. Also, I've worked with numerous business owners to develop new processes, increase staffing levels, create documents to support operational excellence, and much more!
Why is it important to have a clear value proposition?
It is crucial to have a clear value proposition if you want to succeed. A value proposition shows the unique way you add value, differ from others, deliver specific benefits. A value proposition helps you to communicate four things:
1. What you're offering.
2. Who you're offering it to.
3. Why you're different from others.
4. The value/benefit(s) you guarantee.
Is it necessary for business owners to have a resume?
Yes. Every business owner should have an up-to-date resume/portfolio. It's no different than someone looking to apply for a job. The applicant needs a resume to give the employer a brief overview of their successes over the past 10-years. The same applies to a business owner. Your resume/portfolio gives you credibility when bidding or negotiating for contracts.
What are some tips to improve your LinkedIn Profile?
Everyone needs a polished LinkedIn profile. It's your online resume. Here are some tips to improve your LinkedIn profile: 1. Use a professional picture–No selfies 2. Use descriptive words/titles or phrases to describe you. 2. Complete the About section–A short BIO is perfect for this section. 3. Just like a resume, only include relevant experiences. 4. Include things like a resume, pictures, video, articles, etc. in the Featured section 5. Include your education 6. Licenses and Certifications 7. It is imperative to request others to endorse your skills and write recommendations. This is just another way to validate you. 8. Become the expert. Post relevant information that will cause you to be known as the subject matter expert.
How can I position my personal or business brand to thrive?
Position your brand to thrive by having a clear value proposition. What are you offering? Entrepreneurs—What products or services are you offering? Career Professionals—What do you have to offer an employer? What makes you an asset? Who are you offering it to? Entrepreneurs—Who's your target market? Who are your customers? Career Professionals—What's your target industry? What employers are you considering? What makes you different from others? What would make someone prefer you, your products, or your service(s) over others? What is your Niche Market? Niche is a distinct or specific segment of the market. Entrepreneurs—What's different about your product(s)/service(s) that will cause consumers to overlook your competitors to come to you? Career Professionals—What sets up apart—makes you stand out from other applicants? What value(s)/benefit(s) do you guarantee? Are you delivering on the promise? Are you doing what you said? Your word is your bond. Do not make promises you can't keep. Entrepreneurs—What value(s)/benefits do you guarantee? Can people see themselves enjoying your benefits? Career Professionals—What's your added value? What can you guarantee an employer?
What are some ways to stay relevant amid a pandemic?
Here are some BEST PRACTICES to help your brand stay relevant amid a pandemic:
1. Evaluate the current state/health of your business
A. Financials
B. Customer Base
C. Sales & Marketing Strategies (Have they worked?)
D. Processes & Procedures D. Team (add/delete)
2. Know your market How have your competitors responded to COVID? What are some takeaways? You don't have to reinvent the wheel but maybe you can make it better or make it specific to your business.
3. Be flexible You can't do business as usual. Recognize the changes that have taken place during this crisis and see how you can fulfill a need(s).
4. Provide excellent service
1. Treat every client or customer as if they are the only ones.
2. Take pride in serving them.
3. Go above and beyond what is expected.
5. Always look your BEST! You are your brand—you are a reflection of your brand.
6. Your word is your brand
1. What you say matters.
2. Say what you mean—No gray areas; be clear.
3. Do what you say
4. Communication or the lack thereof can be the death of your business.
How can I see beyond where I am if my vision is blurred?
The best way to get a clear vision is by utilizing a Vision Board and saying Positive Affirmations. A Vision Board is a practical tool that you can use to frame your future with pictures and words. It will help you focus on specific areas. You can use it for your personal, career, and business goals. Cut out pictures and words and paste them on a poster board and keep it in a visible place. You can also make a digital vision board that you can keep on your computer, phone, and other electronic devices and have able at your fingertips. Positive Affirmations help you build your confidence and retrain your mind to think positive thoughts. Affirmations are present tense and start with "I AM"–I am successful, I am the preferred choice for employers, I am sought after by clients from all other the world, etc. A Vision Board and Affirmations are powerful tools designed to clear your blurry vision.
Alright, so before we go, how can our readers connect with you to learn more and show support?
Connect with me on FB https://www.facebook.com/TOTALPACKAGE2011
Twitter https://twitter.com/careertotal
IG—Ttlpkg https://www.instagram.com/totalpackagecbs
IG https://www.instagram.com/nataushaslaughter
LinkedIn https://www.linkedin.com/in/nataushaslaughter2011
Websites: www.totalpackagecbs.com and www.nataushaslaughter.com
Contact Info:
Image Credits
Professional Photos Only: Maximum Flash Photography