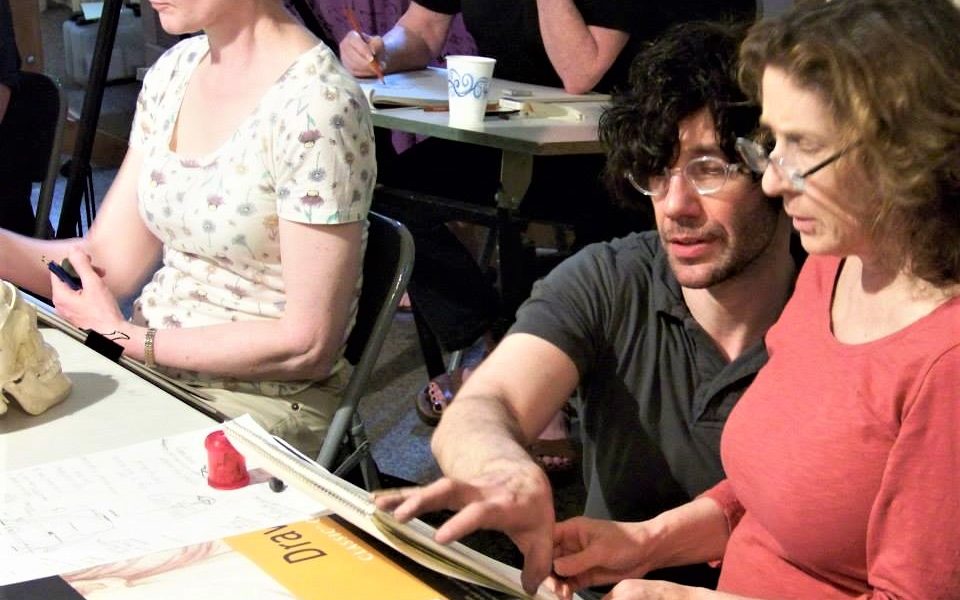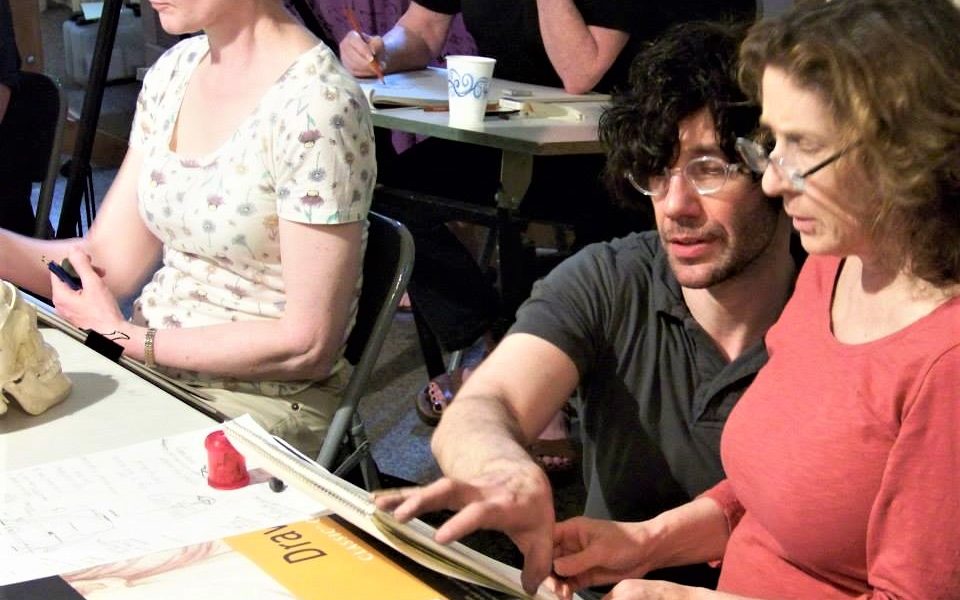 Today we'd like to introduce you to Steven Labadessa.
Steven, let's start with your story. We'd love to hear how you got started and how the journey has been so far.
I have been drawing at the kitchen table with my mother since I was 5 or 6. A small 13-inch b&w television on a stand occupied a place at the kitchen table next to me on the right-hand side. A TV was in every room except the bathroom and one was pretty much on nearly 24 hours a day… as my father work days… my mother work nights… I took the 1st shift to study/do homework to about 2AM typically greeting my mother and asking her to keep it down when she returned from work… my brother usually woke up to do his work shortly after I retired for the evening and would greet my father when typically woke up to get ready for work at 5 AM… sometimes, my mother would get up or stay up… to greet him as well…
They have all since retired to Orlando, FL within walking distance to SeaWorld and in the center of all the theme park action… which is a bit ironic, because as a family growing up we didn't go anywhere (except a sad trip to Atlantic City, before it aspired to be the Vegas of the East).
I grew up spending an enormous amount of time in front of a TV (8+ hours a day would not be far-fetched (talking pre-internet). So, between cartoons (Warner Bros. (Bugs Bunny), Hanna Barbera, MGM (Tom & Jerry), etc.), Toho/Daiei films (Godzilla/ Gamera respectfully), Cecil B DeMille films (notably, the Ten Commandments)… as well as growing up with comics (Marvel, I always took pleasure in the hyperbole of the translated life typically in a fictional NYC).
The fact that I am Italian and was raised Roman Catholic indirectly brought into the world of the Renaissance (1300's – 1500's+), as the church was the great patron during that time and later on in the Baroque (1600's – 1700's). All of which contributed heavily to the foundation of my visual vocabulary. It follows that I knew of Michelangelo, Leonardo, some of the Impressionists, before my serious formal Fine Arts study in college.
And, while I never stopped, I think I took my talent for granted … of course, my parents were concerned for my economic well-being and discouraged the idea of an art-related career.
I am a 2nd generation Italian American… my grandparents came from Italy… my brother and I were the 1st in the family to be college educated and I was the first to gain postgraduate degrees. My road to the Arts went thru my misdirects from studying acting post-college… what I refer to as the "crisis of mediums" I thought it was disingenuous to use a pencil as a mode of expression that I should use myself… of course, all this was about finding a proper voice to articulate my inner life. Hence, law school ended up being a very expensive catalyst to get me back on track. And, I've never looked back with regret, when I retired from the law promptly after (some say during) graduation.
I have been moving around a bit for the past few years, largely, outside of my studies, to build an academic career in the Arts. Largely, as a means to support my work and afford me the opportunity to have a family, all of which has been frustrated by the economy among other things.
As such, my travels/opportunities have taken me to the Midwest, the Heartland and now Texas. Honestly, it is always a surprise and you never know where an oasis will appear in life. I always enjoyed teaching, but it has been very difficult to "get a life." Culturally differences and the lack of Arts in education and create problems, when people do not inherently value what you do. Particularly bad when STEM is talk about and, while STEAM is advocated for, the thrust of monetizing everything in our economy distinctly blinds people to the Arts that heals the soul, mends the heart and gives solace to the tortured mind in all its various forms (e.g., fine arts, dance, music, theater and so on).
Luckily, since I am in the "business" of imagination, idealism is still strong, so hope springs eternal.
Great, so let's dig a little deeper into the story – has it been an easy path overall and if not, what were the challenges you've had to overcome?
I spent the past decade or so being dislocated physically and culturally. In the fine arts, you rarely make a living just making your work, so you find yourself becoming the "great patron" of your work. This means you need to find a means to support yourself and that might be a lifetime (as was largely the case of Van Gogh) of being unrecognized or not. Art is a calling, and, as with any choice in life, it comes with a price.
For me, there have been (just some of the highlights) extended periods of isolation, experiencing the EF5 tornado that devastated Joplin, MO, living in an economically perverted New York, where the disparity of wealth and greed of real estate has left many artists to flee (or for the young, to pile on top of themselves in absurd living conditions), and, despite my education and experience, I found myself folding khaki's at the Gap at Herald Square, putting cereal onto the shelves of Trader Joe's in Chelsea, providing security for museums by standing for crippling lengths of time to pay the rent and feed myself (let alone for supplies) for upwards of 50-60 hours a week (if you could get the overtime) amongst equally over-educated, undervalued, overworked and underpaid (non-livable wages) colleagues who were fellow artists, graphic designers, MBAs, etc. Pride and fear are luxuries at this point. Survival kicks in.
Luckily, I have thru persistence, maintaining my studio practice, the support of colleagues, and curators that advocate and show my work found my way back and forth into academia, where I feel I can fulfill what I see as my dual responsibilities to not only create Art, but to teach and guide.
Please tell us about Steven Labadessa.
Steven Labadessa, a native New Yorker (Brooklynite), has taught and exhibited throughout the US. He received an MFA in Painting from the University of Pennsylvania. Prior studies included studying at SAIC, SMFA Boston, NYAA, SVA, the Arts Students League and Brooklyn College CUNY.
His paintings exact a preference for hyperbole and psychological texture suspended in the mythical timelessness of the medium (still, but never silent) exploring the notion that transcendence lies not in purity, but in the finding virtue in the impure. So, it is within the twisted confines of self-portraiture that typically runs counter to contemporary notions of beauty that the flesh of friends and relations (lasting and temporary) are re-rendered by compositing imagery from a host of observed, imaginary and digital sources,
Prominent influences and sources of inspiration (non-exhaustive) include; Japanese aesthetics (i.e., wabi-sabi | 侘寂), fringe and popular culture from Butoh to Manga, Western High and Low Art from the Northern Renaissance, the Baroque, 19th-century French Art and MarvelComics (Silver Age in particular).
Presently, he is serving as a Lecturer for the Department of Visualization at Texas A&M. His work can now be seen as part of the "Delusional 2" exhibition at Jonathan LeVine Projects (NJ) and will be feature in a solo exhibition at Elon University (NC) in the Winter/Spring of 2019.
Do you look back particularly fondly on any memories from childhood?
Running around the living room coffee table with my dog (Pierre, the poodle).
Contact Info:
Email: slabadessa@hotmail.com
Image Credit:
Joe Russo
Getting in touch: VoyageHouston is built on recommendations from the community; it's how we uncover hidden gems, so if you know someone who deserves recognition please let us know here.