Today we're excited to introduce you to Sy Asad. Sy is an Author, Songwriter, Entrepreneur and is also a content partner. Content partners help Voyage in so many ways from spreading the word about the work that we do, sponsoring our mission and collaborating with us on content like this. Check out our conversation with Sy below.
Hi Sy, so great to have you join us again. For folks who might have missed our earlier conversations, can you please take a minute to briefly introduce yourself?
My name is Sy and I am an author, songwriter and entrepreneur. I wrote and released two books in one year, "A Swan Among Ducks" and "Saying Yes To No: Learning the Power of No". I wrote my third book, "Write Your Book in 24 Hours" to assist aspiring authors and my fourth book, "Light as the Day, Dark as the Night" is a children's book that will be released this year. I created a webinar for aspiring authors called the: Write A Book That Sells Webinar. I toured the world singing with Latin superstar, Jon Secada, and Reggae superstar, Collie Buddz; I am heard singing on his song, "Love and Reggae". I have a song called "Fear of My Crown" with Chris Rivers, son of Big Pun, and the song and music video touch on child abuse and domestic violence. I am creating a non-profit to give scholarships for college students and to provide books to children. I am working on another business venture that I plan on launching this year.
Career-wise, when did you know this was what you wanted to do?
I was a young girl, probably between the age 9-11 and I was on a road trip with my parents. They were having a heated conversation and I was in the backseat writing in my notebook. They turned on a song by the O'Jays and the lyrics in song were able to change the whole mood in the car. I thought at that moment that if words could be that powerful, then I wanted to be a writer and songwriter so that I could positively change people.
What inspired you to write your first book?
I had started and stopped writing books since high school. I was on tour, singing background for a popular reggae artist, and there would be a lot of down time due to traveling on the road. I decided I should make the most of all the down time and I started jotting down things I wish I knew when I was younger, things I would tell my younger self and things I learned along the way. Soon enough I had a lot of content that I decided to arrange and put together in a book, to help others. I didn't know how to release a book, but I did my own research, and I became so passionate about releasing a book of my very own.
Did you face any obstacles achieving any of your goals?
Oh Yes! I have had many "random" things happen in my past that seemingly ruined my dreams and goals. I say seemingly because even though those things happened, they might have put a small halt on things, but they didn't ruin my dreams and goals. When you're going through so much it can seem as if your dreams and goals are ruined and cannot be achieved. Sometimes we are the only ones to truly stop us from reaching our dreams and goals.
Can you provide tips for people to keep pursuing their goals despite the naysayers?
Sometimes others do not want us to achieve our dreams and goals because they fear us walking in our purpose. Of course, some people dwell in lower frequency and sometimes are just flat-out haters and they may not want the best for you. You have the option to not let their disbelief in you negatively affect you. I had someone say to me that they would support me and read my book when it came out and I literally had someone else right next to that person ask that person if they were seriously going to read and support my book. I was shocked that he thought the other guy was crazy for suggesting that he would support me. His disbelief fueled me to make sure I released my first book. Every time he would see me writing he would sarcastically ask how things were going with my book. I would always positively respond and inform him that things were going great. I never let his negativity negatively affect my writing or my belief that I could write and finish my book. Some people may smile in your face and speak ill of you behind your back or even to your face. Who Cares?! I suggest you worry more about what God thinks and says about you.
Tell us more about your next book that you're releasing.
The next book that I am releasing is a children's book for growing readers around the ages of 6-10 years old. The children's book is titled, " Light as the Day, Dark as the Night. " It is a book for children to learn more about diversity. The book also touches on the beauty of their differences yet how similar they are as well. Even though the book is written for children I also wrote it with the parents of the child in mind as well. So, I believe that, " Light as the Day, Dark as the Night " is book that children and adults will both love.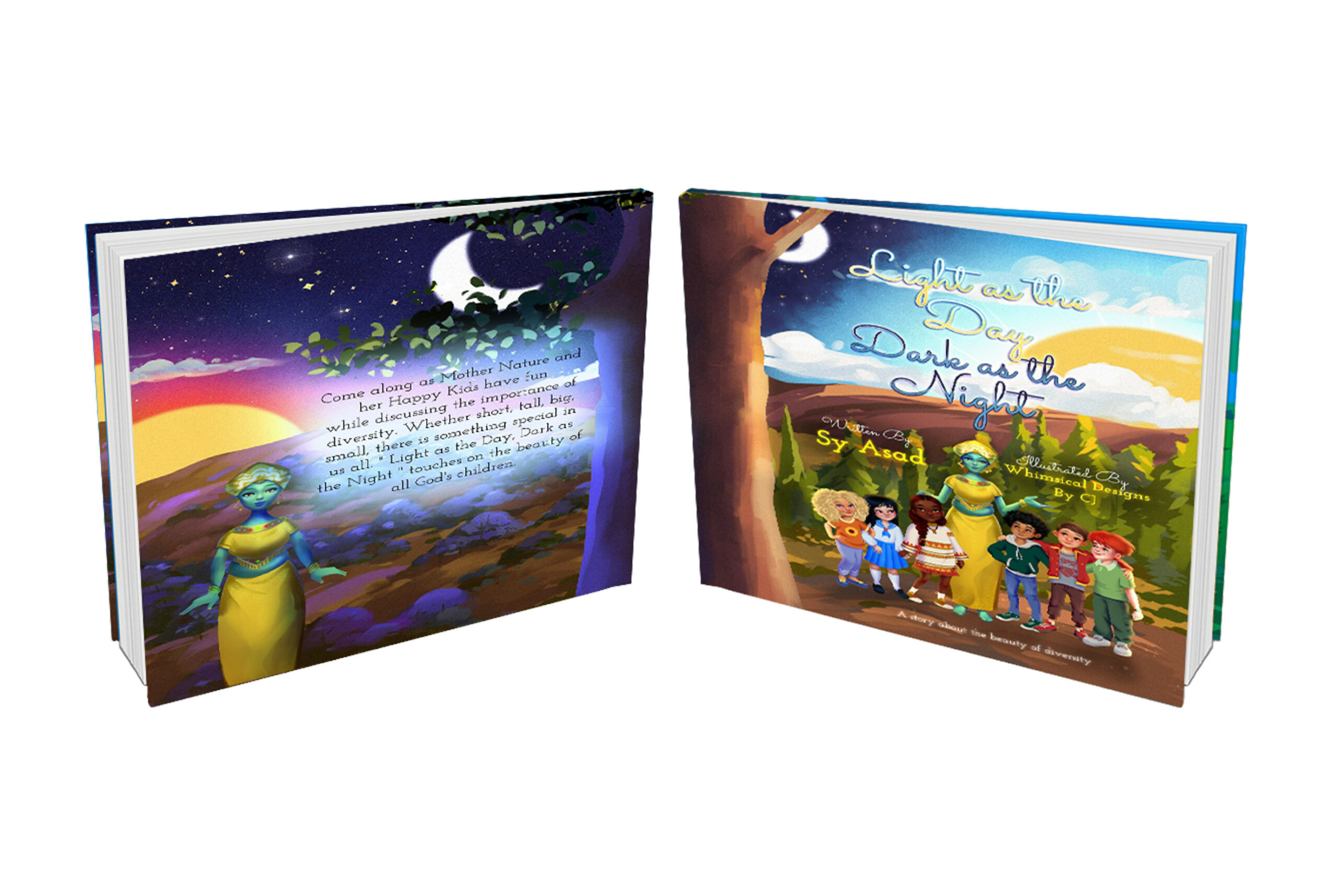 What's next for you? Can you talk to us about any projects that you are working on currently?
I am working on a non-profit that will offer scholarships for college students and provide books and toys for children.
It was so great to reconnect. One last question – how can our readers connect with you, learn more or support you?
www.amazon.com/author/syasad
www.aswanamongducks.com
www.sayyes2no.com
www.lightastheday.com
Contact Info: