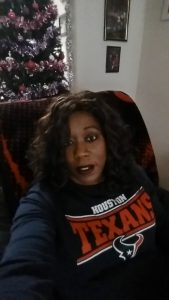 Today we'd like to introduce you to Jacqueline D. Howard-Carr.
Jacqueline, let's start with your story. We'd love to hear how you got started and how the journey has been so far.
Approximately 27 years ago, I had been working for San Diego City schools 5 years and had recently accepted new position doing attendance for a middle school of approximately 1400 students. Part of my responsibilities was to follow up on habitually truant students. There was 7th grader that would habitually ditch school, so much that I had to make a home visit. After visiting with her and her mother, we agreed that she would start attending school regularly. The very next day, I was driving to work, and I saw this girl walking in opposite direction of the school. She had been dropped off and was attempting to ditch school again. I pulled my car over and got out and proceeded to have a 30-minute conversation with her about the importance of school and why it was essential that she attend and get a good education. She opened up to me and began to share personal things that she was going through that had destroyed her desire to go to school. She cried, and I cried and then she got in the car and rode with me to the school. After that day, she rode to school with me every day. She continued to excel academically, and 5 years later, I attended her high school graduation. She continued and attended college, but our bond was never broken. A few years later, I attended her wedding and her firstborn child is my godson.
It was on this day, I knew that I would live a life of service helping and assisting young people and families.
Fast forward to 2017 after serving over ten years with great success, as the director of a STEM college prep program, funding was cut. In addition to the discontinuation of funding, Hurricane Harvey ravished through much of Houston. Consequently, many of the students and families I work with were severely impacted. In fact, several were displaced from their homes. However, even with the devastating effects of Hurricane Harvey, our students and parents continue to seek the services, thus, emphasizing the role and need for our program. I was pushed over the edge by God, pull my retirement and started STEM BRIDGES Houston.
Overall, has it been relatively smooth? If not, what were some of the struggles along the way?
It has not been easy but knowing my calling has made the mistakes and pitfalls not so devastating. It is important to know what your purpose in life is. Finding out that purpose is a process, so it is important in understanding that mistakes and sometimes bad decisions will happen… it's called life.
My advice to other women is to "stay focused" and know that you are the most important person in your life right now. There should be nothing and nobody to detour you from your goals. Losing focus and allowing others or something to become the priority was a major struggle for me. I was detoured more than once and that pushed me back further and further away from reaching my goals. At one point, I was in a delusional state thinking that the money I was making on my job was more important than me finishing my degree. As a result, I cut my college hours from full time to halftime and then from half-time to one class, until eventually, I was working fulltime and not going to college at all. Of course, later, I realized that is was essential for me to have my degrees. It pushed me back a few years, but eventually, I completed my Bachelor, Masters, and Doctorate. Using that experience has helped me with starting my own nonprofit. Stay focused and don't stop.
Alright – so let's talk business. Tell us about STEM BRIDGES Houston – what should we know?
As a first-generation college student, I had first-hand knowledge of how a college preparatory program and a strong support system could provide students with skills, resources, and access to higher education.
I have worked in the public education system for over 32 years, primarily working with students representing low-income and first-generation populations. My experience includes working in K-12 schools and administration at San Diego City Schools, post-secondary community and four-year colleges and universities; including University of California San Diego. In 1994, I was instrumental in opening one of the first charter schools in San Diego, which is still educating students with great success to date. In every community that I have been a part of, I have been involved with young people serving as a role model and mentor and even a mother figure. I have always believed that you must go beyond the call of duty. Students face daily challenges and when they know they have a team that is dedicated to their success, the results are them excelling in their pre-college academics, post-secondary education, advanced careers and overall becoming productive citizens in society.
I have accepted the responsibility, to provide resources that eliminate any excuses for students to not be successful. It is important to form relationships with students and families to try and help them identify their dreams and strengths so they can believe in themselves, their abilities, possibilities and achieve great futures.
With STEM BRIDGES Houston, I know that I have accomplished a great task because students are challenging themselves to explore and go into STEM (Science, Technology, Engineering, and Math) fields. They push pass their fear of math and science. They push pass the stereotypes in society that says females and minorities can only do certain jobs… that women can't be engineers and scientists!
We have six programs in my nonprofit:
Bridges Outreach provides outreach and assists individuals from underrepresented backgrounds who have the potential to succeed in higher education. The program conducts public workshops and provides academic, career and financial counseling. The goal of this program is to help students understand the importance of receiving a postsecondary education while providing the necessary tools to become college ready.
Scholars Program – Students must apply for the scholar's program, which is specifically designed for a maximum of 50 students from groups that are traditionally underrepresented in postsecondary education. This program provides year-round counseling, mentoring, cultural enrichment, college tours, advisement, academic assistance and tutorials in mathematics, laboratory sciences, composition, literature, social sciences, and foreign languages. Along with exposure to research projects in STEM, and student-conducted scientific research under the guidance of a faculty or graduate level mentor. During the summer, students complete intensive core grade level classes.
STEM Outreach and Engagement The program will offer opportunities focused on developing the next generation of STEM professionals. Activities and events will expose students grades 4-12 to various science, technology, engineering and math career fields.
Angels Soaring to Higher Heights mission is to help young girls build self-esteem, develop leadership skills, and recognize the value of community service. Our program provides the opportunity for the girls involved to not only improve themselves but to also improve the world around them. An extensive curriculum includes life skills lessons, activities, and other resources to assist high school girls in mentoring girls in grades 5-8.
The vision of the Male Initiative program is to equip young men with tangible skills and knowledge that develop them into role models and leaders within their homes, communities, and jobs. Activities will promote young men to become men of excellent work ethic and obtain a high moral character.
Parent-Student Compact – Workshops, meetings, and activities for parents to prepare for the high school to college transition. Together, they create a program where the relationship between the parent and the student could be strengthened by learning together. Students and parents in the Parent-Student Compact become a team, working together to develop expectations, build potential, and create a plan for the child's future that includes college.
I am grateful that I have played a role in so many success stories; students graduating from high school with honors, going to college, receiving full scholarships, earning multiple degrees, getting their dream jobs. But I am more grateful that so many of them return and give back to their community and when they come back, they tell me "thank you" for the small role that I played in their success. And I am overwhelmed that I still have bonds and relationships with students and families that I worked with when I first started in education in 1986.
There are not many programs or individuals that I have gone to ensure students success.
Finding a mentor and building a network are often cited in studies as a major factor impacting one's success. Do you have any advice or lessons to share regarding finding a mentor or networking in general?
Attend professional networking events.
Volunteer at community or subject related events.
Social Media groups and organizations.
Attend or join industry organizations or events.
Contact Info:
Address: Mailing Address: 14237 E Sam Houston Pkwy N, Ste 200-197
Houston, Texas 77044
Website: www.stembridgeshouston.com
Phone: 281-973-8841
Email: info@stembridgeshouston.com
Instagram: @stembridgeshouston
Twitter: @stembridgeshou
Getting in touch: VoyageHouston is built on recommendations from the community; it's how we uncover hidden gems, so if you know someone who deserves recognition please let us know here.