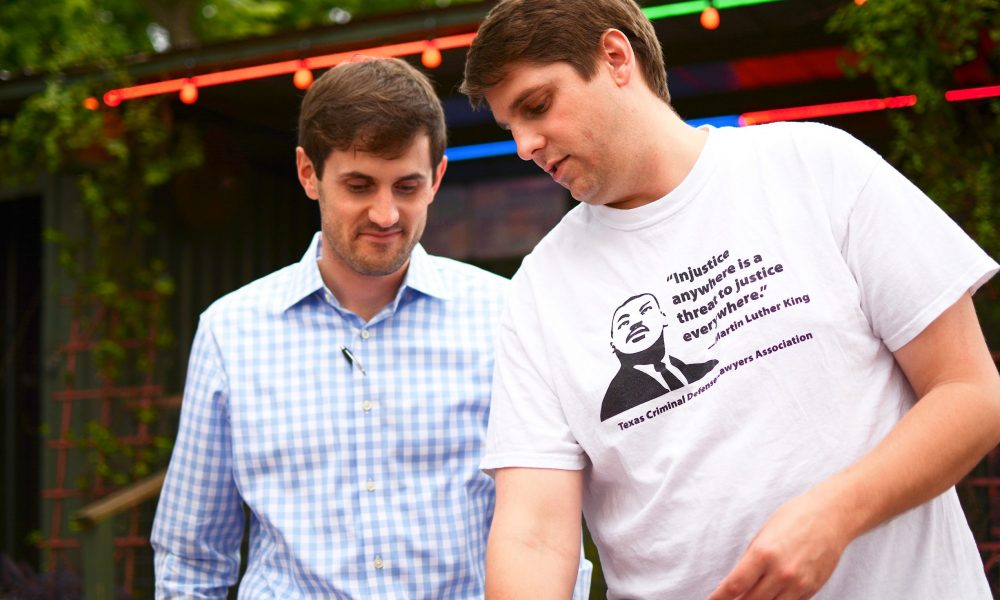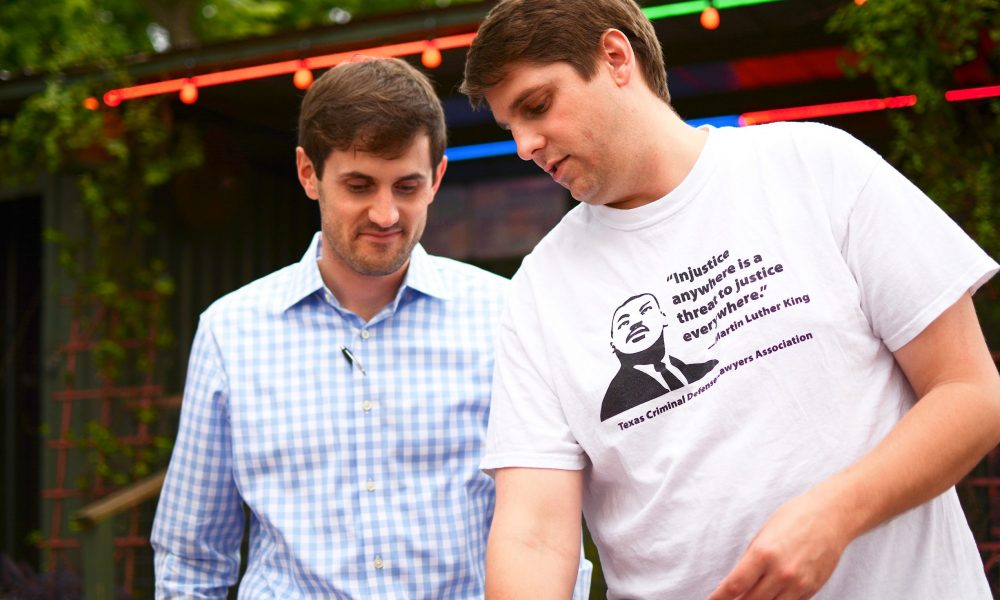 Today we'd like to introduce you to Drew Willey.
So, before we jump into specific questions about the business, why don't you give us some details about you and your story.
When I went to law school, I had a tax accounting master's degree, attempting to become a tax corporate attorney. That all changed the summer after my first year when I worked at a death penalty clinic, the Texas Innocence Network. I primarily worked for one client and my job was to fill out a clemency petition for him. A clemency petition is requesting the governor, at that time it was Gov. Perry, giving reasons why Texas shouldn't execute him. Through the course of that work, I investigated the case, and there were a lot of alarming issues.
To start, Mr. Wilson was mentally disabled. He's black. And he's poor. He couldn't afford a defense attorney. So I got to read the trial transcripts of his appointed counsel in his trial in Beaumont, TX. I was appalled at how little they did for him and the injustices that were put on him in this system, as someone who was the most vulnerable in our system by every category.
As I investigated the case – I, to this day, still believe he was innocent – there were a lot of claims that brought up questions that were never answered. There was DNA that was never tested. In the victim's hand, who was a confidential police informant, it was claimed that there was a tuft of Caucasian hair. I don't just mean a couple of hairs. It was a full-on tuft of hair that never got tested because the State's theory was that all people present on the scene were black, and it was Caucasian hair.
A few months after the trial, a few police officers were actually indicted for stealing drugs from the police property room. It was later found out that these officers were suspected of actually killing the victim that my client was ultimately convicted of killing. Independent witnesses corroborated that. They said that these police officers were trying to get into the drug game, which my client was involved in. I even spoke with the supposed drug lord of Beaumont at the time. She was an older lady named Beverly. A very sweet lady, but she adamantly believed that my client did not commit this murder. She thought it was these police officers, but nobody investigated it. Nobody allowed us to test the tuft of hair's DNA against these police officers.
In addition, while I was on the case, another witness came out and said that they knew who the real killer was. A hearing was held in Beaumont. They had appointed counsel in Beaumont as well. We weren't able to be involved in that hearing. And they denied that witnesses testimony, claiming he wasn't "credible."
In addition, my client had a claim in the Supreme Court that he was too mentally disabled to be executed. Texas – whose rules were thankfully subsequently reversed – was allowed to have their own definition of "mentally disabled." If he was able to carry out this crime, according to the State's theory, then he couldn't have been mentally disabled, so of course Texas is allowed to execute him. That circular reasoning, which thankfully, isn't allowed any more, is one reason they executed my client.
More importantly was the man that I had gotten to know. He was a truly redeemed man. He was a soft, gentle, loving man. He cared for his kids. He cared for his grandkids. Every person we talked to in Beaumont, especially his family, talked about the loving heart he had, and how he shielded everyone from any misgivings that he had. Being mentally disabled, he was teased as a kid, but made life his own. He tried to hold jobs, but they turned him away, so he turned to a life of crime. But he never let that get to his family.
Speaking to his son over the phone, near the end of our representation, his son told me, "My kids, Marvin's grandchildren, will never know a life of crime because of the influence Marvin has had." And he wanted Marvin to continue to benefit his children, but the State of Texas took that away.
So, we had a couple of claims. We had the clemency petition to the governor. We had the Supreme Court mentally ill claim. And we had a claim to the Texas highest court, Criminal Court of Appeals (CCA), asking to test the DNA from that tuft of hair.
Texas sets its executions at sundown. I'm not sure why. I guess just to be spooky about it.
On the day Marvin's execution was set, it was towards the end of the summer and the end of my internship. We found out, in the middle of the afternoon, that the CCA had denied our claims to test the DNA from the tuft of hair. We found out a couple hours later that the clemency petition, that I had worked on – which, actually, much of his story was cut out because of legal claims, which broke my heart because Marvin's story truly never got told – but we found out that we had lost the clemency petition. They had denied it. So the governor and the CCA of Texas said the execution could go forward. Right around 5 o'clock, we heard from the Supreme Court. We got a call that said, "Texas's rules on their definition of 'mentally disabled' is allowed, and the execution can go forward."
So luckily, I made the better decision to go to Bible study instead of the bar.
I had also fasted that day, in part to honor Marvin, and partly because I had a friend who was fasting through Ramadan. I wanted to both satisfy her challenge, and honor Marvin in this way. Ramadan fast ends at sundown. So, as the sun was going down in Texas, I knew Marvin was being executed. And I was coming off the fast. I started shoving these chocolate chip cookies that a friend had brought to the Bible study into my mouth.
In that very moment, someone was giving a testimony, unrelated, but they read a verse. It was Proverbs 31:8-9, "Speak up for those who cannot speak for themselves, for the rights of all who are destitute. Speak up and judge fairly. Defend the rights of the poor and needy." My mouth dropped. And from that moment on, I knew that my life was going to be devoted to indigent defense. God opened up some doors and allowed me to be trained by Gideon's Promise, a national public defender training program, where I've been enabled to practice the way I want to – being client-centered.
I keep a picture frame of Marvin next to my desk for encouragement. It's got his last statement and his date of execution on it, and that Bible verse.
I know people like Marvin – racial minorities, the mentally ill, and the poor – all get trampled by our system, and and I can now be a voice to stop that. In order to stay committed to holistic, client-centered indigent defense, I knew a non-profit must be started. In 2015, I founded Restoring Justice, one of five organizations across the country providing trial-level indigent defense services. We are slowly getting started, but we believe that we can be a voice for the voiceless across Houston and beyond.
Overall, has it been relatively smooth? If not, what were some of the struggles along the way?
People's mindsets and prejudices are very difficult. Even when people understand and appreciate the mission, it seems some level of complacency towards the marginalized in our criminal justice system prevents otherwise passionate loving individuals to turn a blind eye.
Fundraising has also been a struggle. We do not have a major donor who helped us get started. We are truly attempting our mission from a grass-roots effort perspective. Because of this, we have yet to fully deploy our services, yet remain committed to the model we have developed.
Please tell us about Restoring Justice.
As previously mentioned, we are one of five NGOs providing trial-level indigent criminal defense. We specialize in providing holistic, client-centered, expert representation to those who would otherwise have the worst representation in our system. Everyone knows that our system is one of "pay for justice," but we are diving into the system and doing everything we can to change that. We want the most vulnerable in our system to receive the best quality care and protection of their rights. We also will care and aid our clients, and allow the privileged in our society to see the realities our marginalized struggle with every day. Once we can all see each other's perspective, vulnerabilities, and needs, we can begin to change our adversarial injustice, traumatic system, into one base in making our community whole again when a harm occurs.
If you had to go back in time and start over, would you have done anything differently?
Found a large donor to set up the model of services before embarking on the journey.
Pricing:
Become an Ambassador – $75/year.
Donate state-rate legal fees for a client in need – $800-$5,000
Contact Info:
Address: PO Box 2813
Houston, TX 77252
Website: restoringjustice.org
Phone: 844-7-FREE-ME
Email: restoringjusticehtx@gmail.com
Instagram: restoring_justice
Twitter: Re_Justice1